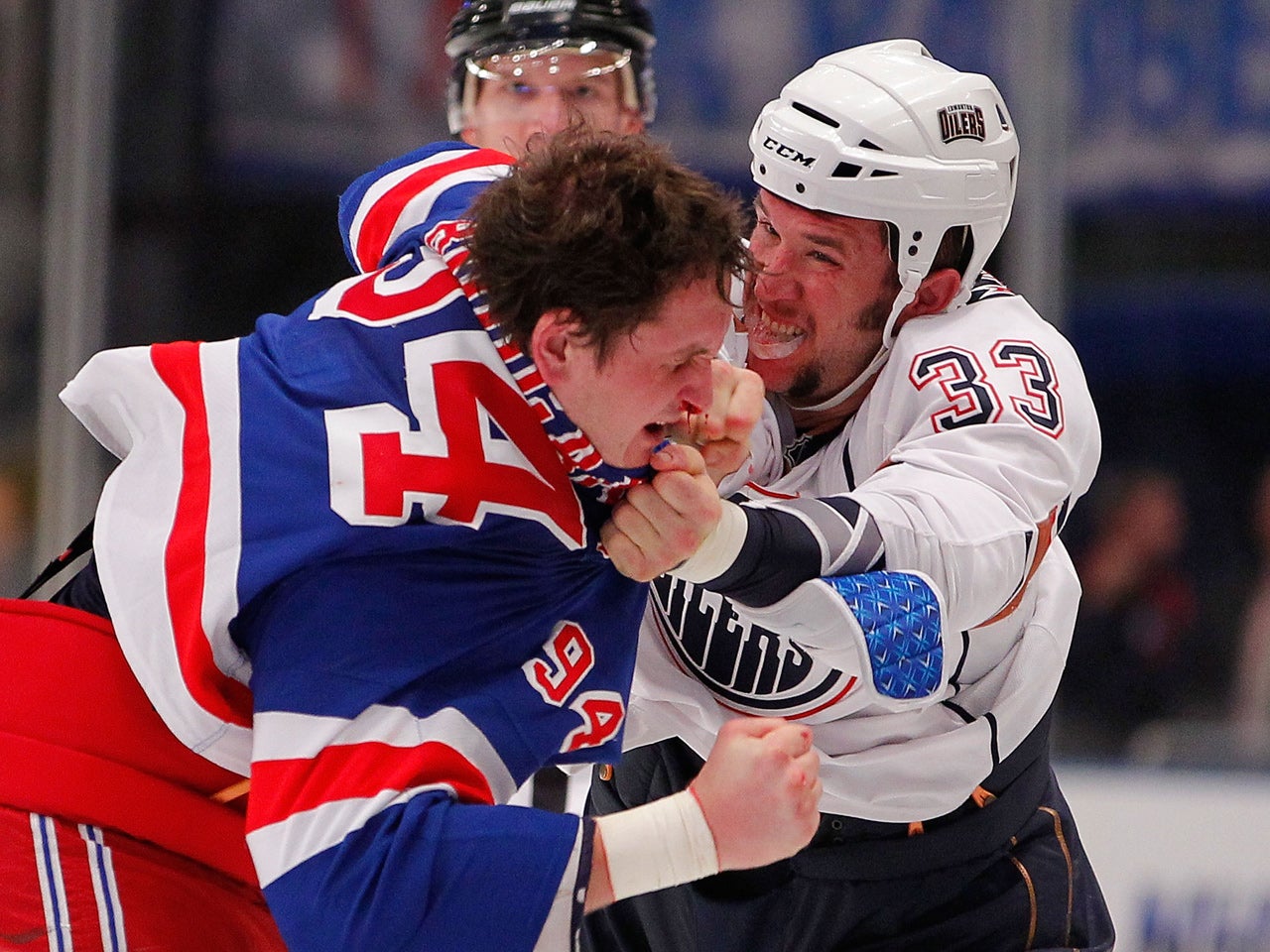 Derek Boogaard had chronic traumatic encephalopathy when he died: Report
(CBS) Hockey player Derek Boogaard had advanced stages of the brain disease chronic traumatic encephalopathy (CTE) at the time of his death.
PICTURES: NFL brain drain: 13 players who donated their brains to science
An autopsy of the 28-year-old who died from a drug overdose in May showed "telltale" brown spots near the outer surface of his brain, which indicate an advanced degree of brain damage, the New York Times reported.
"That surprised me," Dr. Ann McKee, director of the brain bank at Boston University's Center for the Study of Traumatic Encephalopathy, told the New York Times. "To see this amount? That's a wow moment."
CTE, previously known as "punch-drunk syndrome," is a degenerative brain disease linked to memory loss, depression, and Alzheimer's-like symptoms. Following his death, there was speculation that CTE may have played a role. At the time, his family authorized Boston University researchers to study his brain, CBS Newsreported.
Later, a medical examiner ruled Boogaard's death an accident, due to mixing alcohol and oxycodone.
The CTE may have played a role in Boogaard's descent into drugs, according to Dr. Robert A. Stern, a co-director of the Center at Boston University.
"He had problems with abuse the last couple years of his life, and that coincided with some of the cognitive and behavioral and mood changes," Stern told the Times. "What's the chicken? What's the egg?"
Boogaard isn't the only hockey player found to have the disease.
In March, researchers found evidence of CTE in 16-year NHL veteran Bob Probert, who died of heart failure the previous July at age 45.

The Times reported Boogaard's CTE was more advanced than Probert's, despite Probert being older and playing longer in the NHL. The condition of Boogaard's brain may suggest that current players have the disease, the report said.
The NHL isn't convinced of a link between hockey and the disease.

"There isn't a lot of data, and the experts who we talked to, who consult with us, think that it's way premature to be drawing any conclusions," NHL Commissioner Gary Bettman told the Times.
More than 20 former NFL players have been diagnosed with CTE, prompting some living athletes to agree to donate their brains once they die. Click here to find out more.
Thanks for reading CBS NEWS.
Create your free account or log in
for more features.