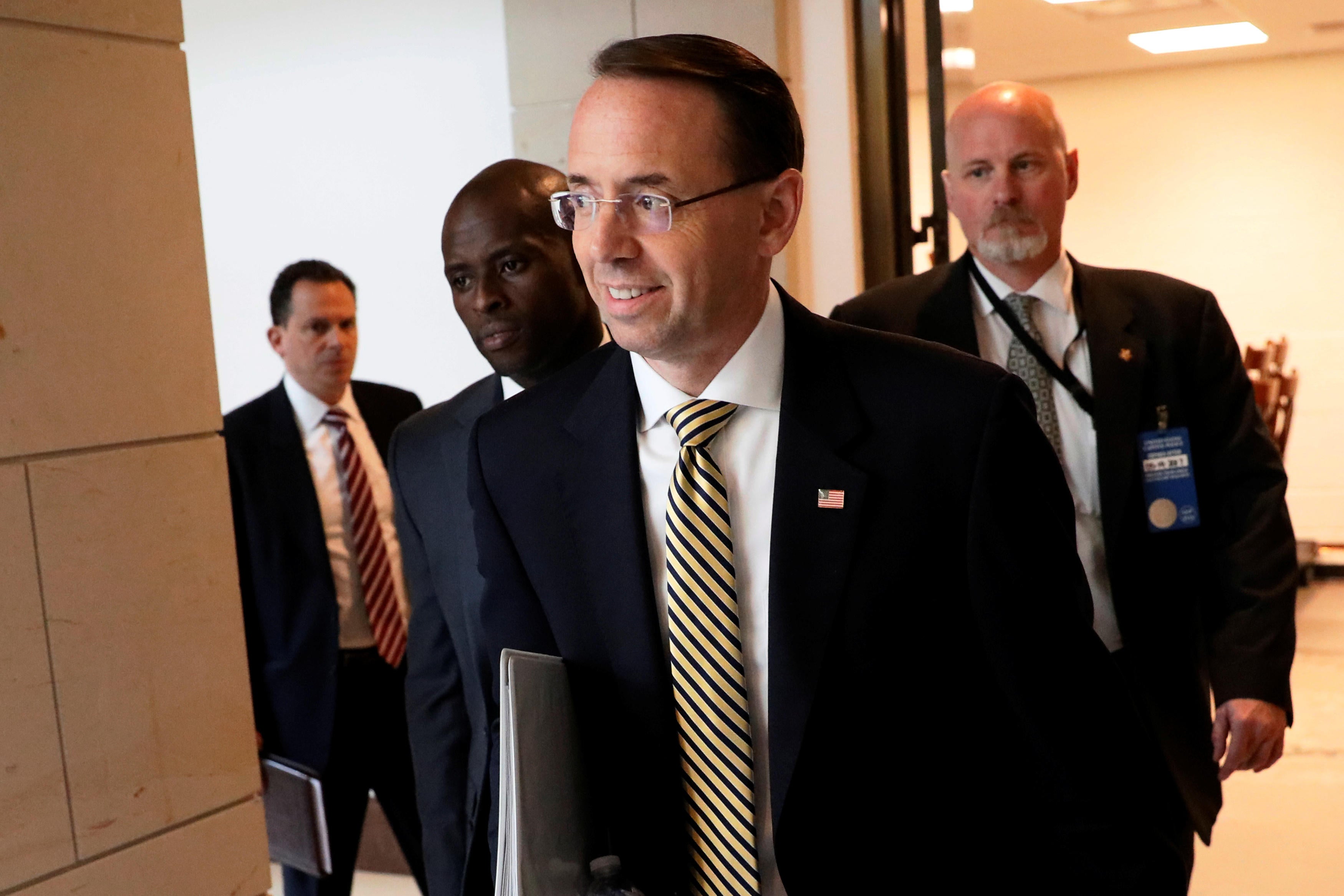 Deputy AG Rod Rosenstein knew Trump would fire Comey before memo, senators say
Deputy Attorney General Rod Rosenstein said Thursday that he knew President Trump would fire former FBI Director James Comey before he issued a memo recommending his removal, according to several senators briefed by Rosenstein.
"He did acknowledge that he knew Comey would be removed prior to him writing his memo," Sen. Claire McCaskill, D-Missouri, said, after leaving a closed-door briefing with Rosenstein for the full Senate on Capitol Hill.
She added that Rosenstein declined to provide details about Comey's dismissal because she said Rosenstein is anxious to give wide latitude to former FBI Director Robert Mueller, who Rosenstein appointed as special counsel Wednesday to investigate Russian interference in the 2016 U.S. election.
Senate Minority Whip Dick Durbin, D-Illinois, echoed the revelation about Comey's firing when he emerged from the briefing, saying that while Rosenstein wouldn't go into detail, he said the president declared on May 8 "that he was going to fire Comey...on May 9, [Rosenstein] wrote his memo."
The White House, however, said initially that it was Rosenstein's memo on May 9 that led to Mr. Trump's decision to fire Comey last week.
Other senators who attended Rosenstein's briefing said that Rosenstein didn't address who asked him to write the memo.
"He would not answer that question," Sen. Cory Booker, D-New Jersey, said. "He would not completely answer that question."
Rosenstein's decision to appoint Mueller as special counsel could impede the congressional probes, senators said.
Sen. Lindsey Graham, R-South Carolina, said, "It's now considered a criminal investigation and Congress's ability to conduct investigations of all things Russia has been severely limited -- probably in an appropriate way."
"One of the big losers in this decision is the public," Graham said as he explained that Mueller might try to prevent Comey from testifying before Congress. "I think that opportunity has been lost, maybe for the greater good."
Durbin said that Rosenstein said that Mueller would draw the scope of the investigation, have sufficient resources and won't be interfered with by the administration.
"That was very reassuring," he said, adding that the scope of the probe will be "so broad" that Rosenstein refrained from commenting on too much.
Thanks for reading CBS NEWS.
Create your free account or log in
for more features.