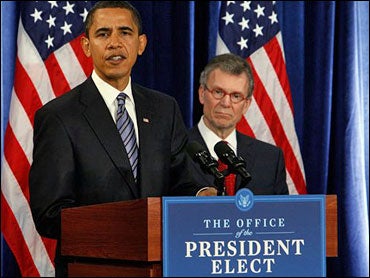 Daschle Apologizes To Senate For Tax Woes
Tom Daschle couldn't have received a much warmer welcome from his former Senate colleagues than he got three weeks ago when the prospective Health and Human Services secretary underwent his first confirmation hearing.
His next appearance promises to be less enjoyable.
Daschle is expected to answer questions Monday from members of the Senate Finance Committee, which has reported that Daschle recently filed amended tax returns to reflect $128,203 in back taxes and $11,964 in interest. Also, the financial disclosure form Daschle filed about a week ago shows that he made more than $200,000 in the past two years speaking to members of the industry that President Barack Obama wants him to reform.
"As you can well imagine, I am deeply embarrassed and disappointed by the errors that required me to amend my tax returns. I apologize for the errors and profoundly regret that you have had to devote time to them," wrote in a letter to the Senate panel.
The speaking fees were just a portion of the more than $5.2 million the former South Dakota senator earned over the past two years as he advised health insurers and hospitals and worked in other industries such as energy and telecommunications, according to a financial statement filed with the Office of Government Ethics.
President Barack Obama said he "absolutely" stands by Daschle's nomination.
The president gave the one word answer Monday about the matter during a meeting with Vermont Gov. Jim Douglas on the economic stimulus plan making its way through Congress.
"Nobody's perfect," White House spokesman Robert Gibbs said at a press briefing Monday. "It was a serious mistake - one that he caught and remedied. We think he is still the best person to do health care reform and shepherd a very complicated process through Congress to achieve savings and cut costs for the American people."
Senators said Sunday they will await guidance from the Finance Committee before deciding whether the tax problem could stall or even derail his confirmation.
Mr. Obama has said that no one in his administration who has lobbied on a set of issues within the past two years can deal with the same subject matter. The president has already approved a few exceptions. Daschle is not a registered lobbyist but he worked at a lobbying firm.
Jenny Backus, a spokeswoman for Daschle, said the money he earned in speaking fees from health care interests do not pose a conflict for the health care reform Mr. Obama wants him to lead.
"He welcomed every opportunity to make his case to the American public at large and the health industry in particular that America can't afford to ignore the health care crisis any longer," she said.
Among the health care interest groups paying Daschle for speeches were America's Health Insurance Plans, $40,000 for two speeches; CSL Behring, $30,000; the National Association of Boards of Pharmacy, $16,000; and the Principal Life Insurance Co., $15,000.
Daschle said in a letter to the Department of Health and Human Services ethics office that if he's confirmed by the Senate, he will resign as a senior policy adviser at the Washington law firm of Alston and Bird LLP. He reported earnings of more than $2 million from that firm during the past two years.
Daschle also earned more than $2 million in consulting fees from InterMedia Advisors LLC of New York, an investment firm specializing in buyouts and industry consolidation. He said he also intends to resign from that firm upon his confirmation.
Daschle's financial disclosure report was released after he acknowledged that he had recently filed amended tax returns for 2005-2007. The amended returns reflect additional income for consulting work, the use of a car service and reduced deductions for charitable contributions.
Former Senate colleagues on Sunday described Daschle as a popular public servant knowledgeable in health issues, yet they wondered how he could find himself in a tax mess - and why the matter escaped Mr. Obama's team of background checkers.
Backus said Daschle asked his accountant in June if the car service could be a tax issue. He did not learn until late December that the service - valued at more than $250,000 over three years - was subject to taxes. The issue never came up at Daschle's first hearing before members of the Senate Health, Labor and Pensions Committee on Jan. 8.
Democrats expressed strong support for Daschle and credited him with acknowledging a mistake. Republicans took some shots at the new administration now that a second Cabinet pick has run into tax problems and an earlier nominee withdrew amid a grand jury investigation.
"This was clearly an oversight," Sen. Charles Schumer (D-N.Y.) told CBS' Face The Nation "He's made recompense. He's admitted it."
The Senate Finance Committee planned to meet behind closed doors to discuss the Daschle nomination.
Sen. Jon Kyl, who is on the committee, said members will try to understand his explanation. "I think it's too early to tell," said Kyl, R-Ariz. "Well, sure, you have to be troubled by it."
On CBS' The Early Show Monday, Kyl's fellow Republican Arizona senator, John McCain, said of Daschle's tax dilemma, "It's mystifying."
But a Democratic committee member, Sen. John Kerry of Massachusetts, brushed aside concerns that Daschle's nomination was in jeopardy.
"It's obviously a mistake. But I think it's an innocent mistake. I don't think it affects one iota his ability to do the job," Kerry said.
Kyl appeared on "Fox News Sunday," and Kerry spoke on NBC's "Meet the Press."
Thanks for reading CBS NEWS.
Create your free account or log in
for more features.