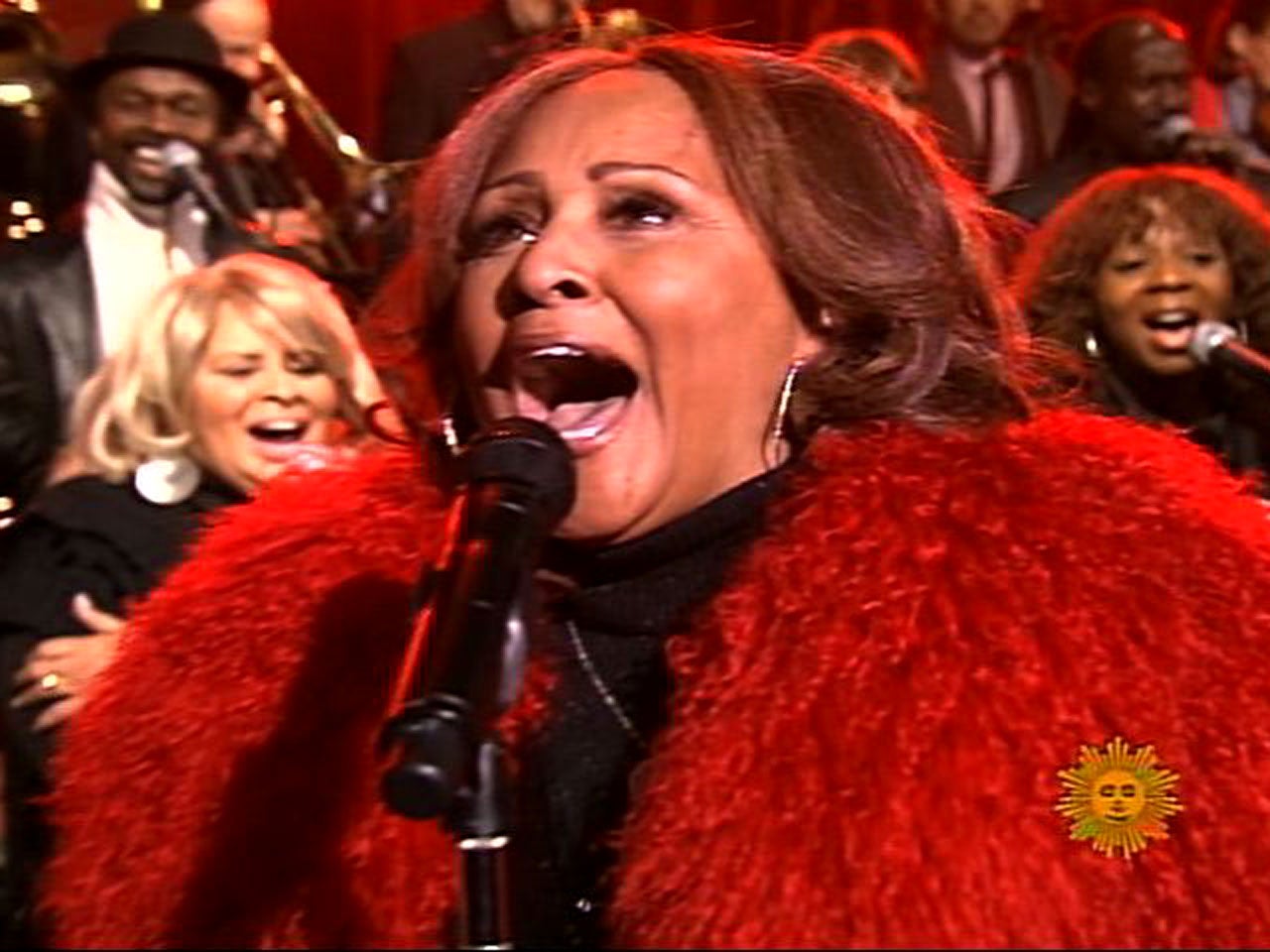 Darlene Love spreads Christmas cheer
In her bright red coat, she's hard to miss. But for much of her music career, Darlene Love has struggled to get noticed.
She sang lead on a string of hits for producer Phil Spector, and even had a number one record - but her name wasn't on it.
"For years, people didn't know that really Darlene Love existed," she said.
Well, they do now!
"And about time, too," Bette Midler said at Love's Hall of Fame induction ceremony. "One of the greatest voices in the history of rock and roll."
Love said she is still "giddy" about it.
This year also marked the 25th anniversary of Love's first appearance on David Letterman's show to sing "Christmas (Baby, Please Come Home)." The song - off of Spector's landmark 1963 album - has become a Christmas classic; her appearance on Letterman, an annual holiday event.
The eldest of five kids, Darlene Love grew up Darlene Wright in Los Angeles. She started singing in a Pentecostal church where her father was pastor.
In 1957, her last year of high school, she joined a girl group called the Blossoms.
Her first big backing gig was with James Darren for Capitol. "And baby, we were scared!" Love told Mason.
But the Blossoms had an ability to blend in. "We didn't sound white, we didn't sound black," Love said.
They quickly became the hottest backup singers in L.A., working behind Sam Cooke ("Chain Gang"), the Beach Boys ("In My Room"), even Doris Day ("Move Over Darling).
Then in 1962, Darlene was hired by a young producer named Phil Spector.
"What was he like to work with in the studio?" asked Mason.
"Great, the first couple of years before he became, you know, this monster that made all these hit records," Love said.
Spector wanted Darlene to sing lead on a song he was sure was going to be a hit. A rival version was about to be released and Spector's regular group, the Crystals, was stuck on the East Coast. Still, he put the Crystals' name on the label.
Love told Mason she knew her name was not going to be on the record.
"But that didn't bother you?" he asked.
"No, because, see, people didn't know we did that all the time," she replied. "I figured, I got paid. And who knows whether it was going to be a hit now. So let me take that money and run!"
But when "He's a Rebel" hit number one, she said, "That bothered me!"
Spector promised Darlene she would get her turn. He changed her name from Wright to Love, and they went back into the studio:
"So this is my record - I go into the sessions and do 'He's Sure the Boy I Love,'" she recalled. "And I'm waiting for - is this really going come out under my name?"
As she was riding down the street in her car she heard it on the radio, announced as "the latest record by The Crystals."
Love stormed into Spector's office, and confronted him:
"Why do you keep doing this to me?" Love said to him. "You say you like me, you like my voice. What are you doing?"
His response? Love recalled, "Well, I just figured, you know, the song would have a better chance if I used the name the Crystals."
But Love wanted to know when she'd get her chance to make her name. Finally, he gave it to her.
Darlene's solo releases did not have the same success, in part because audiences didn't realize the earlier hits were hers. Meanwhile, The Blossoms were still in demand, becoming regulars on a new rock show called "Shindig," and backing Elvis on his 1968 TV special.
Darlene's solo career just couldn't get off the ground. By the early '80s, with two children and her marriage collapsing, she needed to take another job as a maid.
"I said, well, there's only one other thing I know I can do and I can do well: I can clean," she said.
"And one year, cleaning this lady's bathroom, 'Christmas (Baby Please Come Home)' came on the radio. And I just looked and said, 'Okay, I hear you Lord!'" she laughed, "This is not what I'm supposed to be doing, so I guess you're going to help me to get where I'm trying to go.' And I never turned back."
Bill Medley, of the Righteous Brothers, helped her put together a show.
"How'd that feel?" Mason asked.
"Unbelievable. I was like, 'What am I going to do? What am I going to sing?' He said, 'You're going to sing your hits.' And it didn't dawn on me that ..."
"They were YOUR hits!" Mason said.
"Right!"
Darlene has also made a name for herself in the movies, playing Danny Glover's wife in the "Lethal Weapon" films.
But her greatest recurring role has been on "The Late Show with David Letterman."
For this year's performance, band leader Paul Shaffer brought in extra backup singers, and extra horns and strings to recreate Phil Spector's towering 'Wall of Sound" . . . that only a voice like Darlene Love's could soar above.
"Put her on top of that song and it's just magic," Shaffer said.
When asked if she ever gets sick of that Christmas song," Love replied, "Never!"
"What do you want people to know you for most?" Mason asked.
"I so enjoy what I do," Love said. "It's such a God-given gift for me at 70 years of age to be doing what I'm doing. And I get up every morning and I thank the Lord that I'm still here, still in good health and people still want to see me."
To check out a clip featuring all of Darlene's performances of "Christmas (Baby Please Come Home)" from "The Late Show with David Letterman" click on the video player below.
For more info:
Thanks for reading CBS NEWS.
Create your free account or log in
for more features.