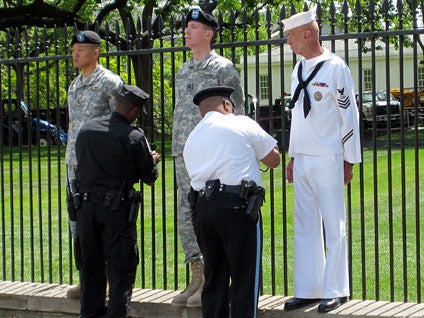 Dan Choi, Other Gay Rights Protesters Arrested After Chaining Selves to White House Fence
Six people in military uniforms, including Lt. Dan Choi, handcuffed themselves to the North Lawn fence of the White House today to protest the fact that the military's "Don't Ask, Don't Tell" policy has not been repealed.
U.S. Park Police cleared the area and used chain cutters to place the demonstrators under arrest, CBS News White House correspondent Mark Knoller reports.
Choi, at left, is an openly gay Iraq war veteran and West Point graduate who has emerged as one of the most prominent critics of the "Don't Ask, Don't Tell" policy, which bars gays and lesbians from serving openly in the military. Choi, who announced he is gay on television last march, was also arrested for chaining himself to the White House fence last month.
A group called GetEQUAL, which appears to have organized today's action, posted a statement calling on President Obama to repeal the policy immediately through action connected to the upcoming Defense Authorization Bill.
"President Obama knows that the DAB provides a way to repeal DADT immediately," Get Equal says. "And he knows that repealing the policy quickly and decisively is the right thing to do for LGBT servicemembers and for all of the armed forces. But recent reports suggest that the Administration is trying to delay any law change until December or even later."
The military is currently engaged in a review of the impact of repealing the policy, with a deadline of December 1st. Adm. Mike Mullen, the chairman of the Joint Chiefs of Staff, has said that repeal is the "right thing to do," but the president and military leaders have moved deliberately toward that goal.
GetEQUAL identifies the six protesters as Choi, Capt. Jim Pietrangelo, Petty Officer Larry Whitt, Petty Officer Autumn Sandeen, Cadet Mara Boyd and Cpl. Evelyn Thomas. Pietrangelo was arrested with Choi last month as well.
"We're tired of people just giving us lip action," Thomas says in a video posted to the GetEQUAL Web site. She vows to hold the president responsible until the policy is repealed.
"Just put your money where your mouth is," she says in the video to Mr. Obama, who vowed to repeal the policy both as a candidate and as president. "If you're going to say that you're going to do something, do it. Because anything else is just a lie."
Police banned reporters from the scene of the protest and closed Lafayette Park, Politico's Ben Smith reports, an unusual move that one reporter deemed "ridiculous."
The White House protest comes after GetEQUAL advocates heckled the president at a fundraiser last night in Los Angeles.

WASHINGTON UNPLUGGED TUESDAY: Debate Over Transgender Teachers (Video)

Thanks for reading CBS NEWS.
Create your free account or log in
for more features.