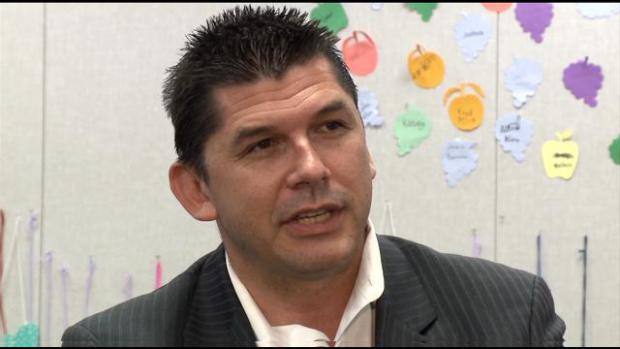 DA: Calif. mayor's stolen gun used to kill boy, 13
STOCKTON, Calif. -- A gun stolen from the Stockton mayor's home was used to kill a 13-year-old boy, prosecutors said.
The San Joaquin County District Attorney's Office said in a report that one of two guns stolen from Mayor Anthony Silva was the murder weapon in the 2015 killing of Rayshawn Harris, The Stockton Record reported Saturday. The mayor failed to immediately report the guns stolen, according to prosecutors.
Harris was standing in his driveway when he was shot to death Feb. 23, 2015, with a .40-caliber semi-automatic pistol registered to Silva, according to a report by the district attorney's office released Friday.
The report on Silva and his stolen gun was released in response to a California Public Records Act request, The Record reported. The District Attorney's Office said its prime motivation in releasing the report was "a present request by law enforcement for public assistance" in solving Harris' killing.
Silva did not report the theft of the gun that was used to kill Harris until March 22, 2015 - 27 days after the shooting, the Record reported.
On March 25, 2015, The Record reported that Silva had said his unoccupied home had been robbed a second time the previous day. Silva has said multiple items, including a gun safe, were stolen from that house.
Silva, 42, has said another gun theft, which he reported this past February, occurred while he was on a Sister Cities tour of the Philippines that same month. It was stolen from a north Stockton rental home where he lives. Silva said in April he had "an idea" who stole that gun.
The gun used in Harris' slaying was recovered by the Stockton Police Department on June 9 when officers responded to a domestic disturbance in Stockton, according to the District Attorney's Office. The other stolen gun has not been recovered.
Silva, who is seeking re-election and has been involved in multiple high-profile controversies, said in a statement he feels terrible about the teen's death. He added that he couldn't comment on the report because he hasn't been provided any details.
"Words cannot describe my sorrow and heartbreak for the victim and his family. I feel terrible, and I feel sick to my stomach," Silva said. "I only can react to what the news is claiming. Everyone please pray for Stockton."
Thanks for reading CBS NEWS.
Create your free account or log in
for more features.