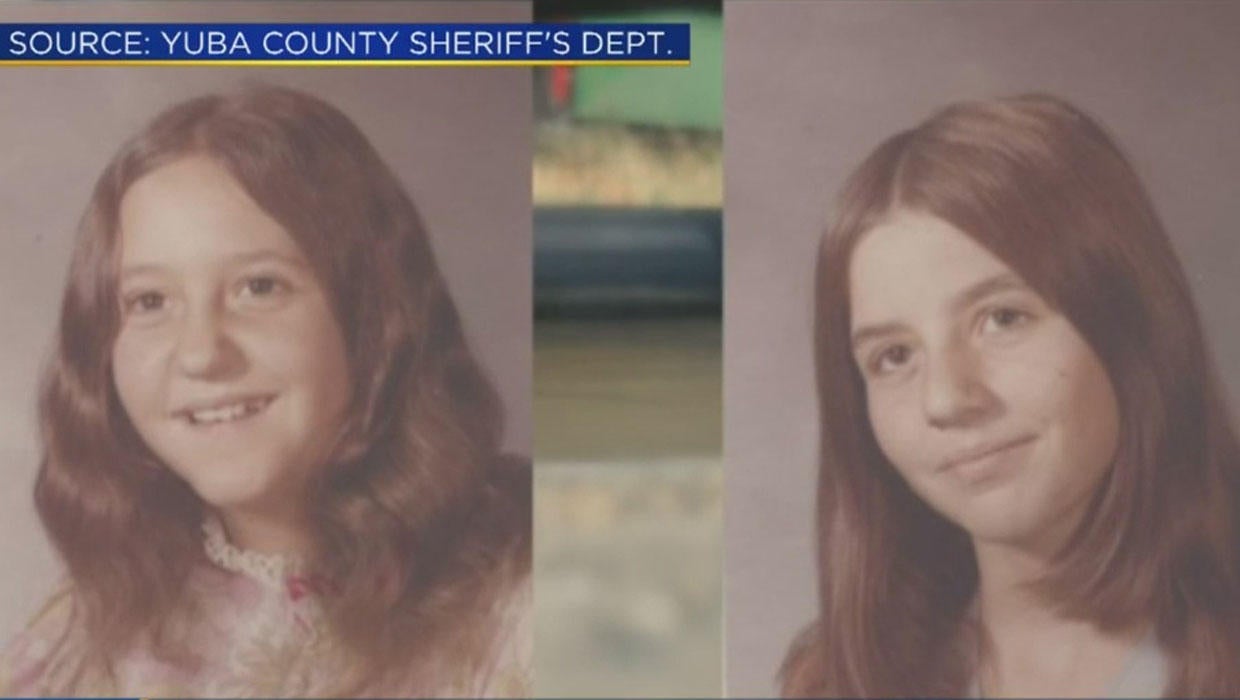 Cousins sentenced in 1973 shotgun slayings of 2 girls
SACRAMENTO, Calif. -- Two cousins were sentenced Thursday to life prison terms in the 1973 shotgun slayings of two young girls in Northern California, said Deputy Yuba County District Attorney John Vacek.
Larry Don Patterson, 66, and William Lloyd Harbour, 65, were sentenced to five years to life in prison in the decades-old cold case, the maximum penalty under sentencing laws at the time of the crime.
For the same reason, the two men did not face the possibility of the death penalty in the deaths of 12-year-old Valerie Janice Lane and 13-year-old Doris Karen Derryberry.
"When she died, a part of me died with her," Margarette Hasting, the mother of Valerie Lane, said in a statement that was read to the judge. "We were so cheated. Valerie died at 12 years old, and these guys have lived their lives, they are old men now."
Patterson pleaded guilty to two counts of second-degree murder in December, while Harbour pleaded no contest to the same charges.
The men were charged in September after a state forensics lab matched DNA from the two suspects to semen found on Derryberry.
The girls were reported missing on Nov. 12, 1973, after their mothers said they never returned home overnight from a shopping trip to the mall. The Yuba County Sheriff's Department learned hours later that their bodies had been found along a dirt road in a wooded area near Marysville, north of Sacramento, where they had been shot at close range.
The case went cold decades ago, Yuba County authorities said, until a state forensics lab matched DNA from the two suspects to semen found on Derryberry.
"The families rightly view this as these guys had 43 years of freedom and we lost our daughters. So it's tough to say justice has been served, but we do what we can," Vacek said.
He credited the county sheriff's department with never giving up.
"The prevailing sentiment is justice delayed is justice denied," Vacek said. "I'm glad we can bring some semblance of justice to this case."
The cousins both lived near the victims in Olivehurst when they were killed 43 years ago.
"He's sorry for the family and he's glad that it has come to a resolution and that it is over," said Yuba County public defender Brian Davis, who represented Harbour.
Patterson more recently was living in Oklahoma and was extradited to face the charges in California.
Michael Sullinger, an attorney representing Patterson did not return telephone and email messages seeking comment. Vacek said Patterson moved to withdraw his plea after the sentencing but the motion was rejected by Superior Court Judge Benjamin Wirtschafter.
County officials said the suspects' names never surfaced in the 1970s, though investigators interviewed more than 60 people. They considered Patterson after he was charged in 1976 with raping two women in nearby Chico, but found no link to the killing of the two girls until the DNA match last year.
Thanks for reading CBS NEWS.
Create your free account or log in
for more features.