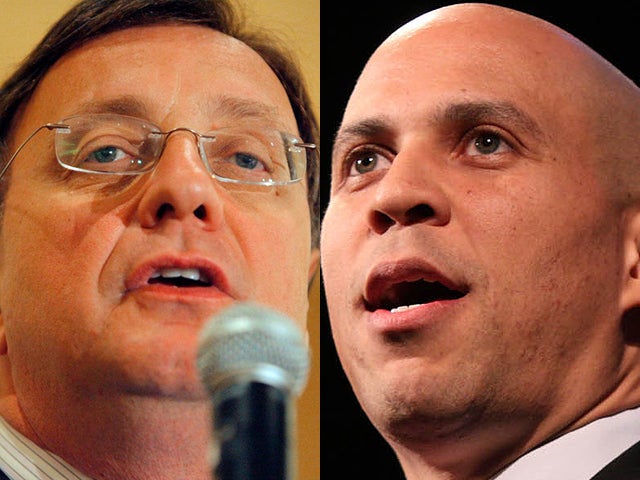 Cory Booker's "ambiguous" comments on sexuality are "weird," rival says
Steve Lonegan, the Republican candidate for U.S. Senate in New Jersey, thinks his Democratic rival Cory Booker's recent comments about sexuality are "ambiguous" and "weird" - and in case anyone is wondering, he wants voters to know that he "personally" likes "being a guy."
Booker, a bachelor and currently the mayor of Newark, has faced questions in the past about his sexuality. He told the Washington Post in an interview published Monday that he thinks the speculation is "wonderful."
"People who think I'm gay - some part of me thinks it's wonderful, because I want to challenge people on their homophobia," he said. "I love seeing on Twitter when someone says I'm gay, and I say, 'So what does it matter if I am? So be it. I hope you are not voting for me because you are making the presumption that I'm straight.'"
Lonegan, in response, accused Booker of pandering.
"Maybe that helps to get him the gay vote, by acting ambiguous," the Republican told conservative website Newsmax. "It's kind of weird. As a guy, I personally like being a guy."
For good measure, Lonegan poked fun at Booker's confessed penchant for manicures and pedicures.
"I don't know if you saw the stories last year," he said. "They've been out for quite a bit about how he likes to go out at three o'clock in the morning for a manicure and a pedicure."
"I don't like going out in the middle of the night, or any time of the day, for a manicure and pedicure. It was described as his particular fetish," Lonegan added. "I have a more particular fetish. I like a good scotch and a cigar. That's my fetish, but we'll just compare the two."
Lonegan, who has trailed Booker by double digits in recent polls, is generally thought to be a long-shot in deep-blue New Jersey. The two will square off in an October general election to serve the remainder of the late-Sen. Frank Lautenberg's term.
Thanks for reading CBS NEWS.
Create your free account or log in
for more features.