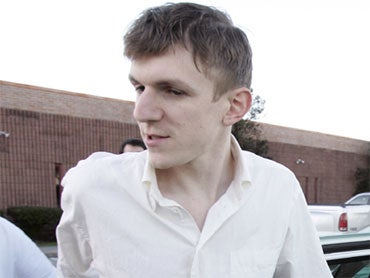 Conservative hidden camera sting targets NPR
Updated 5:59 p.m. Eastern Time

Conservative activist James O'Keefe, whose deceptively edited hidden camera videos* have made him a star on the right, is out with a new video targeting National Public Radio executive Ron Schiller - and by extension NPR itself.
The video purports to show Schiller speaking to a pair of men posing as representatives of a phony Muslim group seeking to give $5 million to NPR. The men tell Schiller they are affiliated with the Muslim Brotherhood, the Islamist political movement.
It shows Schiller stating that the Republican Party and the Tea Party is "fanatically involved in people's personal lives and very fundamental Christian - and I wouldn't even call it Christian. It's this weird evangelical kind of move."
Schiller goes on to say that the "xenophobic" Tea Party has hijacked the GOP and calls them "white, middle-America, gun-toting - I mean, it's scary. They're seriously racist, racist people."
The video suggests that Schiller subsequently added that he wanted to "talk personally, as opposed to wearing my NPR hat," then suggesting that there is an "anti-intellectual" bent among much of the Republican Party.
"In my personal opinion, liberals today might be more educated, fair and balanced than conservatives," he says.
It's not clear whether O'Keefe, who has been shown to have manipulated his videos in the past to suit his agenda, manipulated his new video, though he has also posted what he says is the full video online. (O'Keefe's record also includes a botched attempt to seduce a CNN reporter as part of a prank and a guilty plea for entering federal property under false pretenses.) But NPR has confirmed that Schiller is the person talking, and released a statement saying he was no longer with the organization.
In a statement posted on Twitter by NPR media correspondent David Folkenflik, NPR said it refused the offer from the phony group for a $5 million check with no strings attached. Dana Davis Rehm, NPR's senior vice president for communications & external relations, added that Schiller said last week he would leave NPR for another job, though NPR says the decision was not related to the video release. (The organization later said that Schiller had been placed on "administrative leave" pending his planned May departure while it reviews the situation.)
"We are appalled by the comments made by Ron Schiller in the video, which are contrary to what NPR stands for," Rehm said.
The comments by Schiller, who is not related to NPR CEO Vivian Schiller, have generated outrage among conservatives, who are citing them as part of their push to ensure no federal money gets to NPR. (As Hotsheet reported in October, after the last round of calls for NPR to be defunded, NPR gets up to ten percent of its budget from the federal government, mostly through dues from member stations.) Ron Schiller says in the video that "we would be better off in the long-run without federal funding," though he says that "if we lost it all together we would have a lot of stations go dark."
Schiller did not have an editorial role at NPR; he was the head of the organization's nonprofit foundation, and essentially served as a fundraiser. The release of the video showing O'Keefe's elaborate sting, which included a fake website for the fake Muslim group, is the latest example of an emerging trend: Partisans using false identities and hidden cameras to embarrass their opposition and score ideological points.
Just yesterday, the left seized on a video showing Massachusetts Republican Sen. Scott Brown asking conservative billionaire David Koch for money for his 2012 reelection campaign. "Your support during the election, it meant a ton," Brown says in the video. "It made a difference and I can certainly use it again." The video was shot surreptitiously by blogger Brad Johnson of the liberal site Think Progress at the dedication of the David H. Koch Integrative Cancer Institute at MIT.
And last month, Wisconsin Gov. Scott Walker took a call from a left-leaning journalist pretending to be David Koch, which the journalist then released to the public.

---
*NOTE: After this post went up, conservative commentator Andrew Brietbart, an O'Keefe ally, took issue with the characterization of O'Keefe's videos as deceptively edited. He argued in an instant message conversation that a finding by the California district attorney that the videos were deceptively edited was politically motivated. (A Brooklyn district attorney came to the same conclusion, though that finding did not come up in the instant message exchange.) Breitbart also said that images in the videos of O'Keefe dressed as a pimp did not imply that O'Keefe was dressed that way in his conversations with ACORN employees. Click here for the New York Times public editor's examination of the issue.
Thanks for reading CBS NEWS.
Create your free account or log in
for more features.