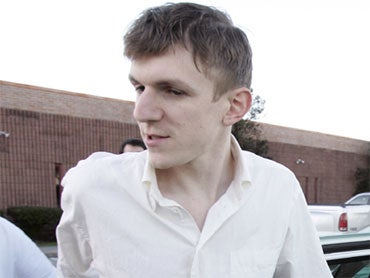 ACORN Foe James O'Keefe Sought to Embarrass CNN's Abbie Boudreau on Porn-Strewn "Palace of Pleasure" Boat
It's hard to even know where to start with this one: James O'Keefe, the conservative filmmaker whose undercover videos essentially destroyed community organizing group ACORN, apparently attempted to lure CNN Correspondent Abbie Boudreau onto a boat potentially strewn with dildos and pornography, where he planned to faux-seduce her as hidden cameras filmed the whole thing.

Yes, you read that right.

CNN lays out the story here, and Boudreau herself explains what happened in the video below. Here's what happened: CNN had been working on a documentary about young conservative activists, O'Keefe among them; On August 10th, O'Keefe requested a private meeting with Boudreau, suggesting that he just wanted to talk because he was uncomfortable "about letting people into my sort of inner sanctum."

O'Keefe recorded the call without telling Boudreau, and emailed it to friends and colleagues. (It ultimately ended up in CNN's hands.) In the email, he said he was "getting closer" to getting to Boudreau and asked one colleague if "you think I could get her on the boat." Boudreau said later she had understood that she would be meeting with O'Keefe in his office.

When Boudreau showed up for the meeting in Maryland a week later, she was met by Izzy Santa, the executive director of O'Keefe's group, Project Veritas. A visibly nervous Santa asked to speak to Boudreau in the CNN correspondent's rented car, where Santa revealed that O'Keefe was attempting to set her up.

And what a setup it was. "Izzy told me that James was going to be dressed up and have strawberries and champagne on the boat, and he was going to hit on me the whole time," Boudreau recounts.

O'Keefe eventually emerged, and Boudreau had a brief discussion with him in which she said he did not have permission to film her; she declined to get on the boat, and soon left.

That was a good choice: According to a 13-page document titled "CNN Caper" about the plan obtained by the network, the "equipment needed" for the prank included "condom jar," "dildos," Alicia Keys music (though not Marvin Gaye because it is "too chiche)," lube, a ceiling mirror, posters and paintings of naked women, copies of Playboy and other pornographic magazines, Viagra pills, fuzzy handcuffs and a blindfold.

Also listed among the needed equipment are "hidden cams on the boat" and a "tripod and overt recorder near the bed, an obvious sex tape machine."

In an email expressing doubts about the operation, Santa wrote that O'Keefe "has staged the boat to be a palace of pleasure with all sorts of props, wants to have a bizarre sexual conversation with her."

The "CNN Caper" document laid out a message that O'Keefe would record in advance of the prank in which he would complain that CNN was planning "to portray me and my friends as crazies, as non-journalists, as unprofessional and likely as homophobes, racists or bigots of some sort."
For that reason, the script continued, O'Keefe would say, "I'm going to punk CNN. Abbie has been trying to seduce me to use me, in order to spin a lie about me. So, I'm going to seduce her, on camera, to use her for a video. This bubble-headed-bleach-blonde who comes on at five will get a taste of her own medicine, she'll get seduced on camera and you'll get to see the awkwardness and the aftermath."
The script was not written by O'Keefe, who emailed CNN to say he found "certain elements highly objectionable and inappropriate, and did not consider them for one minute following it." It was reportedly the work of Ben Wetmore, one of the young conservative activists tied to O'Keefe, who was among those charged earlier this year in an attempt to tamper with the office telephone system of Democratic Senator Mary Landrieu of Louisiana.
The "CNN Caper" document also said the group wanted to expose, in a different operation, the "big lie" under which CNN operates, including their bias against conservatives and "their own internal racism against whites" as well as minorities.
The section of the "Caper" document that addresses the Boudreau plan includes a mock script in which O'Keefe tries to seduce Boudreau and explains, "the joke is that the tables have turned on CNN."
"Using hot blondes to seduce interviewees to get screwed on television, you are faux seducing her in order to screw her on television." (Boudreau has a long and impressive resume.)
If there is fallout, the document says, "make sure to emphasize Abbie's name and overall status to help burden her career with this video, incident and her bad judgment in pursuing you so aggressively."
It continues that "if they go on the attack, you should point out the hypocrisy in CNN using the inherent sexuality of these women to sell viewers and for ratings, passing up more esteemed and respectable journalists who aren't bubble-headed bleach blondes and keep the focus on CNN."
Santa - the Project Veritas executive director who warned Boudreau about the operation - reportedly remains in the group's payroll, though she has had her responsibilities taken away from her.
---
Brian Montopoli is a political reporter for CBSNews.com. You can read more of his posts here. Follow Hotsheet on Facebook and Twitter.
Thanks for reading CBS NEWS.
Create your free account or log in
for more features.