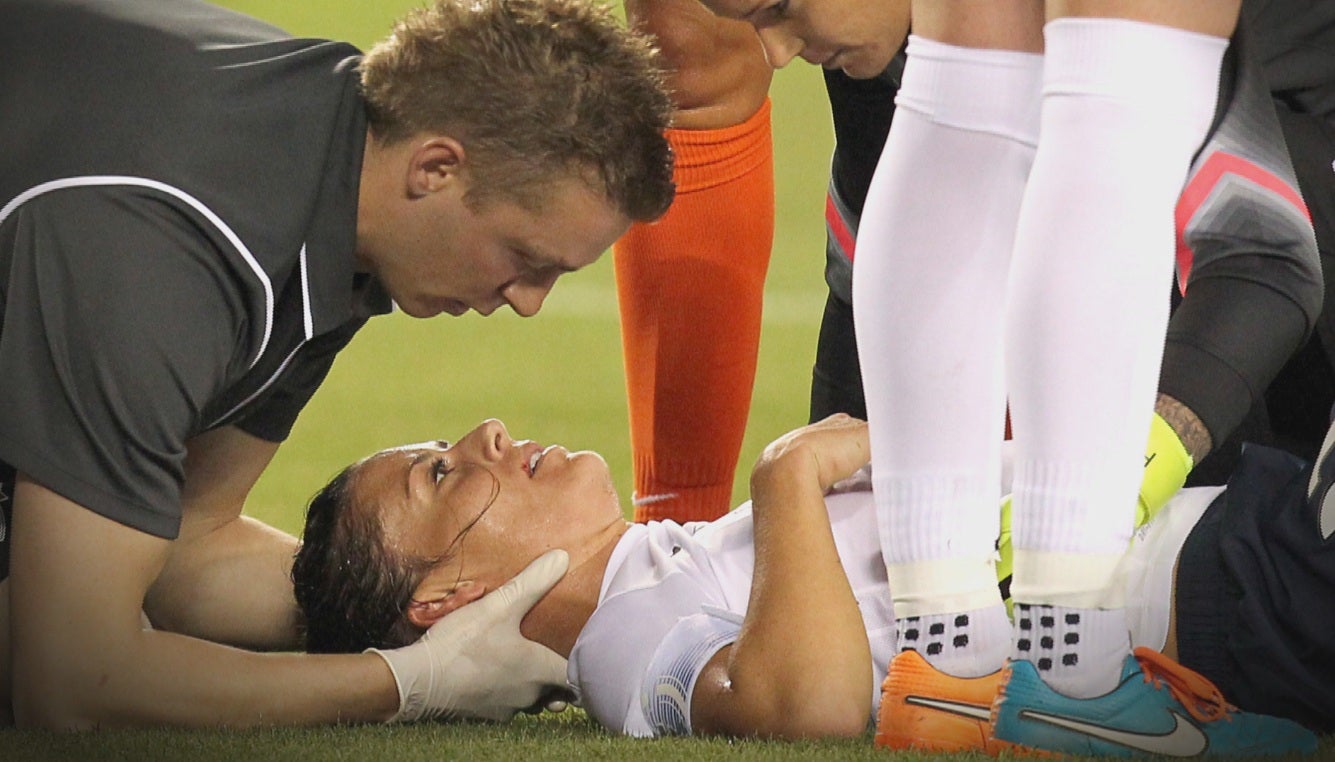 High-tech headband boosts concussion detection
Technology has made it possible for players to keep track of how certain hits are impacting their brains before a concussion takes them out of the game completely, CBS News' Jericka Duncan reports.
Soccer's called "the beautiful game," but sometimes beauty can be dangerous.
When USA forward Abby Wambach's game-winning headers are executed correctly, they result in goals; when they don't, injuries can occur.
"I think any sort of head, concussion issues, it's a big deal," she said. "You wanna make sure everybody leaves the game in as good condition as they came to it."
In 2013, Wambach suffered a serious concussion, knocked down by a line-drive fired at close range.
Now she's an advocate for better concussion awareness. Wambach has partnered with Connecticut-based company Triax, which developed an "impact headband," designed to measure how often and how hard a player gets hit.
"It was a silent epidemic for years in our country," Triax vice president Chad Hollingsworth said. "About 10 million women play soccer in the U.S. and there's 2 million football players. So, you've got five times as many people playing this one sport that we don't know a lot about."
The headband can't diagnose a concussion. Instead it downloads hit statistics in real time to a computer or mobile app. That data, measuring things like force and rotation, is then analyzed by users, doctors and researchers. Wambach sometimes wears it during training.
"The idea is how many small hits are too many? So in the future, you could have a limit for how many hits someone's allowed to take in a week, a month, or a season," Hollingsworth said.
New technologies can track and also protect. Defender Ali Krieger has had two concussions, so this season she's wearing a protective headband during games. It's made from military-grade fabrics like Kevlar -- a lightweight yet strong plastic. Its creators say the band helps minimize the impacts that lead to injuries.
"There are potential gains, but there is also a potential downside in that players may have an increasing sense of invincibility if they're using a piece of protective equipment and playing perhaps in a more aggressive means," concussion specialist Dr. James Noble said.
He said women suffer from them at higher rates than men.
When the women take the field Friday night, officials will be paying close attention to roughness.
USA defender Becky Sauerbrunn said FIFA officials met with players before this tournament.
"Any reckless challenge toward the head -- that would result in a yellow or red card pretty easily," Sauerbrunn said.
In September FIFA proposed new concussion guidelines, allowing referees to stop a game for three minutes if a player is suspected of a concussion so that team doctors can examine them.
Thanks for reading CBS NEWS.
Create your free account or log in
for more features.