Concert Shows Why Banks Are Afraid Of Facebook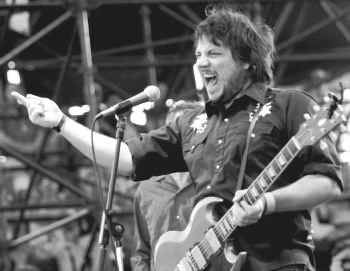 At the Wilco concert two nights ago, I couldn't help noticing that almost everyone in the audience was busy snapping pictures with their cell phones and quickly uploading them to Facebook. I couldn't help noticing this because most of us were standing on the infield of Keystone Park, where the minor league Brooklyn Cyclones play their games, and my view of the band was blocked by all those phones held aloft.
Not wanting to feel left out, I updated my status on Facebook, only to get pinged a few minutes later by a friend writing "I'm here too." A third friend we have in common chimed in from her home in Chicago, and suddenly I understood the immediacy of the Facebook experience. It never mattered that I never found my friend in the crowd -- we all shared the experience virtually. On my way out of the ballpark, I was struck by something else: a stand was busily selling Wilco-branded tee-shirts and posters, and neither Commerce Bank nor the Dime Savings Bank -- two banks that sponsor Keystone Park -- had any real presence whatsoever, although their banners ring the field. As far as the concert-goers were concerned, they didn't exist.
What you had were fans, Wilco and Facebook. Facebook is already hosting certain kinds of transactions, and there's every indication that the company is working on a full-fledged transactions platform as part of its long-term business plan. And as I learned from Craig Clearwater, vice president of Informatica, a data quality vendor that serves the financial services sector, companies like eBay's PayPal, that facilitate financial transactions, don't have the same asset requirements as banks that take deposits and loan money.
A couple of years ago, banks were unworried by the likes of Second Life and other online worlds that run on virtual currencies -- even if those currencies can be translated into physical currency. Even with millions of members, none of those sites had the kind of transaction volumes or enough repeat business to worry actual banks. But now, Clearwater told me during a meeting at his New York office, "the banks are looking at Facebook" and seeing a threat.
Ron Hirson, co-founder of mobile payments vendor Boku, blogged recently:

Facebook alone is calculated to have had $500 million of virtual goods and currencies run across its platform as people buy everything from birthday cakes to godfather favor points for their friends and for themselves.
Companies like eBay and Amazon -- which recently launched a payment system of its own -- have never had trouble figuring out how to monetize their sites; monetizing is what they do. But they aren't hubs for virtual social gatherings and aren't trying to capitalize on the serendipitous nature of online fraternization. While they compete with banks for some portion of the credit card transaction business, they don't represent the same kind of threat as a Facebook. Online retailers have been trying to duplicate the social component of physical shopping with little success, mainly because e-commerce sites aren't destinations the way even the lamest suburban mall can be a social event. Facebook, however, is much, much better than a suburban mall because you never know when you might see one of your friends or know what they're doing. Shopping with them is a small step away, and when they start shopping on Facebook using a Facebook transaction platform, banks and traditional e-commerce sites will have a huge problem on their hands.

[Image source: Blawk359 via Photobucket]