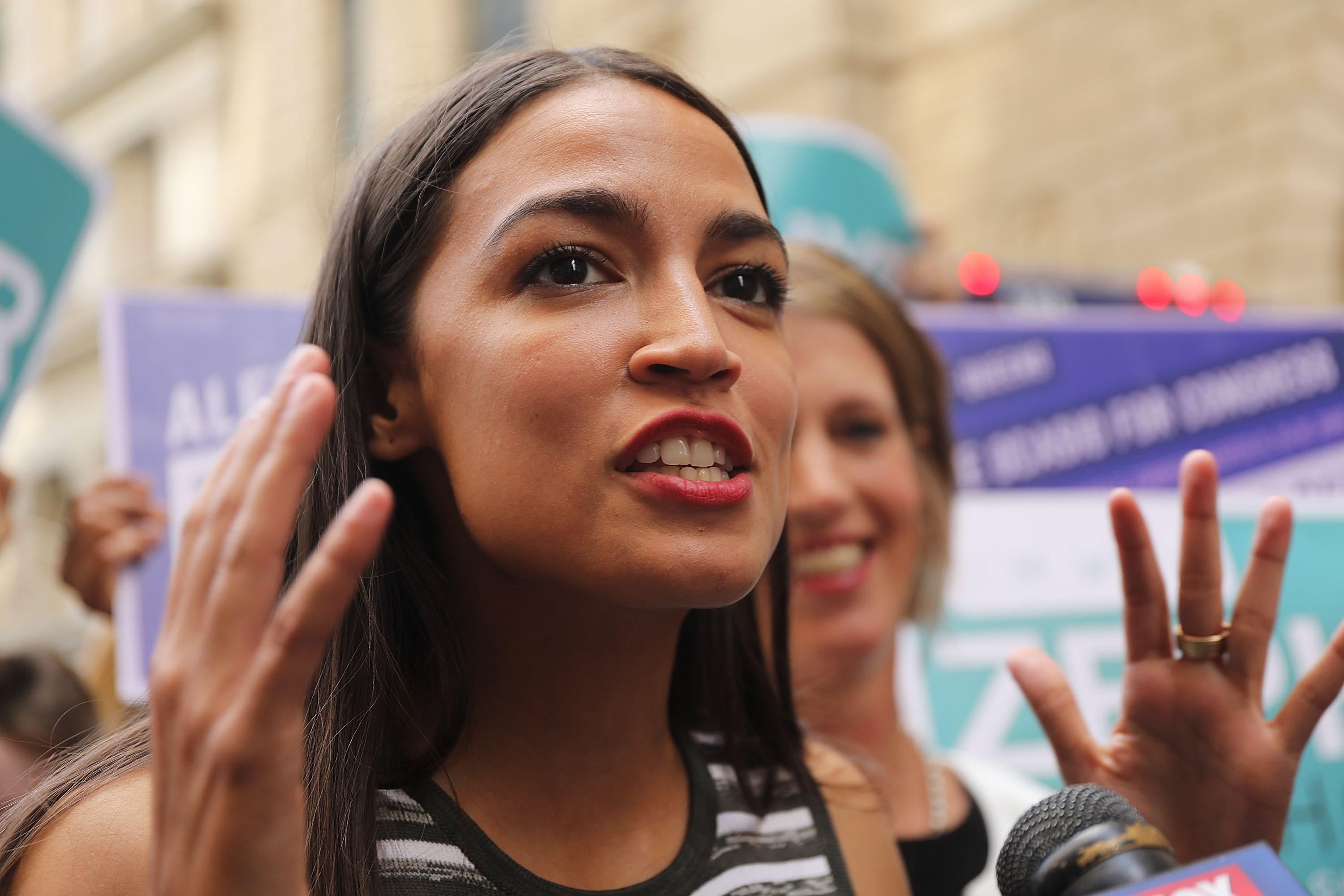 Commentary: Medicare for all? Abolish ICE? Maybe not
What does Chris Pappas know that Bernie Sanders doesn't?
You know Sanders, the self-proclaimed socialist who almost snared the Democratic nomination (some would say he was cheated out of it) in 2016. He was on the campaign trail in Kansas this weekend with the new rising star of the Sanders Left, soon-to-be Rep. Alexandria Ocasio-Cortez, of New York. Together they championed the causes of Abolishing ICE, Impeaching Trump and #MedicareForAll.
And who is Chris Pappas? He's one of the many Democrats running in swing districts across the U.S. whom you haven't heard of. Considered a front-runner in the primary to replace retiring Rep. Carol Shea-Porter, D-New Hampshire, Pappas is on the ground in New Hampshire's 1st Congressional District, going door-to-door and talking to voters.
And interestingly—he's not supporting Medicare for all. Not preaching immediate impeachment, and pointedly not promising to shut down the Immigration and Customs Enforcement agency.
And he's also not alone.
As Sanders and Ocasio-Cortez headed to the heartland to sell their Democratic Socialist vision of the party, the center-left Democratic think tank Third Way was wrapping up its meeting in Columbus, Ohio. Hundreds of politicians, activists and party members concerned that anti-Trump activism may push Democrats too far to the Left.
"Once again, the time has come to mend, but not end, capitalism for a new era," said Jonathan Cowan, Third Way's president. "80s supply-sidism, 90s centrism and 60s socialism will not cut it for the era we're in. We need something new and different."
Candidates like Ocasio-Cortez don't agree. In a joint appearance with Sanders on CBS News' "Face The Nation" this Sunday, she told host Margaret Brennan "the factors that ultimately created our win was the fact that we had bold commitments and I campaigned on hard commitments of Medicare for all, tuition-free public college, ensuring a Green New Deal for our future."
Free health care, free college, government-guaranteed jobs for all—the fact that those ideas are in the mainstream of the American political debate is a significant development. But some Democrats have a sneaking suspicion that these issues are more popular in deep-blue districts like San Francisco or college towns like Amherst, Massachusetts, than in the rest of the country.
When House Democrats rolled out their #MedicareForAll caucus last week, conspicuously absent were House Minority Leader Nancy Pelosi, Steny Hoyer and other top members of the Democrats' House leadership.
Meanwhile, Republicans already have a strategy in place if becomes a centerpiece of the 2018 campaign: "Hands Off My Medicare."
"It would break Medicare," said House Majority Leader Kevin McCarthy, R-Calif. "And it would end any private insurance as we know it." GOP members are also quick to point out the price tag: From $1.4 to $2.8 trillion a year.
And what about "free" college? And a guaranteed jobs program? Those would cost hundreds of billions more. Members of the socialist-friendly end of the Democratic coalition say the bill will be covered by "millionaires and billionaires," but moderate, swing-district voters may not be so sure.
Even an outspoken liberal like former Starbucks CEO (and potential 2020 presidential candidate) Howard Schultz has his doubts.
"It concerns me that so many voices within the Democratic Party are going so far to the left," he said in an interview last month. "I say to myself, 'How are we going to pay for these things,' in terms of things like single payer [and] people espousing the fact that the government is going to give everyone a job. I don't think that's realistic."
Even in deep-blue Massachusetts there are concerns about the Democratic Socialist message. Asked if Ocasio-Cortez represents the future for his party, Massachusetts Rep. Seth Moulton said hers is an "important" voice, but not the only one.
"I think that she has an important voice in the Democratic Party, but the reality is that if we are going to be a majority party, if we are actually going to win in November, we've got to have a diversity of views, and I think that's one of the things that's made our party strong in the past," Moulton said. "But if we become narrower. If we become more divided, then we can do that as Democrats, we are just not going to win."
The outcomes of special elections since Trump's inauguration show Democrats are clearly on a winning streak. And the passion—not to mention fundraising power—of progressives like Sanders and Ocasio-Cortez accurately reflect the mood of their party's base.
"There is no question there is a lot of volume and emotion and energy around the more activist wing of our party," said Jim Himes, D-Connecticut, chairman of business-oriented New Democrats coalition.
The question is whether the millions of swing voters—the people who will determine who controls the House in 2019--feel the same.
Thanks for reading CBS NEWS.
Create your free account or log in
for more features.