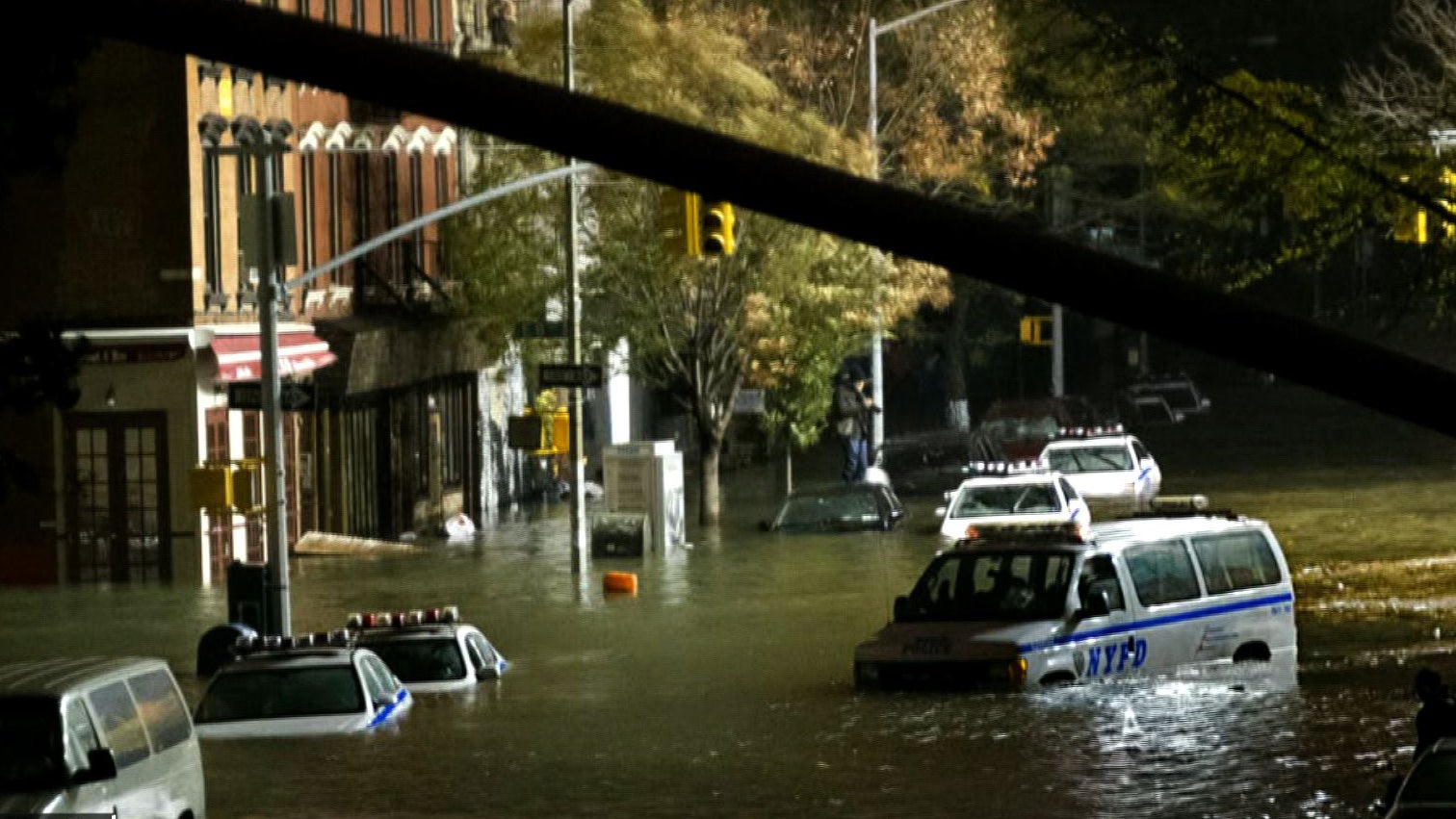 Climate change may make coastal flooding like Sandy's more frequent
When Superstorm Sandy struck the New York and New Jersey area on Oct. 29, 2012, it caused more than $50 billion in damage, according to the National Oceanographic and Atmospheric Administration (NOAA).
Much of that cost came from coastal flooding that ravaged downtown Manhattan, Staten Island, parts of Brooklyn, and many New Jersey beach towns, among other areas.
Dr. Radley Horton, a climate scientist at Columbia University and NASA's Goddard Institute for Space Studies, says three environmental factors -- sea level rise, warming upper ocean temperatures, and arctic sea ice melt -- contributed to the level of damage .
"Sea levels were higher when Sandy hit then they were say 100 years ago," Horton explained to CBSNews.com. "As a result of that, the damage, the water piling up, was higher than it would've been before we had that sea level rise."
In understanding why sea levels are rising, Horton says we need look no further than greenhouse gas emissions.
"We've got about 40 percent more carbon dioxide in the atmosphere now than we did at the start of the Industrial Revolution. That's almost entirely due to human activities, the burning of fossil fuels, land use changes, cutting of forests," he said.
"As a result, we've got more of these heat-trapping gases in the atmosphere. Some of that heat warms the atmosphere, some of it goes down into the ocean, and a warming liquid expands. Additionally, some of that ice that was trapped on land before is starting to melt, making its way into the water where it can cause sea level rise."
Climate models predict that sea level will rise an additional two to three feet in the New York area over the next century. "That alone could lead to three times as frequent coastal flooding events for New York even if storms like Sandy don't change at all," Horton said.
Warmer upper ocean temperatures, which have also come as a result of greenhouse gas emissions, are providing more fuel for the hurricanes. So, while the region might see the same types of storms, they may be more frequent and more powerful than before.
Rising temperatures in the Arctic are also playing a role, according to a preliminary study that Horton is currently completing.
"The idea is that as we lose sea ice in the Arctic, the Arctic warms dramatically... We now have a lower temperature gradient between the warm tropics and those now-warmer polar regions," he explained. "That changes the jet streams, which changes the steering patterns that affect storms like Sandy."
If the jet stream continues to weaken, storms will be more likely to follow a track similar to Sandy's, because the jet stream won't be strong enough to push them east over the Atlantic as it has in the past.
Wind patterns and the amount of dust in the atmosphere also impact the severity of hurricanes, Horton noted, though researchers do not yet fully understand the extent of the impact.
Beyond coastal flooding events, climate change is leading to other extreme weather patterns. In 2003 and 2004, a series of summer heat waves in Central Europe and Russia took more than 30,000 lives, by some estimates. A 2010 heat wave killed 11,000 in Moscow alone. These are related to rising global land temperatures, as well as decreasing air quality, Horton explained.
"Of course coastal storms aren't the only hazard," he concluded. "We also need to think about extreme heat events, which could be an even more deadly killer in the future."
Thanks for reading CBS NEWS.
Create your free account or log in
for more features.