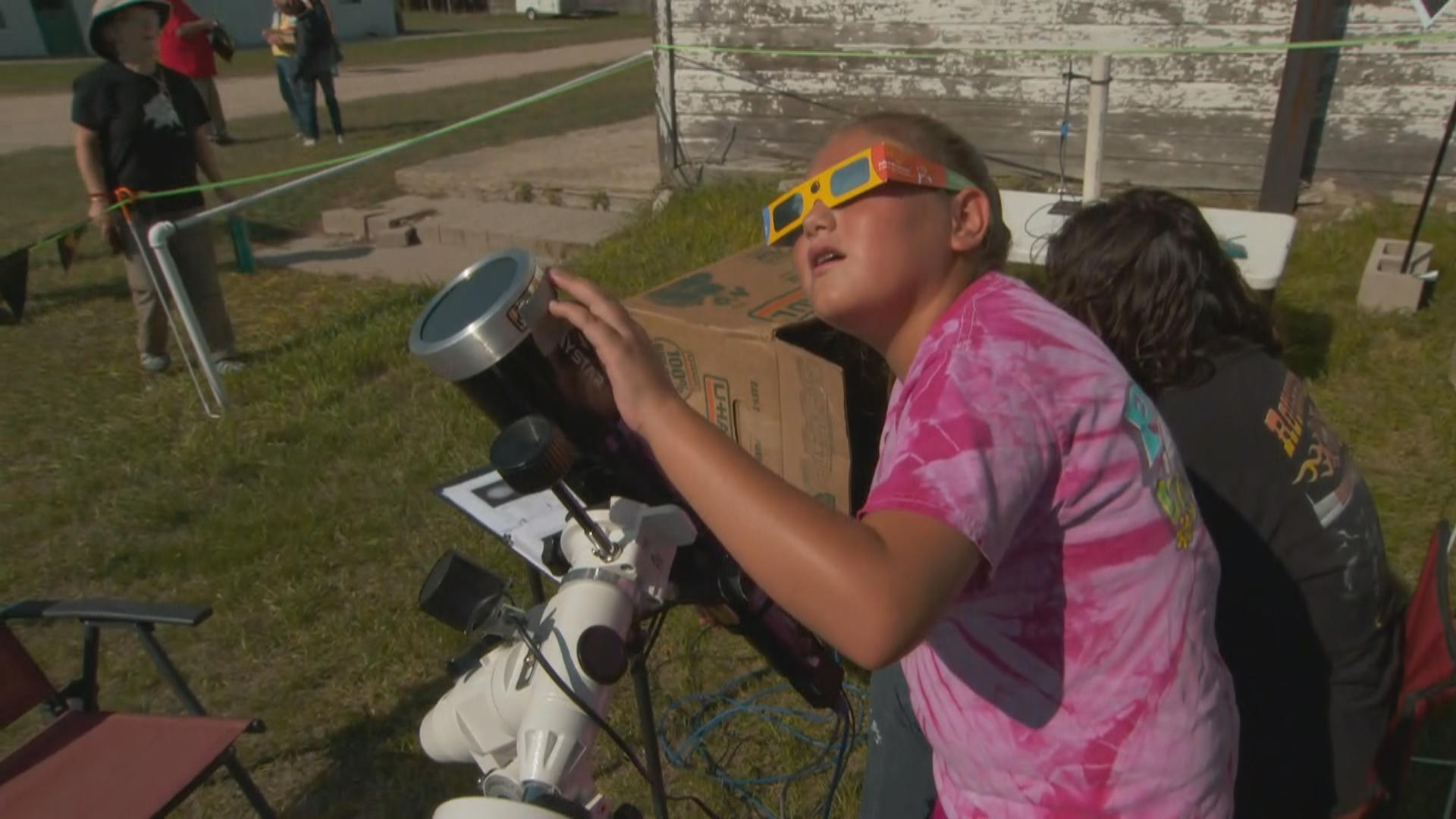 Teenage citizen scientists journey to gather photos of total solar eclipse for NASA
Scientists hope a huge amount of data from Monday's eclipse, including amateur photos, will provide new insights into our solar system. They are getting help from teams of citizen scientists spread out along the path of totality.
Budding stargazers worked as NASA's foot soldiers on a mission to collect as much data as possible on the eclipse -- and that they did. Together, they produced more than 4,000 images. The response was astronomical.
As the day wore on, anticipation grew for the sublime spectacle that would last just two minutes and 27 seconds. But three teenagers' cosmic journey started much earlier.

"We're 10 hours away so it's quite a drive, but it's definitely worth it to come and get to see something so amazing," said Reba Doucette.
Reba, Elliott Iwen, and Alexus Cochran are from a Native American reservation school in northern Montana.
They took a road trip with their science teacher, Janet Jorgensen, to the abandoned town of Jay Em, Wyoming, to watch and study the eclipse.

"It's just an amazing opportunity for the kids because this is real life science and it helps them be exposed to what kind of opportunities there might be in the future," Jorgensen said.

These students are one of the 68 teams nationwide who participated in an amateur scientist experiment called Citizen CATE – volunteers with an extraordinary mission.

"We're trying to get pictures of the solar eclipse so we can study the corona, which is the light that comes on the edges. There are like solar flares and stuff that come off the sun that you can really only study when there's an eclipse," Iwen said.

All gathered at different points on the path of totality to help scientists boost their data collecting potential.
"We can follow the shadow of the moon as it crosses the United States and take data sequentially, sort of like in a little relay race," said Matt Penn, the project's director.

Penn's team at Tucson's National Solar Observatory provided the volunteers with equipment and instructions for the astronomical undertaking.

"If the network works perfectly, we'll get 30 times the data of previous studies, even if we have 50 percent participation, we'll get 10 times the amount of data, so it's going to be a big improvement either way," Penn said.

When the eclipse began, volunteers just had to press go and the computer did the rest.
In Carbondale, Illinois, they captured out-of-this world images like the so-called diamond ring effect.
In Wyoming, when the moment finally arrived, darkness descended upon the town of Jay Em. The sight they'd been waiting for revealed itself: a total solar eclipse.
And before they knew it, it was over. For Alexus, a teen from a remote Indian reservation, "It was really pretty. Talking about it just makes me cry."
Two minutes and 27 seconds will stay with them for a lifetime.
"It was just – something you don't forget. It was just really pretty," Reba said.

The citizen scientists will get to keep the equipment they were given for the project. The experiment's director told us he hopes it will inspire them to stay engaged in astronomy, and perhaps even consider careers as scientists.
Thanks for reading CBS NEWS.
Create your free account or log in
for more features.