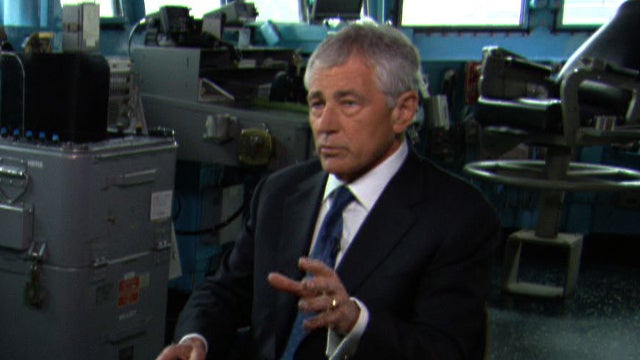 Hagel: "Someone has to be accountable" for VA health care crisis
Defense Secretary Chuck Hagel said that "someone has to be accountable" for the growing allegations of misconduct and treatment delays at Veterans Affairs hospitals, but the focus of the investigation should be to "fix the problem" rather than fire embattled VA Secretary Eric Shinseki.
Speaking to CBS News' Charlie Rose aboard the USS Oak Hill in New York City, Hagel was asked about reports of misconduct, treatment delays and falsified records at VA facilities nationwide - including allegations that veterans may have died waiting for care at a Phoenix VA hospital.
"Any time there is an issue or a problem or a veteran doesn't get service - or certainly if a veteran dies because he or she doesn't get service," Hagel said, "there's no higher responsibility our country has than to these people who serve and sacrifice."
Hagel said that despite the growing scandal, he still supports Shinseki, who promised a crackdown on the Phoenix VA hospital where staff allegedly kept a secret list of patients to hide delays in care. That hospital is among 26 being investigated nationwide, according to the VA inspector general.
Problems at VA hospitals have been well documented. The Government Accountability Office reported on evidence of VA wait time failures as far back as 2000. The Office of the Inspector General at the VA reported the same problem multiple times over the past decade.
Hagel said the focus should be to "fix the problem" rather than to fire Shinseki. He said officials still need more facts about the latest allegations but made it clear that there will be "zero tolerance" for denying military veterans timely care.
"Why did this happen? How was it allowed to happen? Who's accountable? Someone has to be accountable here, like in any institution," Hagel said.
A new CBS poll shows that 36 percent of veterans blame Shinseki and the agency he leads for the health care woes while 29 percent blame local VA hospitals. Last month, a Washington Post survey showed that 58 percent of Iraq and Afghanistan veterans say the VA is doing only a fair or poor job of meeting the needs of veterans.
Hagel also addressed sexual assault in the military, and said he has tried to reassure parents worried that their children might face possible sexual harassment in the military.
"Yes, we've had problems, we haven't fixed sexual assault harassment in the military but we are fixing it," Hagel said. "We are getting to where we need to be - that is, no sexual assault, no sexual harassment."
Thanks for reading CBS NEWS.
Create your free account or log in
for more features.