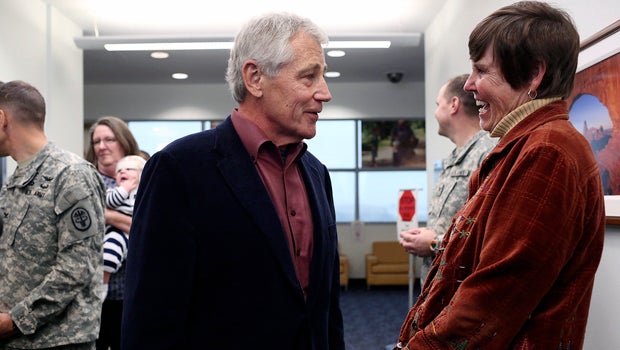 Chuck Hagel making rare visit to nuclear missile base
F.E. WARREN AIR FORCE BASE, Wyo. -- Defense Secretary Chuck Hagel is making a rare visit to an Air Force nuclear missile base, hoping to boost morale among the men and women who operate, maintain and safeguard the nation's Minuteman 3 nuclear missiles.

Officials have said those service members are increasingly tired of working in what can seem like oblivion. They win no battles, earn no combat pay and only rarely are given public credit of any kind.

That changes Thursday, if only for a day and for a small number of them.

Hagel said Wednesday he realized the ICBM workforce has morale issues, and his visit Thursday was intended to show that their efforts were appreciated.

"It is lonely work," he said. "They do feel unappreciated many times."

He said he spoke to a small group of nuclear weapons officers in November.

"I asked about their futures, and they were very honest, and most of them said they were unsure," he said. "Well, morale is a huge part of that."

F.E. Warren Air Force Base, which is headquarters for the organization in charge of all 450 intercontinental ballistic missiles, has about 3,100 enlisted airmen and officers and saw 12 courts-martial in 2013, compared with nine the year before, 12 in 2011 and eight in 2010, according to Air Force statistics provided to The Associated Press last week in response to a Freedom of Information Act request.

In each of the past four years, the courts-martial rate at F.E. Warren was higher than in the Air Force as a whole.

The AP documented problems that go well beyond low morale in a series of stories in 2013, including one that disclosed that an ICMB operations officer had complained of "rot" infesting his missile force. Since then it has tried to improve nuclear operations, but problems remain, including attitude issues, leadership lapses and, far more perilously, security lapses such as taking naps during a 24-hour shift with the blast door open, which could leave the missiles and airmen vulnerable and violates Air Force rules. A RAND study done for the Pentagon also noted that the morale issues may be leading to higher rates of suicide and discipline problems than exist among other service members.

Hagel was to fly by helicopter to a Minuteman 3 missile launch control center in Nebraska. Besides Nebraska, the missiles are in underground silos in Wyoming, Colorado, Montana and North Dakota.

Each launch center, buried 60 feet or deeper underground, controls 10 Minuteman 3 missiles, each in its own silo.

The last Pentagon chief to visit an ICBM base was Robert Gates, who in December 2008 spent a day at Minot Air Force Base, N.D., home of the 91st Missile Wing responsible for 150 Minuteman 3 missiles, although he did not go down into a missile launch control center as Hagel planned to do. Gates earlier that year fired the Air Force's top uniform and civilian officials for what he considered to be weak responses to serious lapses, including an unauthorized transfer of six nuclear weapons from Minot in August 2007.

Noting that he was the first defense secretary ever to visit Minot, Gates said, "We owe you the attention" and the resources needed to properly perform the nuclear mission - "the most sensitive mission in the entire U.S. military."

Hans Kristensen, a nuclear weapons expert at the Federation of American Scientists, said publicity about these missteps has made the ICBM force a "hot potato," causing Pentagon officials to "scratch their heads about how to manage this program. You cannot reassure the public about this when you are having these failures all the time."

The ICBM force is less than half the size it was during its Cold War heyday, but the missiles remain on high alert, with pairs of officers on duty in the launch control centers 24 hours a day, seven days a week, 365 days a year. It's a job that relatively few volunteer for, and a RAND study last year found signs of burnout among a sampling of ICBM crews and security forces.

The Air Force has considered, but never implemented, a system of incentive payments to ICBM crews that would reflect the unusual demands on their time in the field, where they are separated from their families.

The timing of Hagel's visit is interesting. Just last month, the Air Force released an investigation report chronicling inappropriate - and to some, embarrassing - behavior by Maj. Gen. Michael Carey, who was commander of the ICBM force until he was fired in October. Investigators said that while leading a U.S. government delegation to a nuclear security exercise in Russia last summer, Carey drank heavily, was rude to his hosts, cavorted with "suspect" local women and complained in public about a lack of support from his Air Force bosses.

Carey also said the men and women in the ICBM force had "the worst morale of any airmen in the Air Force," according to a member of his travel delegation quoted in the report.

Carey was given a "letter of counseling" as punishment, in addition to being relieved of command, but he remains in the service as a special assistant to the commander of Air Force Space Command, where he no longer has responsibility for nuclear weapons.

He was replaced as ICBM commander by Maj. Gen. Jack Weinstein.
Thanks for reading CBS NEWS.
Create your free account or log in
for more features.