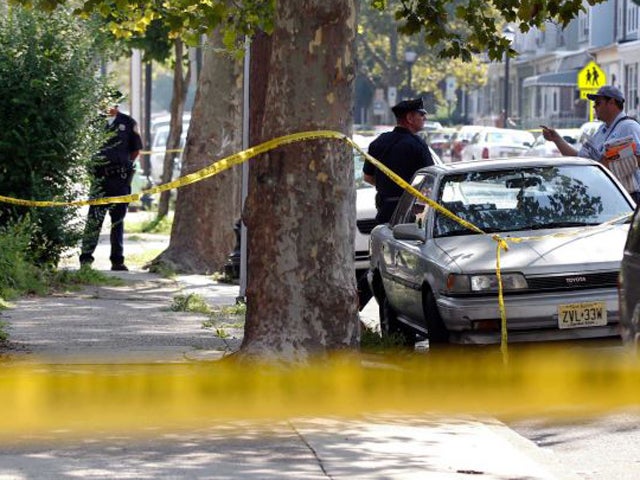 Chevonne Thomas, NJ mom, allegedly admits to son's decapitation in 911 call
(CBS/AP) CAMDEN, N.J. - New Jersey's child-welfare agency said Wednesday it will review its role in the case of Chevonne Thomas, the woman who allegedy decapitated her two-year-old son and killed herself just five months after regaining custody of the child.
Pictures: Mom, toddler dead in NJ decapitation-suicide
Investigators said the Camden woman called 911 and said her boyfriend stabbed the child, but quickly recanted.
"You know what, I did it, I'm lying, I'm lying, I'm lying, I did it," she said.
Police found the decapitated body of two-year-old Zahree Thomas Wednesday on the first floor of the Camden rowhouse he shared with his mother. Chevonne Thomas fatally stabbed herself in the neck after calling 911 to report her son's slaying, authorities said.
The Department of Children and Families said in a statement Wednesday night that its staff visited the family regularly and was providing "extensive" support and counseling services, including substance abuse testing and treatment.
Thomas lost custody of Zahree after being charged in 2010 with child endangerment. Police said she admitted to smoking marijuana laced with the hallucinogenic drug PCP, blacking out in a park and leaving her son unattended in a car. The charge was ultimately dropped due to a problem with a witness, according Jason Laughlin, a spokesman for the Camden County prosecutor's office.
Hours before police arrived at Thomas' house on Wednesday, neighbor Melanie Troutman reported seeing Thomas topless and "clearly upset" on the steps of her house. However, another woman in the neighborhood insisted Thomas was clothed.
Former neighbor Thelma Moore said Thomas exhibited mental health issues during the several years she'd known her. Moore described her as being in "a world all to herself," and said Thomas had seen a behavioral health therapist.
"She just walked around and talked and cursed to herself," Moore said.
Thomas' landlord, who did not want to be identified, said the woman had lived at the home for two months and was a perfect tenant, keeping the apartment tidy and clean.
Thomas told the 911 operator that she used to take the antidepressant Prozac.
"I didn't take it today, but I should have," she said, according to a recording of the call released Wednesday evening.
Mary Coogan, assistant director of the Advocates for Children of New Jersey, said the state agency has made progress in reducing case loads and training staff. But she said the department has not made enough headway on engaging troubled families and quickly developing support plans for them, "which are the basic tenets of good social work."
"We're not saying this is an easy task," Coogan said. "It's a very difficult task and it does require everybody's participation."
Coogan's colleague, Nancy Parello, said that while the deaths of Chevonne and Zahree Thomas "may not be a reflection of the entire system, it is a teaching moment."
More on Crimesider
Aug. 22, 2012 - NJ mom Chevonne Thomas seen topless, upset, before son was decapitatedAug. 22, 2012 - Mother, toddler dead in NJ decapitation-suicide, police say
Thanks for reading CBS NEWS.
Create your free account or log in
for more features.