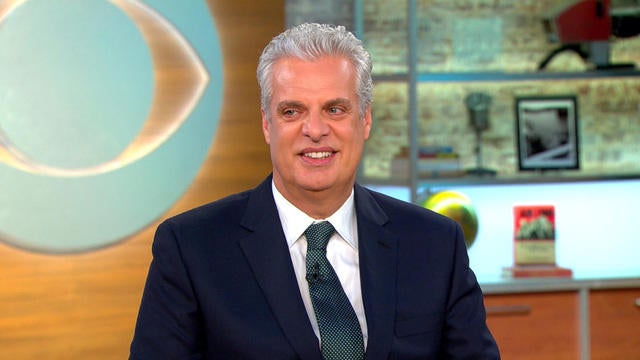 Eric Ripert, who was with Anthony Bourdain in his final days, reflects on 20 years of friendship
Earlier this year, the world mourned the death of Anthony Bourdain. The beloved TV host, writer and food evangelist died by suicide in a hotel room in France while filming an episode of his show "Parts Unknown." Eric Ripert, a renowned chef and Bourdain's close friend, was with him in his final days.
In his first interview since Bourdain's death, Ripert spoke to "CBS This Morning" about his legacy and the time they spent together both on and off camera.
"Anthony was very curious by nature. Very respectful of cultures and he wanted to share with the public, his discoveries. The idea was do not be scared of traveling and do not be scared going to other countries and do not stay at the resort, do not stay at the hotel and eat the normal menu. Just go out, go in the street and engage with people. Try the food and learn the culture from that experience and I think he did really well in breaking walls, right, in between us and other countries that we sometimes are a bit scared or nervous to visit and that was really a great part of his legacy," Ripert said.
One chapter of their friendship included a live show in which the two made fun of each other called "Good and Evil." He still can't believe that they sold out shows across the U.S.
Ripert appeared on Bourdain's shows a number of times in appearances that demonstrated the playful nature of their relationship as well as the profound respect they had for one another. Ripert revealed that Bourdain, known as a blunt truth teller and vocal critic of the things he despised, never once disparaged his cooking.
"We used to play pranks on each other and we used to have a lot of fun, but he never criticized my food, which was nice," he said.
Ripert, considered one of the world's top chefs, is the co-owner of New York City's legendary seafood restaurant Le Bernardin, which was elevated to the best restaurant in the world by La Liste, a French organization that reviews nearly 16,000 restaurants worldwide.
"It's a great encouragement for the team that strives every day and we are today celebrating because we don't take any awards for granted," he said.
Le Bernardin has maintained a three-star Michelin rating – the highest possible – for 14 consecutive years. Asked about the creative process behind continuing to deliver dishes at that level, Ripert pointed to the restaurant's own backyard.
"Because we live in New York and we are surrounded by different cultures and I see so many chefs with different ingredients and different techniques, it inspires us to keep our roots, which is based in French tradition but at the same time it inspire to us explore and have some influence from Asia and South America and Europe. I happen to travel not too much, but enough to be inspired and when I come back from my trips I'm like, oh, let's try this and that and that's what becomes Le Bernardin's style. It's really a New York restaurant that has a sense of place when you come to Le Bernardin, it's what you feel like, you know, big city like New York and then the food represents that," he said.
As for the one thing every single person should have in their pantry? "Olive oil."
Thanks for reading CBS NEWS.
Create your free account or log in
for more features.