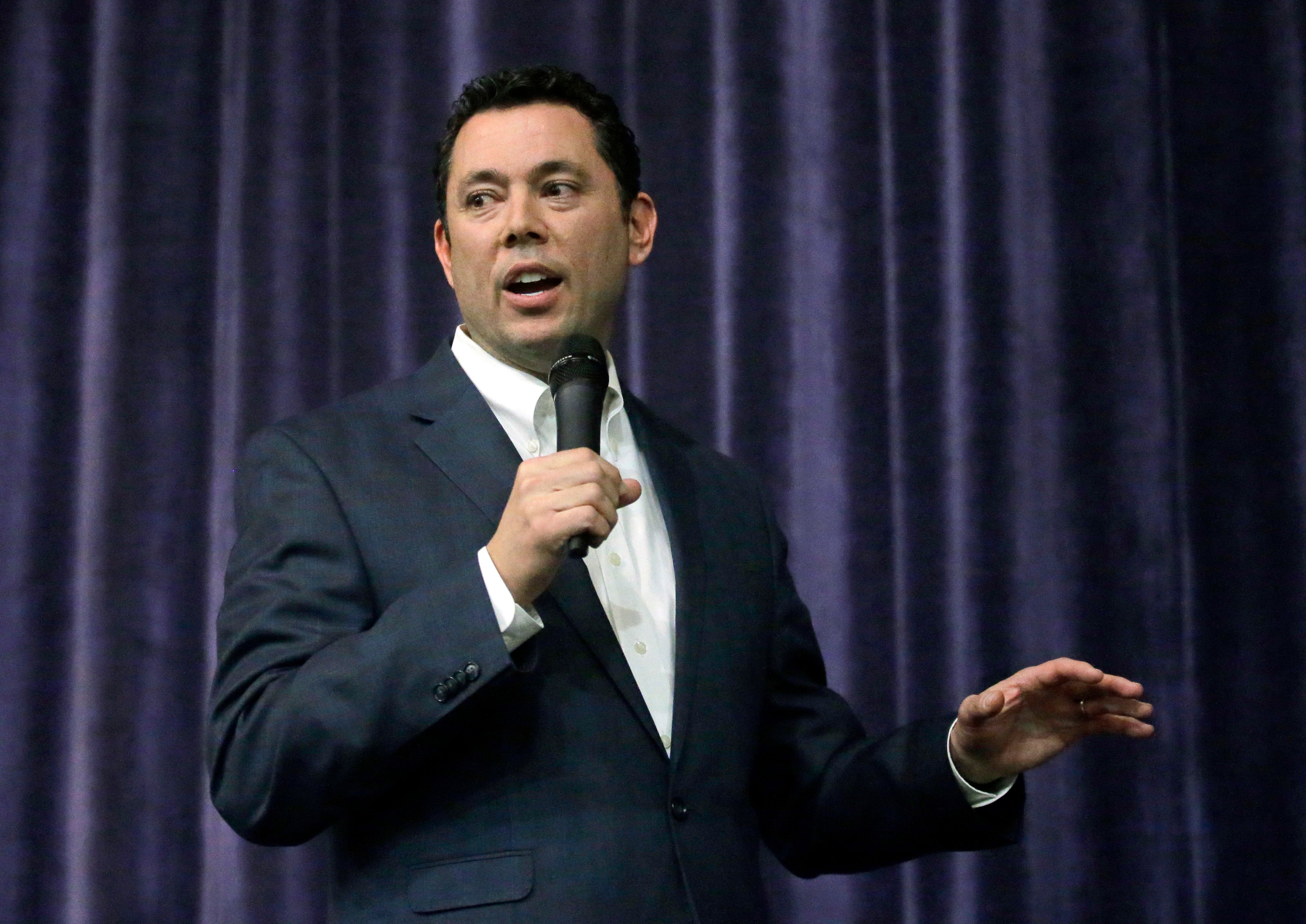 Chaffetz avoids re-election battle, eyes Utah governor race
SALT LAKE CITY— Utah Rep. Jason Chaffetz's surprising decision not to run for re-election next year gives the GOP congressman a chance to avoid a potentially damaging re-election campaign and make a future run for governor while clearing the way for a number of ambitious Utah Republicans to try to replace him.
This morning, Chaffetz told Dough Wright of KSL Newsradio that he may not finish his current congressional term.
"I will continue to weigh the options, but I might depart early," he told the Utah radio station via text.
Yesterday, Chaffetz also told The Salt Lake Tribune that "all the options are still on the table" with regard to his next move in politics. "I'm not opening or closing the door on anything," he said, adding that he may potentially seek another bid for office.
Utah's Republican governor, Gary Herbert, has said he's not likely to seek another term, leading observers to speculate that Chaffetz may run for the position in 2020.
Chaffetz, who breezed through four re-election campaigns, has faced mounting criticism in recent months for declining to investigate President Donald Trump and likely would have faced a bruising primary and general election battle in 2018.
The 50-year-old said in his announcement Wednesday that he has "no ulterior motives," is healthy and wasn't worried about his chances. Instead, the five-term congressman said he wants to spend time with his family, return to the private sector and potentially run for Utah governor.
"I'm trying to leave the door open for possibilities down the road," Chaffetz said in an interview on KSL Newsradio.
Chris Karpowitz, co-director at Brigham Young University's Center for the Study of Elections and Democracy, said Chaffetz's decision to bow out after 2018 is somewhat surprising but eases the path for a governor's race.
"This is a decision to avoid what could have been an embarrassing defeat that would have hurt his prospects in the future," Karpowitz said.
If Chaffetz runs for Utah governor, however, he won't necessarily be the front-runner, Karpowitz said.
He's expected to face a stiff challenge from potential GOP candidates that include the state's popular lieutenant governor, Spencer Cox, and Josh Romney, a Salt Lake City-based real estate developer and son of Mitt Romney.
Chaffetz's announcement came on the heels of surprisingly strong showings by Democrats in races in Georgia and Kansas and fundraising reports that showed he was being outraised by a Democratic challenger, though it's unlikely the GOP will lose the seat.
"It's the most conservative part of one of the most conservative states in the country," Utah State University political scientist Damon Cann said.
In his role as chairman of the House Oversight and Government Reform Committee, Chaffetz has been walking a tight line between party loyalty and support for the president and a district that's heavily conservative but lukewarm on President Donald Trump, Cann said.
"After seeing his district and his state first-hand, I can certainly understand why it is calling him back," Oversight Committee Ranking Member Elijah Cummings, D-Maryland, said of Chaffetz's decision to not seek re-election in a statement yesterday. "It is an honor to serve with Jason on the Oversight Committee, and I wish him and his family all the best in the next chapter of their lives."
Chaffetz led high-profile and persistent investigations into Hillary Clinton before the 2016 presidential election but took a tepid approach to Trump's alleged conflicts of interest and ties to Russia. In February, he was drowned out by boos at a town hall meeting, where constituents shouted, "Do your job!" A month later, he touched off fresh anger by suggesting people should spend their money on health insurance instead of iPhones.
Dr. Kathryn Allen, a Democrat and first-time candidate, harnessed the anger over Chaffetz's iPhone comments and raised more than half a million dollars for her campaign.
Allen said Chaffetz's decision doesn't change her platform but she hopes it give Democrats a better shot in the heavily Republican 3rd congressional district, which stretches from suburban Salt Lake City to desert towns in southeastern Utah.
Utah Republican Party chairman James Evans disagreed with Allen's optimism and said despite her impressive fundraising: "All this money is a wash out there."
Evans predicted a number of Republicans will line up to try to replace Chaffetz, including Provo Mayor John Curtis, former state GOP chair Thomas Wright, Utah's House Speaker Greg Hughes and state Sen. Deidre Henderson, a former Chaffetz campaign manager.
Henderson said she and her family are strongly considering a campaign, and Curtis said Wednesday that he hasn't made any decisions but Chaffetz's announcement "has certainly given me pause for thought about my future."
Hughes and Wright didn't return messages.
Another potential challenger is frequent Trump-critic Evan McMullin, a Mormon and former CIA agent who mounted an independent run for president last year. McMullin didn't respond to messages seeking comment but has said he's considering a run for U.S. Senate or House in 2018 in Utah.
Attorney Damian Kidd, a Republican who had already stepped in to challenge Chaffetz, said hopes the congressman's exit will free up fundraising money. Kidd had raised $15,500 in recent months but was left with only $1,600 after spending most of it, according to his most recent fundraising reports.
Since he was first elected to Congress in 2008, Chaffetz has become known as media-savvy congressman who made frequent appearances on cable news shows and earned publicity for sleeping on a cot in his office instead of living elsewhere in Washington.
Chaffetz is at least the seventh House Republican to resign this year or announce plans to retire, including four who left to join Trump's Cabinet. Rep. Kristi Noem of South Dakota is running for governor, and Reps. Sam Johnson of Texas and Lynn Jenkins of Kansas are retiring.
Thanks for reading CBS NEWS.
Create your free account or log in
for more features.