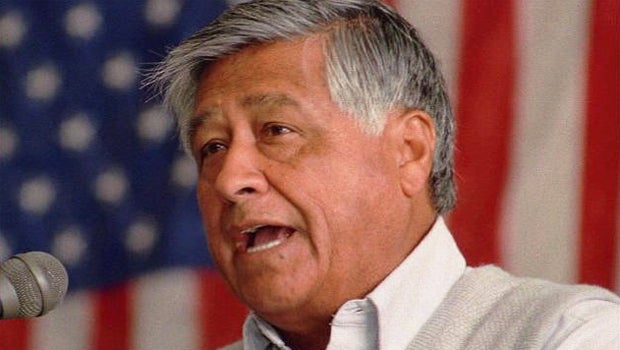 22 years after death, Cesar Chavez gets Navy funeral honors
KEENE, Calif. -- Hundreds gathered Thursday to see military honors rendered belatedly for Cesar Chavez, the legendary rights and labor leader but also a Navy veteran.
On the 22nd anniversary of his death, Chavez was receiving full graveside honors from the U.S. Navy at his memorial in California.
The idea for the ceremony came from a current sailor who learned Chavez didn't receive the honors at the time of his death, according to the Cesar Chavez Foundation.
Paul Chavez, son of the civil rights leader, said Chavez's sudden death from natural causes in 1993, at age 66, had surprised his family. He and his siblings didn't ask at the time for military recognition for their father, who served in the western Pacific during a 1946-48 stint in the Navy, according to the foundation's website.
"We just didn't do it," Paul Chavez said near his father's memorial site, as crowds gathered in the foothills of the San Joaquin Valley for the service. "We were busy trying to comfort people and bury him with dignity. We had always focused on his work with farmworkers" rather than his military service.
It was Navy Petty Officer 2nd Class Marco Valdovinos who contacted the family with the idea of arranging the military honors after watching a documentary on Chavez.
Chavez's foundation is hosting the ceremony, along with the National Park Service, which operates Chavez's memorial.
Born near Yuma, Arizona, Chavez used marches, boycotts and hunger strikes to bring attention to the plight of the country's farmworkers. He formed the National Farm Workers Association, which later became United Farm Workers.
The slogan he popularized for farmworkers, "Si, se puede," or "Yes, we can," evolved to also become the presidential campaign slogan of Barack Obama.
In 2011, Obama proclaimed March 31 of each year as Cesar Chavez Day nationally, although it is not a federal holiday. In 2012, Obama honored the memory of Chavez, praising his longtime activism on behalf of farm workers and calling on Americans to "fulfill [his] promise."
Current sailors, veterans and Chavez relatives turned out for the formal ceremony. Organizers arranged a Navy bugler playing taps, a rifle salute and the folding of a U.S. flag for Chavez's widow, Helen.
The ceremony won't be the only time the Navy has honored Chavez. In 2012 it launched a cargo ship it named the USNS Cesar Chavez.
Organizers say Thursday's honors are an opportunity to show the public that Chavez's time in the military helped him become a renowned fighter and organizer.
Thanks for reading CBS NEWS.
Create your free account or log in
for more features.