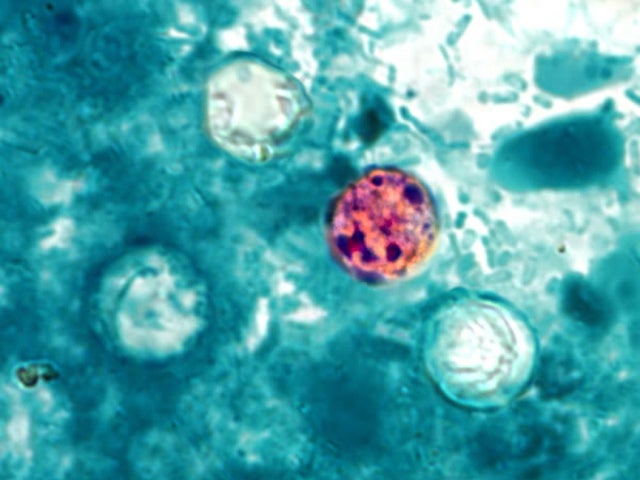 CDC: 425 cases of cyclospora infection identified across 16 states
The latest case count for an ongoing cyclospora stomach bug outbreak has risen to 425 infected across 16 states, including 24 people who were hospitalized, federal health officials announced Monday.
On Friday, the Centers for Disease Control and Prevention (CDC) had reported 400 cases.
States with reported cases include: Arkansas, Connecticut, Florida, Georgia, Iowa, Illinois, Kansas, Louisiana, Minnesota, Missouri, Nebraska, New Jersey, New York (including New York City), Ohio, Texas and Wisconsin.
The most cases were found in Iowa (148 infections), followed by Texas (127) and Nebraska (84).
CBS Evening News correspondent Carter Evans reported Saturday that it's been about one month since the onset of the last illness, so there's little concern for a wider outbreak. It remains unclear why this many people have gotten so sick.
Cylcospora parasites, found in contaminated food and drinking water, cause the gastrointestinal infection cyclosporiasis. Symptoms include nausea, diarrhea (which can last up to two months), abdominal pain, cramping, flu-like aches and pains, and a low-grade fever.
Late Friday, the Food and Drug Administration revealed salads produced by Taylor Farms de Mexico and sold at U.S. restaurants were implicated in the outbreaks in Iowa and Nebraska.
The FDA told CBS News that the salads were served at Olive Garden and Red Lobster in those states. Both the chains are owned by Darden Restaurants. However, the agency added it's not clear if cases reported in other states are linked to salads from these restaurants.
Previous cyclospora outbreaks have been linked to fresh produce.
The typical shelf life for the Taylor Farms salad mix is up to 14 days, according to the FDA. The agency added that bagged salads sold to consumers at grocery stores have not been implicated in this outbreak.
"In this past month of June, Taylor Farms de Mexico produced and distributed about 48 million servings of salads to thousands of restaurants in the Midwest and eastern United States," Taylor Farms said in an Aug. 3 statement. "Our team is dedicated to ensuring each of the two million salads we produce every day at Taylor Farms de Mexico is healthy and wholesome."
Darden also released a statement August 2, saying, "Nothing we have seen prior to this announcement gave us any reason to be concerned about the products we've received from this supplier. Iowa and Nebraska health authorities have said this is not an ongoing outbreak and the product is no longer in the food supply in those states. The health and safety of our guests is our top priority, and it is completely safe to eat in our restaurants."
Also on Friday, the first lawsuit was filed related to the outbreak. Dallas woman Suzanne Matteis alleged she contracted cyclosporiasis after eating at an Olive Garden restaurant in Texas in early July.
She told CBS News last week she was still experiencing symptoms.
The CDC has more information on the outbreak of cyclospora infections.

Thanks for reading CBS NEWS.
Create your free account or log in
for more features.