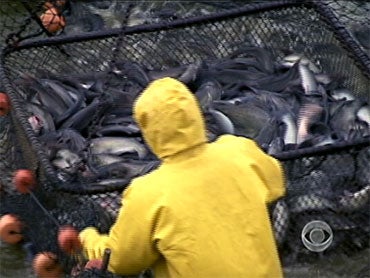 Catfish Imports Worry U.S. Fish Farmers
The U.S. catfish business is a $4 billion dollar annual industry, but imported fish has many domestic farmers worried.
Back in 2003, 3 percent of U.S. catfish sales came from foreign countries. In 2009, that grew to 57 percent. CBS News Correspondent Mark Strassmann reports that farmers in Alabama are fed up and want the government to do something about it.
Central Alabama is known as catfish country. As a third-generation farmer, Townsend Kyser said he's become the small fish in trouble.
"I am not afraid of competition on a level playing field," Kyser said. "The playing fields are different right now."
Kyser is talking about foreign catfish -- the kind that restaurant owner Debbie Brown said she would never serve in her Mustang Oil establishment.
"They'd run me out of town," Brown said.
Greensboro, Ala., has a population of about 2,500. Without local catfish farmers, they might as well take down its sign, which features a catfish.
If catfish farmers don't do well "we'd go out of business," Brown said. "And it's really going to hurt the economy even more."
This state produces one-third of America's catfish, 130 million pounds annually.
The state's farmers, like Townsend Kyser, feel squeezed. His sales are down 10 percent, but his costs have spiked 60 percent. Foreign catfish - mostly Chinese and Vietnamese -- now dominate America's market.
With cheaper labor, imported catfish sells for $1.25 a pound less than U.S. catfish; foreign catfish selling at as little as $2.25 a pound domestically.
American farmers say, unlike their fish, foreign catfish is suspect. It's full of antibiotics and other chemicals banned for use by American farmers as unhealthy and is a threat both to American consumers and this entire industry.
"This is not a trade issue," Kyser said. "This is a safety issue."
Domestic farmers are pushing the Obama administration. They want the United States Department of Agriculture to inspect foreign fish the way it does beef or poultry.
The 2008 farm bill mandated tougher inspections, but they've never begun.
"I feel like the USDA and the administration needs to step up and get these rules in place," said Mitt Walker of the Alabama Farmers Federation.
National Fisheries Institute's John Connelly calls the actions of U.S. farmers shameful.
"What we have here is a fake food safety scare designed by a special interest group that wants to limit its competition," Connelly said, adding that changing the rules could spark a larger trade war with the Vietnamese and Chinese.
For now, U.S. farmers like Townsend Kyser said they are struggling to hang on, worried the catfish market his family farm helped build from scratch might become the one that got away.
Thanks for reading CBS NEWS.
Create your free account or log in
for more features.