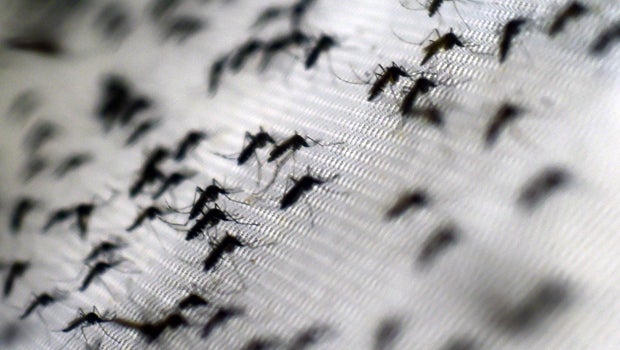 How do you fight a "guerrilla warfare mosquito"?
People in one Florida neighborhood are fighting a mosquito infestation that hasn't come yet.
A British company wants to release millions of genetically modified mosquitoes to stop the spread of two deadly diseases, reports CBS News correspondent Anna Werner.
The Florida Keys have long been a vacation destination, but for decades officials have been trying to keep one visitor out: The non-native "aedes aegypti" mosquito.
The tiny striped insect is resistant to most pesticides, and has the potential to spread debilitating and incurable diseases like dengue fever and chikungunya.
"This is the most difficult mosquito to control on earth because it stays close to people. It's like an urban guerrilla warfare mosquito," said the executive director of the Florida Keys Mosquito Control District Michael Doyle.
A bio-tech company says a genetically modified version of the bug could be the latest weapon.
"This is where we produce the eggs that we ship out to Florida for during the trial," said Oxitec product development manager Derric Nimmo.
The project is the brain-child of British-based Oxitec. The male super mosquito is injected with a special gene designed to take out its own species by preventing the offspring from maturing.
"Most of those females will mate with our males and most of their offspring will die, over a long enough period of time you get a reduction in the population," one person from Oxitec said.
The company has built a breeding lab in the Marathon, Florida, office of the mosquito control district.
Pending FDA approval, the team would unleash millions of male mosquitoes, that do not bite, into Key Haven, a neighborhood of more than 400 houses.
"Just open it up and shake and the males are released and then they go to their job," Nimmo said.
The plan has been met with heated opposition.
"We are humans and we don't like to be treated like guinea pigs!" one resident said.
"We need a longer time to find out what the long term effect of your product will have," another person added.
Nearly 150,000 people have signed an online petition calling for a stop to the field trial. Last week, the food and water watch advocacy group sent a letter to the FDA urging them to block the operation.
"Our biggest fear is that they haven't been thoroughly studied for public health risks, environmental risks and this is an open air release. You're not going to get them back," said Food and Water Watch's Patty Lovera.
But, Oxitec insists the tool is safe and effective.
The company claims that after a release in Brazil and the Cayman Islands, the populations of the mosquitoes in some areas dropped by more than 90 percent.
It's those results Florida Keys officials are hoping to achieve. While the area hasn't reported a dengue fever outbreak in four years, officials say the key to fighting an epidemic is preventing one.
"It's like a house fire, all you can do is try to save as much of the house as you can. Mosquitos are the same way - if you wait for an epidemic to start, there's going to be damage," Doyle said.
Oxitec admits some females could slip through in the release process and potentially bite people, but they say it wouldn't be any different than getting bitten by a wild mosquito. The FDA has not indicated when it will complete it's review.
Thanks for reading CBS NEWS.
Create your free account or log in
for more features.