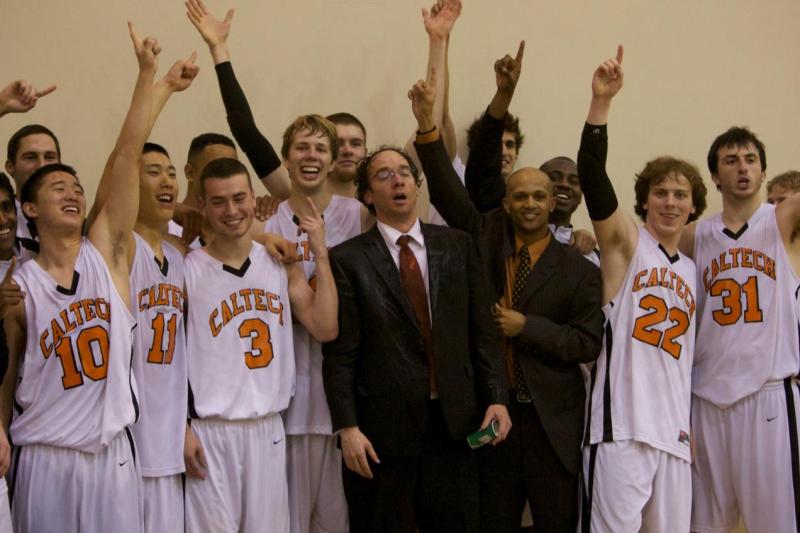 Caltech snaps 310-game conference losing streak
PASADENA, Calif. - Caltech ended its 310-game conference losing streak in men's basketball Tuesday night, beating Occidental College 46-45 in its season finale.
Ryan Elmquist hit the go-ahead free throw with 3 seconds left for the Division III Beavers, who had lost every Southern California Intercollegiate Athletic Conference game they had played since Jan. 23, 1985.
"I hope that everyone who has participated in Caltech men's basketball is able to celebrate a little bit tonight," Caltech coach Oliver Eslinger said. "We still have goals and aspirations that we want to accomplish as a program, and this win is another step towards meeting these objectives."
Caltech is a famed private research university with a heavy emphasis on science and engineering. The school has just 950 undergraduates and doesn't give out athletic scholarships, but 31 alumni and faculty have won the Nobel Prize.
Caltech finished the season 5-20, its best record in 15 years. The Beavers went 0-25 last season and hadn't won more than one game in any of their previous eight seasons — but back in 2007, Caltech ended an NCAA-record 207-game losing streak with a victory over Bard College of New York.
The Beavers have a great sense of humor about their athletic struggles, but they still celebrated at the Braun Athletic Center after Occidental missed its desperation shot at the buzzer.
When Caltech won its last conference game more than 26 years ago, four-time NBA champion coach Gregg Popovich was running the bench at SCIAC rival Pomona-Pitzer.
Not everything is looking up athletically at Caltech: the women's basketball team finished its season 0-25, losing to Occidental 82-35 on Tuesday night.
Thanks for reading CBS NEWS.
Create your free account or log in
for more features.