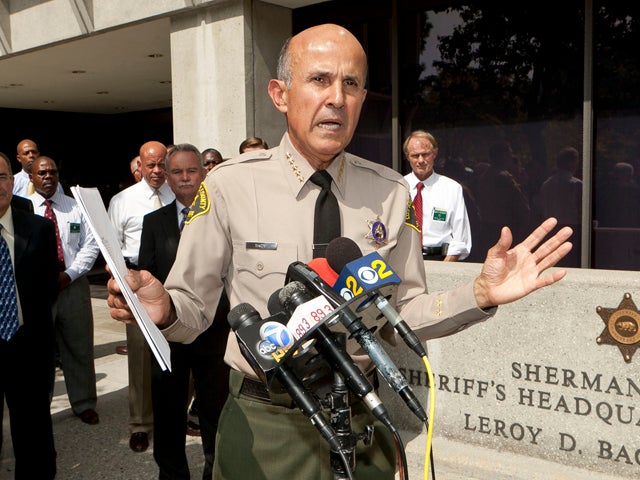 Calls for broader federal Los Angeles jail probe
LOS ANGELES - Criminal justice, religious and civil rights leaders requested a broader federal investigation Thursday into allegations of abuse in Los Angeles County jails.
A letter released by the American Civil Liberties Union requests "a thorough criminal and pattern or practice civil rights investigation" into allegations of a "persistent pattern of deputy-on-inmate assaults, deputy instigated inmate-on-inmate assaults and use of excessive force" in the county jails.
The letter addressed to Attorney General Eric H. Holder and other officials was signed by 26 people, including former California Attorney General John Van de Kamp and former Assistant U.S. Attorney Thomas M. Brown.
The letter noted that Sheriff Lee Baca has denied the need for a federal investigation and insists the Sheriff's Department has already investigated inmate accounts of deputy beatings and found most of them to be unfounded.
The ACLU on Wednesday demanded Baca's resignation, claiming he looked the other way while his sprawling jail network became co-opted by violent and corrupt deputies who routinely abuse inmates.
Baca, whose deputies oversee about 15,000 inmates in the nation's busiest jail system, said he welcomed the criticism but disputed the claims made Wednesday by the American Civil Liberties Union. He said he had no intention of stepping down.
It's the second significant challenge to Baca's 13-year leadership in recent months. In August, the Justice Department announced it launched a pattern or practice civil rights investigation involving claims that Los Angeles County sheriff's deputies discriminated against blacks and Latinos in the city of Palmdale, especially those living in subsidized housing.
The ACLU, a court-appointed monitor of jail conditions, released a 22-page report Wednesday that referenced 70 sworn statements, including affidavits by two chaplains and a Hollywood producer who volunteer at the Men's Central Jail.
The ACLU said it received thousands of brutality complaints in the past year.
"Hangover" producer Scott Budnick, a former jail writing tutor, chaplain Paulino Juarez and another chaplain who submitted a statement anonymously said in the ACLU report that deputies brutalize inmates, and sheriff's supervisors don't take beating reports seriously.
Juarez said he was ministering to a Men's Central Jail inmate on Feb. 11, 2009, when he saw three deputies beating an apparently handcuffed inmate who was pleading for them to stop.
The FBI has been investigating deputy conduct at county jails, partly in response to claims put forward by the ACLU.
On Tuesday, Baca met with U.S. Attorney Andre Birotte to discuss an FBI undercover sting in which a deputy allegedly accepted a $1,500 bribe to get a cellphone to an inmate who was an FBI informant.
Baca told the Los Angeles Times that the inmate was using pay phones inside the Men's Central Jail to contact FBI agents investigating allegations of deputy misconduct. He said the agents tried to dissuade their informant from using a jailhouse line out of fear that his calls could be monitored by sheriff's officials.
Baca said that when the agents promised to get their informant a cellphone, the inmate said he knew of a deputy willing to smuggle contraband for cash.
When sheriff's officials later searched the inmate and found the phone, they also found a hand-written note listing names of deputies. Baca said the informant had been gathering the names of deputies thought to have used excessive force against inmates for the FBI.
The deputy who allegedly smuggled the phone has resigned.
Thanks for reading CBS NEWS.
Create your free account or log in
for more features.