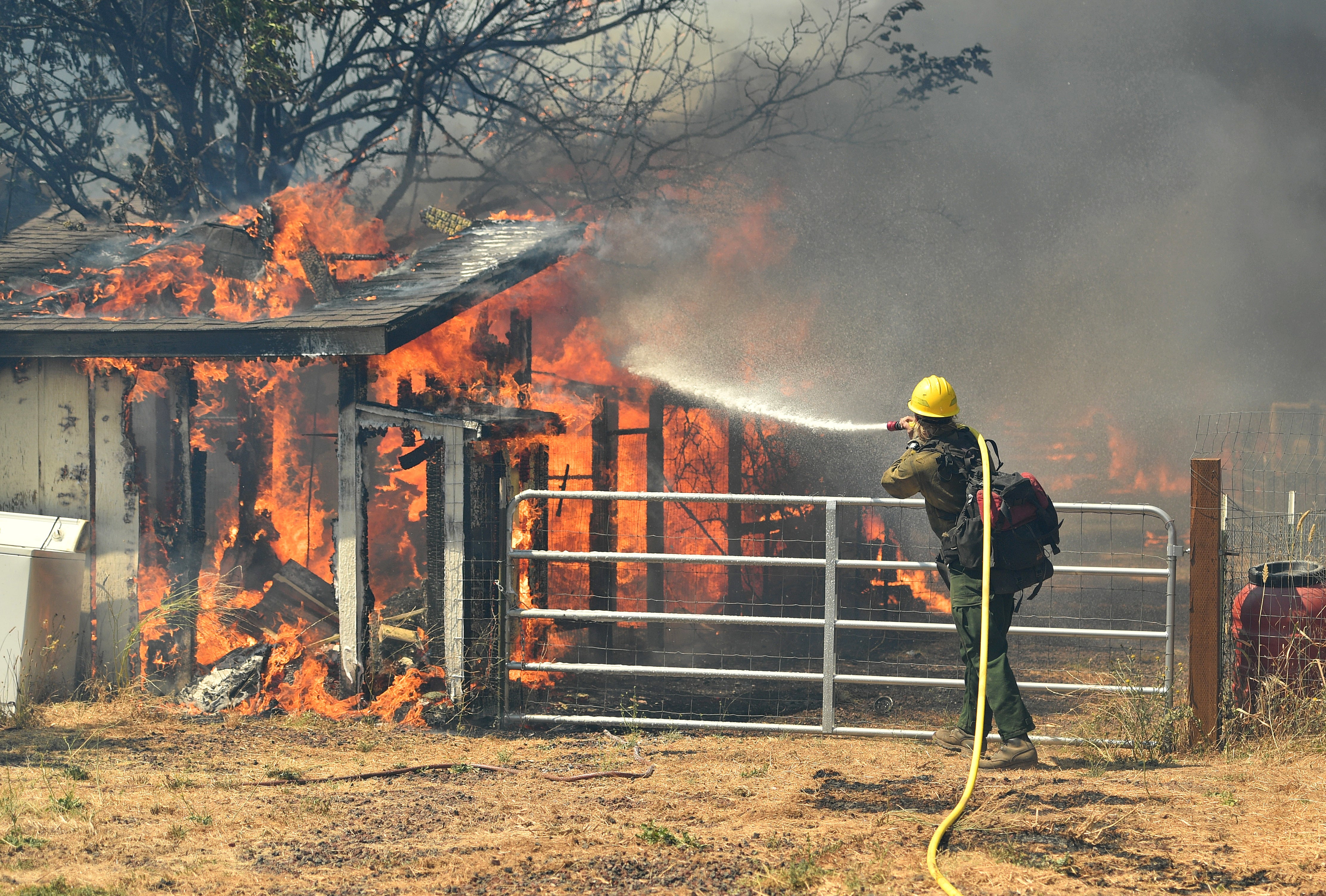 Northern California wildfire destroys homes, forces evacuations
LOWER LAKE, Calif. -- Flames racing through dry brush Sunday destroyed at least 10 homes and forced 4,000 people to flee and firefighters to carry animals out of a northern California lake community that was evacuated in a devastating wildfire last year.
Cal Fire officials say the fire about 90 miles north of San Francisco has grown to nearly 5 square miles since it erupted Saturday afternoon.
They have confirmed 10 homes destroyed, but eyewitnesses could see many more.
On Sunday afternoon, the flames jumped a road and marched into Main Street in Lower Lake, a town of about 1,200. A post office, a winery, a Habitat for Humanity office and several businesses were burned in the four-block strip.
A portion of Clearlake, a neighboring town of about 15,000, was also evacuated as firefighters struggled to get a handle on the largely out-of-control fire.
Cal Fire spokesman Bennet Milloy says spot fires caused the day-old fire near Nacimiento Lake, about 180 miles northwest of Los Angeles, to grow from 2 to 6 square miles on Sunday.
The blaze shifted north toward the lake, prompting authorities to evacuate residents by boat. Milloy said the fire was chewing through bone-dry brush and oak trees weakened by California's years-long drought. Firefighters battled the flames as temperatures soared to 104 degrees. The fire is 10 percent contained.
"The fire activity could change in a moment's notice right now," said Suzie Blankenship, a spokeswoman for the California Department of Forestry and Fire Protection.
More evacuations were ordered Sunday afternoon in the Copsey Creek subdivision, northeast of Lower Lake, where the blaze jumped a containment line, setting several houses on fire and prompting firefighters and volunteers to evacuate horses, goats and other animals as homes burn around them.
Houses burned on both sides of Highway 140 and propane tanks exploded, making a hissing noise and spewing balls of fire. Firefighters and volunteers rushed to carry two goats at a time out of the area, as tractors and utility poles burned and bumpers melted off cars.
More than 700 firefighters are battling the wildfire burning east of Highway 29 in Lake County, and many more are expected to join the fight throughout the day, Cal Fire spokesman Daniel Berlant said.
The fire was throwing embers and spreading rapidly because of parched conditions brought on by the state's historic drought, officials said. Large, explosive fires have torn through dried-out or hard-to-reach areas across California this summer, including a stubborn blaze near the picturesque Big Sur coastline that has burned 113 square miles since late July and destroyed nearly 60 homes.
Californians braced for heat Sunday, with high temperatures expected to soar 10 degrees above normal in the southern part of the state. Some counties in far Northern California also were warned of gusty winds and increased fire danger, officials said.
CBS San Francisco posted video on Facebook showing the intense flames from the fire.
In Lake County, the fire threatened the houses of an additional 3,000 people in Hidden Valley Lake, a subdivision south of the blaze. Residents of the area have been told to stay vigilant in case they need to evacuate, Blankenship said.
Danielle Colbeck, 36, saw the flames from her home Saturday and decided to get out. She told the Press Democrat newspaper in Santa Rosa that she loaded her car with her two cats and important papers and headed to a friend's house.
"When you see black smoke and flame from your driveway, you don't want to take a chance," said Colbeck, who lost her rental home and all of her belongings in the massive fire that evacuated Lower Lake last year.
That blaze killed four people and destroyed more than 1,300 homes. It was considered California's third-most-destructive wildfire after ravaging most of rural Lake County and parts of Napa County about 90 miles north of San Francisco. A report issued this week concluded that faulty wiring in a hot tub ignited the 120-square-mile fire.
Another blaze that broke out Saturday afternoon forced the evacuation of 135 homes south of Lake Nacimiento in central California, the San Luis Obispo County Sheriff's office said. It burned more than 2 square miles, but no homes have been lost, and it's partially contained.
In Southern California, residents were readying for a heat wave and gusty winds. Temperatures were expected to reach triple digits, stoking an increased risk of wildfires across the mountains of Ventura and Los Angeles counties through at least Wednesday, the National Weather Service said.
Thanks for reading CBS NEWS.
Create your free account or log in
for more features.