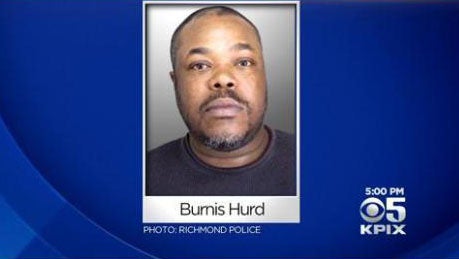 California dad attacks boy accused of bullying his autistic son
RICHMOND, Calif. -- A father boarded a school bus and attacked an 11-year-old boy who had allegedly been bullying his 9-year-old autistic son, CBS San Francisco reported.
Burnis Hurd, 44, is charged with child abuse and corporal injury to a child, Richmond police Lt. Mark Gagan told the station. He is in jail on $50,000 bond.
Hurd followed his son onto the school bus on Friday morning, and the son pointed out an 11-year-old boy he said had been bullying him, Gagan said.
"The father grabbed the 11-year old by the hair, pulled hard and raised the child out of his seat, then shoved him on the side of the bus where the window meets the wall," Gagan said.
In the process, the 11-year old received a cut to his earlobe and another wound on his cheek.
The incident was not caught on video. Both children attend a special education program at Wilson Elementary School in Richmond.
Gagan said Hurd threatened to kill the student and, in fact, used threatening language to other students on the bus as well. The bus driver apparently did not intercede and did not report the incident to district officials.
The 11-year old went to the principal, who called the police department, district officials said.
Shanika Moses, the aunt and guardian of the boy who was attacked, told CBS San Francisco, "I want [Burnis] to be prosecuted to the fullest."
Thanks for reading CBS NEWS.
Create your free account or log in
for more features.