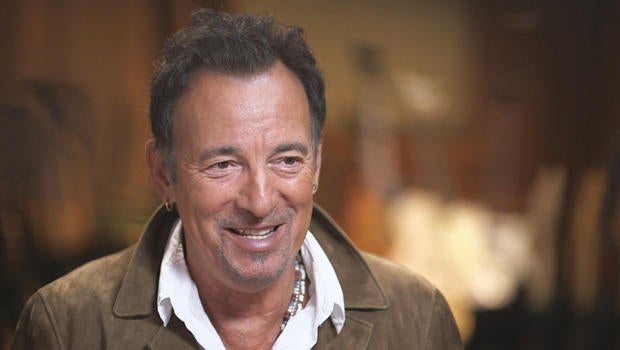 Bruce Springsteen on his bouts of crippling depression
Rock legend Bruce Springsteen, in his first television interview about his new book, opens up to CBS News correspondent Anthony Mason about his battles with crippling depression, his often-strained relationship with his father, songwriting, and much more on CBS' "Sunday Morning," to be broadcast September 18.
Springsteen, who turns 67 next week, talks with Mason about the attack of depression that hit as he entered his 60s. He credits his wife, Patti Scialfa, a member of his E Street Band, with helping him get through it.
His depression, Springsteen said, "lasted for more than a year, and then it would slip away. Then it would come back for a year-and-a-half.
"It sneaks up on you. I got to where I didn't want to get out of bed, you know? And you're not behaving well at home and you're tough on everybody. Hopefully, not the kids. I always try to hide it from the kids. But, you know, Patti really had to work with me through it … her strength and the love she had was very important."
In a wide-ranging interview, Springsteen also talks with Mason about his childhood in Freehold, N.J.; his complicated relationship with his father, and how that changed just before the first of Springsteen's three children was born; losing E Street bandmate and soul-mate Clarence Clemons; and how he came to write his autobiography, "Born to Run," published by Simon & Schuster (a division of CBS).
Springsteen's interview with "Sunday Morning" and the release of his new book come just after Springsteen and the E Street Band finished a world tour highlighted by record-breaking four-hour concerts.
"You're looking for a particular moment, and when you catch that, it feels so good sometimes," Springsteen said of the marathon concerts. "Then time disappears, you know?"
The Emmy Award-winning "Sunday Morning with Charles Osgood" is broadcast on CBS on Sundays beginning at 9:00 a.m. ET. Executive producer is Rand Morrison.
Follow the program on Twitter (@CBSSunday), Facebook, Instagram (#CBSSundayMorning) and at cbssundaymorning.com. You can also listen to "Sunday Morning" audio podcasts at Play.it.
For more info:
Thanks for reading CBS NEWS.
Create your free account or log in
for more features.