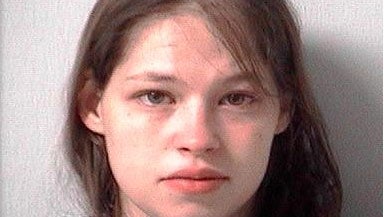 Ohio mom's confession details how she allegedly smothered 3 young sons
BELLEFONTAINE, Ohio – A judge heard arguments Wednesday about whether a confession made by a woman accused of killing her three young sons over a 13-month period can be used in court, reports CBS affiliate WBNS.
Authorities allege Brittany Pilkington, 24, killed the toddler and two infants out of jealousy at the attention her older husband gave them at the expense of her and their daughter. Joseph Pilkington, 44, pleaded guilty in July to a misdemeanor charge that he had sex with his wife before they were married when she was underage. WBNS reported that the couple's relationship began when Joseph was dating Brittany's mother.
Brittany Pilkington has pleaded not guilty to three counts of aggravated murder.
According to WBNS, Brittany Pilkington said in a recorded police interview that she smothered each boy with a blanket because she didn't want to see them suffering. Pilkington reportedly told police she was depressed and worried her sons would eventually become abusive toward women, the Columbus Dispatch reported on Wednesday.
"I wish I would have did it to myself instead," Pilkington can be heard saying to police on the recording.
WBNS reports that police sat down with Brittany Pilkington the day her third son, 3-month-old Noah, died last August. In 2014, they looked into the death of her 3-month-old son, Niall. And in 2015, they talked to her again for the death of her 4-year-old son, Gavin.
In August, she recounted all of their deaths. She said she rolled over on Niall in bed.
"I felt like he was gone, he was a little cold but I didn't know if he was really gone or not," said Pilkington in the interrogation.
Pilkington's husband discovered the boy dead hours later.
Nine months later, she told police she was stressed out and depressed over Niall's death. Gavin was acting up so she put him to bed and covered him with a blanket.
"You put that over his whole body, head and all?" asked the detective. "Then what?"
"Put pressure to his nose," responded Pilkington.
She said she also covered Noah and didn't check him until her husband came home.
-Detective: So when Joe started jingling, you go over and flip him on his back?
-Pilkington: Yes.
-Detective: And at that time you know he's gone right?
-Pilkington: Yes.
A Logan County judge has been reviewing Pilkington's statements while considering a request to exclude her confession in the potential death penalty case. Her lawyers argue it was obtained unconstitutionally.
Defense attorney Marc Triplett said police were aware of Pilkington's lack of mental acuity and she didn't understand when she signed a form waiving her Miranda rights.
Prosecutors said the 24-year-old Bellefontaine woman knowingly agreed to be interviewed without a lawyer and she was advised of her rights by officers at the police station and then again at the sheriff's office.
Pilkington's tested IQ is 94, according to court records.
Logan County children services' records state that Pilkington functioned on the level of an 11- or 12-year-old at age 18. She's reportedly a high school graduate.
Pilkington told officers she let her husband find the bodies when he returned home from his second-shift job because she was too scared to tell him what she'd done.
Following Wednesday's testimony, the judge will now review the confession and make a decision on whether it will be shown in court or not.
Thanks for reading CBS NEWS.
Create your free account or log in
for more features.