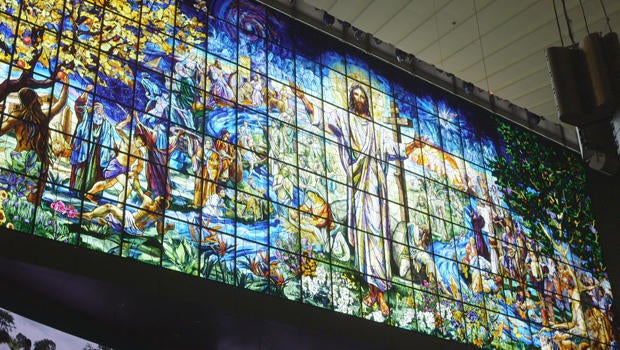 Breaking the boundaries of stained glass
The artists at Judson Studios are showing their true colors -- reshaping their ancient craft and designing works for religious and non-religious uses alike, as Anna Werner discovered:
If you're coming to see Jesus, this might be the place: Welcome to the Church of the Resurrection in Leawood, Kansas, home to the largest Methodist congregation in the nation -- and now, one of the world's largest stained glass windows.
Here, Jesus towers over the sanctuary with arms outstretched, surrounded by gardens and an assortment of religious and historical figures as broad as the window itself.
Werner asked, "Is this like the Super Bowl of stained glass? Your version of the Mona Lisa?"
"Maybe it's our Sistine Chapel," said David Judson, of Judson Studios. He is the 5th generation in his family to run the company.
Their stained glass studio in Pasadena, California has been in constant operation for 120 years, with a reputation that echoes the spirit of legendary stained glass artists like John La Farge in the 1800s, and Louis Comfort Tiffany … which actually makes for some discomfort for Judson.
"We've been called the 'Tiffany of the West.' I say, 'No, no, no,'" he laughed.
"You don't want to be called the Tiffany of the West?"
"I don't want to be called the Tiffany of the West, no. Because I think what Tiffany did was great, but he represents something that we're not. And so, I hope that they will know us as Judson Studios, and that we'll be able to carry our own legacy."
Which is why Judson developed "cutting-edge" looks that are bringing designers to their door, looking for pieces that are far more modern than the old Victorian-style patterns.
"That's what we're trying to move away from, is that connotation. It's not your grandfather's stained glass," he said.
Roman Alonso, with the Los Angeles firm Commune Design, says stained glass has a bit of a bad rap: "Because people do think of Victorian, and people do think of gothic, and people do think of heavy, and they think of old."
But Alonso chose Judson Studios to help re-imagine downtown L.A.'s Ace Hotel.
"This is a historic building. It was built in 1927. It's this mashup of gothic and Spanish colonial architecture. So, we wanted to bring different styles into the picture, and create our own mashup," he said.
To add an up-to-date look while keeping to the hotel's gothic tone, the studio created modernist blue-and-gold panels.
Werner said, "You get a lot more out of this than you would with, say, plain glass, traditional window?"
"Absolutely," Alonso replied. "You want a separation from the street and you still want transparency, and glass can give you that. But why not add this beautiful element of color that plays with the light so well?"
But it's back at the Church of the Resurrection that David Judson really showed his devotion to his craft. with a Revelation in glass -- a single window that measures nearly 100 feet by 40 feet.
"Yeah, it's like the size of a basketball court," Judson said.
The window was so big, David Judson built a second studio to take on the Kansas project. Manufacturing the 160 panels that would make up one enormous mosaic took three years.
Along the way, they developed new techniques, like a process of applying powdered glass, which they say creates a sense of movement.
The project wasn't quick, or cheap: the window cost $3.4 million. But churchgoers say for them, the payoff has been profound.
Jack Highfill, one of the founding members of the church, said, "When you go in, you feel God's presence and the Holy Spirit, and I think it is mainly because of the stained glass window."
"It's awesome," said Mary Bush. "It tells the whole history of our Christian religion."
In his creations, David Judson is giving new life to an ancient craft. "The death knoll has been played several times for stained glass," he said, "and it's not going away. It's something that I think people will always have a desire for."

For more info:

Story produced by Kim Young.
Thanks for reading CBS NEWS.
Create your free account or log in
for more features.