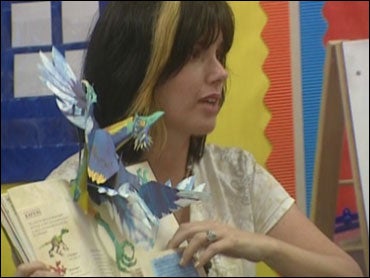 Booking It To Help Children
This story originally aired May 22, 2009.
She cashed in her 401K to do something fulfilling with her life.
And it all started with a 1972 Volkswagen bus named "Bess."
"Bess the Book Bus" is a gateway to reading for underprivileged and inner-city kids in Tampa, Fla. that 38-year-old Jennifer Frances started in 2002.
Since then, Frances has gone through a few "Bess" buses, but has distributed thousands of books to thousands of Tampa-area children, from kindergarten-to-high school, giving almost 40,000 new books each year to schools, community centers and shelters. And her non-profit literacy program continues to grow.
But relying on government grants and corporate sponsorships to keep the bus going has been a struggle.
"This year, because of the financial situation," Frances told Early Show co-anchor Maggie Rodriguez, "there is so much competition for resources; we did run out of books."
Still, "Bess the Book Bus" keeps on rolling, despite challenges.
"This has been such a gift to be able to do this with my life," she said. "I realize now that it's also a responsibility of mine, beause these kids do expect and do depend on this."
On Tampa girl said, "(The book bus) means a lot to me, because I don't have books at home to read and I was dying for this 'Twilight' book."
"I love (Jennifer)," another girl said in Tampa, "and I love her books."
Frances will continue her work this summer by bringing the joy of reading to young readers all over the country.
Her van will tour 45 cities to give over 11,000 books to children.
And for her outreach, Frances was named an "Early's Angel" on The Early Show on Friday.
She was awarded several gifts to continue her work:
Thanks for reading CBS NEWS.
Create your free account or log in
for more features.