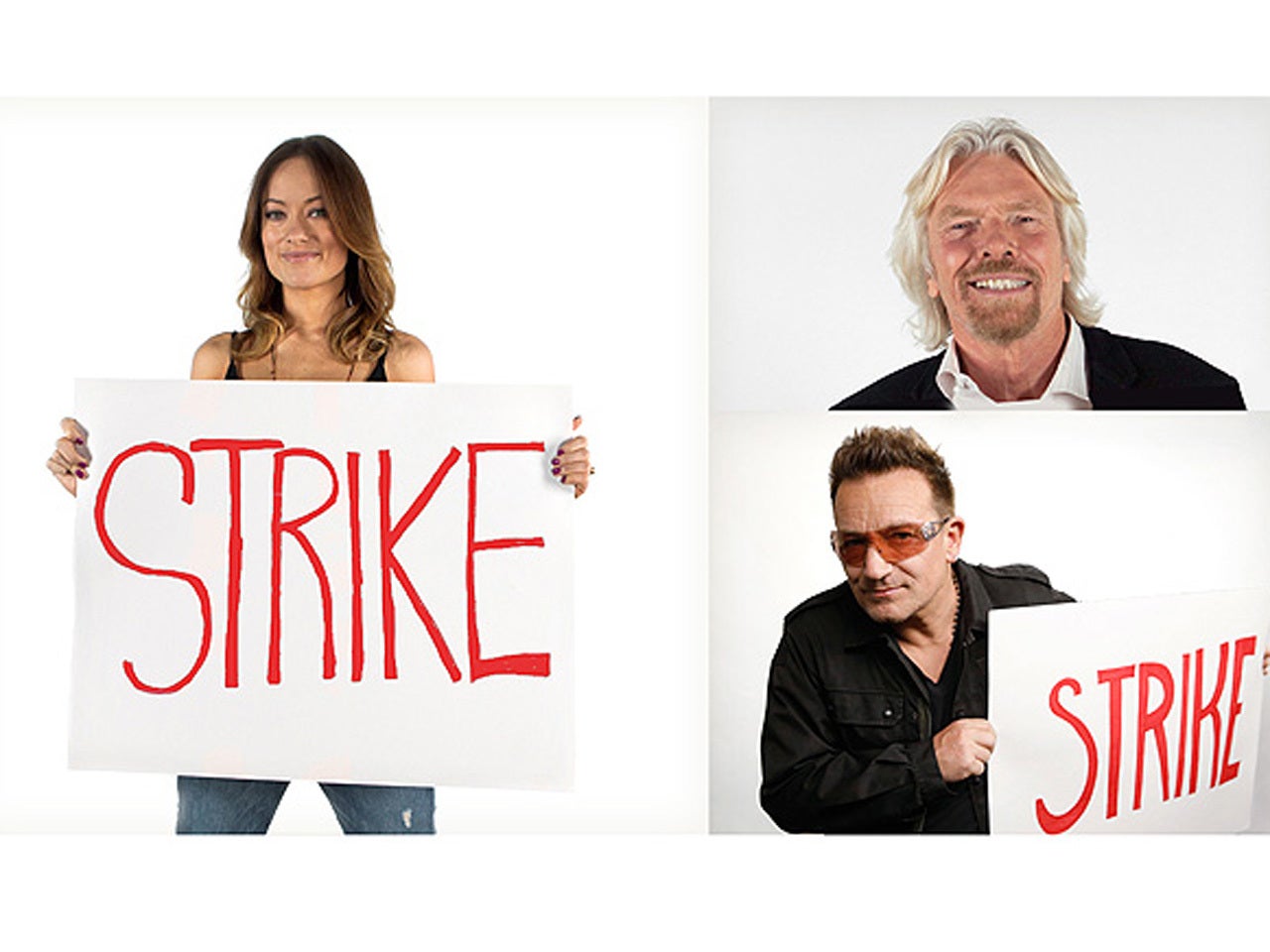 Bono, Olivia Wilde and Richard Branson join Matt Damon's "toilet strike"
What is the latest celebrity accessory trend? Diapers.
In a humorous, but fact-filled PSA, Olivia Wilde, Bono and Richard Branson announce they are joining Matt Damon's toilet strike to raise awareness about the global water crisis.
In the definition of promises they can't keep (but it's the sentiment that counts), the three celebs pledge, "We won't go to the bathroom until everyone in the world has access to clean water and sanitation."
"I remember when Matt first brought up the idea, it was at a meeting of the illuminati," Bono says.
"Bono was so mad," Wilde chimes in. "Oy! Damon! Who let you into our secret illuminati meeting?"
But joking aside, the trio draws attention to just how serious the water situation is by presenting some disturbing statistics:
"780 million people, that's one in nine, lacks access to safe water," Bono says.
Which is why Damon co-founded Water.org -- in collaboration with Gary White -- in an effort to help come up with solutions to the water crisis so that all people have access to safe water and sanitation.
Thus far, the organization has helped more than 1 million people living in Africa, South Asia, Latin America and the Caribbean. And it's Damon's passion and success that drew Wilde to the movement (or lack of movement, if you catch my drift).
"I want to support creative organizations that truly impact the lives of those in need, particularly those living in extreme poverty," Wilde said in a statement. "Water.org makes a real difference around the world, and in Haiti, a country that I care deeply about."
Check out the PSA below, and let us know what you think in the comments (does it make you have to pee immediately?).
Thanks for reading CBS NEWS.
Create your free account or log in
for more features.