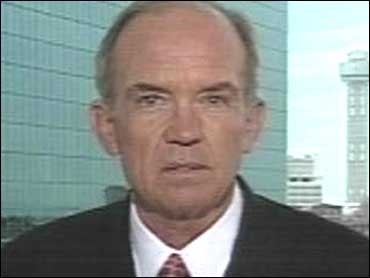 Correspondent Bob McNamara has been based at CBS News' Dallas bureau since 1995. He reports regularly for the CBS Evening News and often contributes its signature "Eye On America" segments.
Before that, McNamara worked out of the Denver bureau (1984-95). He has covered many major stories for CBS News, including the Oklahoma City bombing, the crash of TWA Flight 800, the Paducah, Ky. and Jonesboro, Ark. student murders, the Los Angeles riots, Hurricanes Andrew and Hugo and the 1989 San Francisco earthquake.
McNamara was based at the CBS News bureau in Chicago (1979-84) and spent five years overseas at the CBS News bureaus in London (1977-79) and Bonn, Germany (1975-77). He joined CBS News in 1974 as a general assignment reporter based in New York and was named a correspondent a year later.
McNamara's international reporting experience is considerable: he has filed reports for CBS News from more than 40 countries. He has covered the Israeli invasion of Lebanon in 1982, the fall of the Shah of Iran and the ensuing violence and the funeral of Pope Paul VI. McNamara also filed numerous reports on terrorism in West Germany, Italy, Sweden and Switzerland and has covered national elections in several European countries.
While based in New York in the mid-1970s, he often anchored CBS News On The Hour broadcasts on the CBS Radio Network. McNamara is a four-time recipient of the Emmy Award. He was a member of the team of CBS News correspondents that received a Ben Grauer Award from the Overseas Press Club in 1978 for "best radio spot news reporting from abroad" for coverage of Egyptian President Anwar Sadat's trip to Israel.
Prior to joining CBS News, McNamara was a reporter, anchor and political correspondent for WCCO-TV, the CBS Owned station in Minneapolis (1968-74). Before that, he was a news reporter and anchor for at KCRG-TV and Radio in Cedar Rapids, Iowa (1967-68). He began his broadcast journalism career in 1965 as a copy boy for WBBM-TV, the CBS Owned station in Chicago.
McNamara was born on June 2, 1944 in Prairie du Chien, Wisc. He was graduated from Columbia College in Chicago in 1966. He and his wife, Jane, live with their three children in Dallas.
Thanks for reading CBS NEWS.
Create your free account or log in
for more features.