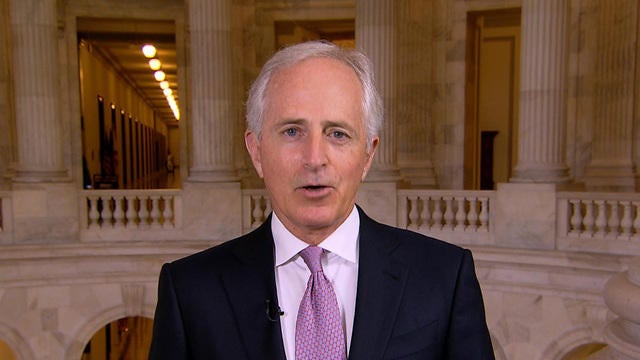 Bob Corker weighs in on Steve Bannon, security clearances for Trump's kids
Sen. Bob Corker said Tuesday that he doesn't really know Steve Bannon, President-elect Donald Trump's controversial appointment as chief strategist in the White House.
"I don't know him. I've never met him. Reince [Priebus] just happened to be someone who I've had a number of interactions with and had dinner with," the Tennessee Republican said in an interview on "CBS This Morning" when asked why he only praised Priebus's appointment as chief-of-staff.
Bannon is considered a leader of the alt-right movement and has been denounced by civil rights groups as someone who promotes white nationalism, racism and anti-Semitism.
"The other gentleman I just never met," Corker said, adding that he had just listened to a CBS News report about Bannon in which he said he learned some things he didn't know about him.
Asked about the possibility that Trump's children might receive top security clearances while still running their father's businesses, Corker suggested that won't happen.
"My understanding is they didn't actually make that request. They asked if it was appropriate," Corker said. "My guess is that's not going to happen. That's not the norm and so that conflict would not exist."
Corker, the chairman of the Senate Foreign Relations Committee, also said that he hasn't spoken to the president-elect about serving as secretary of state in his administration.
"I did talk to him to congratulate him, as I did with [Vice President-elect Mike Pence], but we have had no discussions about this," he said. "I'm reading the same things that y'all are reading and watching, the same things that you're reporting. Again, that's up to them."
He declined to comment, however, on the development that former New York City Mayor Rudy Giuliani is a favorite to lead the State Department under Trump.
"It is going to be my job to lead the confirmation process, but to handicap people at this moment would just be inappropriate," he said, adding that the secretary of state is a person "who's best able to advance our national interests around the world."
Asked about the U.S.-Russia relationship under Trump's administration, Corker said it's helpful when leaders of two countries "begin on a positive note."
He said while there are some things the U.S. can collaborate on with Russia, like terrorism, "[Russian President Vladimir] Putin has shown himself to be a brutal dictator-like leader, and let's face it, has worked against our national interests."
"Mr. Putin, himself, will have to change the way he deals with the world in order for that to be a constructive relationship," he said.
During the campaign, Trump was criticized for having ties to Russia and to Putin. And despite denying that those ties existed, CBS News' Julianna Goldman reported in July that Trump has tried to bring his brand to Moscow for decades. Last week, a top Russia diplomat and Putin's spokesman said that Russian experts had been in contact with Trump's team during the campaign.
Thanks for reading CBS NEWS.
Create your free account or log in
for more features.