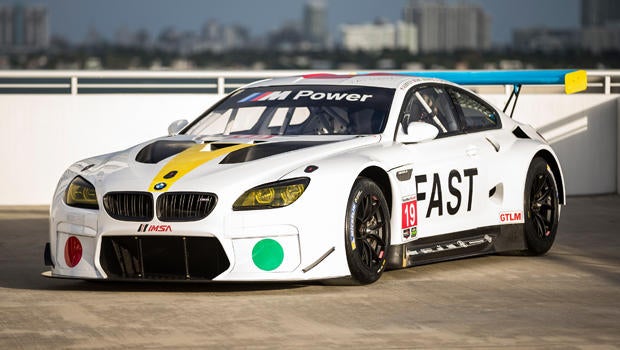 BMW's Art Cars: A blend of art and speed
Anthony Mason paints a picture of race car art:
Unveiled at Art Basel in Miami in November, it was tearing up the track in Daytona in January: The BMW M6 painted by renowned artist John Baldessari is a high-performance racing machine. As BMW Motorsport's director put it, "On the outside, it's a piece of art. But on the inside it wants to go out today and wants to win."
It's the 19th in BMW's Art Car series. Inaugurated in 1975, it was the idea of Herve Poulain, a racing enthusiast and art lover, who persuaded Alexander Calder to paint the German automaker's entry at Le Mans that year.
Then, says BMW's Thomas Girst, it just took off: "It was supposed to be a one-off at the very beginning with Alexander Calder. But the moment this car left the pit stop, with the kids were screaming, it became the immediate darling of the crowd that was watching."
The next year, Frank Stella created his "graph paper" BMW. In 1977, Roy Lichtenstein's car looked like a comic strip.
The fourth Art Car is the most famous. Painted by Andy Warhol in 1979, it's now considered the most valuable car in BMW history.
African artist Esther Mahlangu was the first woman to paint a BMW in 1991.
British artist David Hockney painted a dachshund on the back panel, because his own dogs always rode with him.
Jeff Koons was the last to paint a car, in 2010 -- until John Baldessari got the commission.
He'd never painted a car before: "No, that was the challenge," he said.
At 85, Baldessari is a towering figure in the art world , and not just because he's 6'7". The celebrated California conceptual artist has been called "a surrealist for the digital age." Baldessari once instructed a class to write "I will not make any more boring art" over and over.
"I always said, art is what you can get away with," he told Mason.
"Sunday Morning" visited Baldessari at his Los Angeles studio, where he displays a fan letter from Scarlett Johansson. (He's a fan of hers, too.)
Baldessari started turning old film stills to art in the 1970s. "I could get 'em very cheap … 10 cents a piece. Yeah, you can't go wrong with 10 cents a piece."
Then one day he put pricing stickers over the faces, and painted them primary colors, to make them "ordinary."
Primary-colored dots became the artist's calling card.
Baldessari built it into his design for the BMW, putting a giant red dot on the roof. "That's so you could be seen from the air. That's my ego!"
He put an image of the M6 on one side, and the word "Fast" on the other.
And, said BMW's Thomas Girst, "It will go fast, we promise you that."
But John Baldessari hasn't driven in his signature BMW. "I can't even fit in it," he said. "I'm just too big."
Mason asked, "How do you feel the car turned out?"
"I'm very proud of it," he replied.
He should be: Art that travels 130 mph is anything but boring.

For more info:
Thanks for reading CBS NEWS.
Create your free account or log in
for more features.