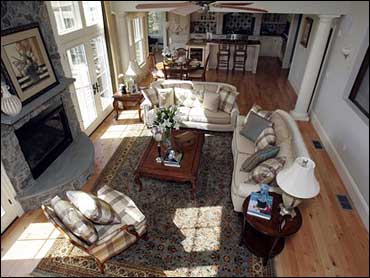 Big Houses = Big Heating Bills
The airy cathedral ceilings that have helped sell thousands of new homes over the past decade have turned into a liability.
Soaring prices for natural gas and heating oil are making big open spaces much more expensive to keep warm. So homeowners already contending with higher property taxes and, in some cases, larger mortgage payments, are also juggling bigger energy bills.
"We've cut back (on expenses) so much that we don't see much in return because prices keep going up," said Kimberly Muckenfuss, a Washington Township, N.J., mother of five. "It never seems like we're ahead. We are just keeping up."
The family, which has been in their roughly 2,400 square foot home for just over three years, has seen its heating bills rise from $75 a month when they first moved in to $161 a month this fall. The house uses natural gas.
To pay for the higher heating costs, and also more expensive gasoline for their cars, the Muckenfusses are eating more meals at home and they're using a crock-pot and microwave more often instead of the gas stove. The family is even drying clothes on a line, forgoing the gas dryer.
Heating costs have always been a concern for homeowners, but the trend toward larger houses has made energy prices particularly problematic.
When William Levitt — considered by some to be the father of suburbia — began building houses in 1947 for U.S. servicemen on Long Island, the single-family homes averaged about 800 square feet. Today, new homes in the U.S. average 2,300 to 2,400 square feet and ceilings are higher, creating much more space that needs to be heated. And with energy prices rising steadily, heating costs are eating into the budgets of many home owners.
Higher costs have also changed the way some people shop for homes of any size.
Matthew Koziol, who's been trying to sell his West Brookfield, Mass., investment property — a bungalow overlooking a lake — finds potential buyers are worried about energy prices.
"The first question is, how much does it cost to heat the home? And, they are interested in the quality of the insulation," Koziol said.
A prospective buyer looking at a newly built home remarked, "thank God ... the extra insulation will help with heating costs," while a buyer eyeing another property "wanted to make sure the wood pellet stove was staying with the house," recalled Brenda Binczewski, of Carlson GMAC Real Estate in Palmer, Mass.
"Energy costs are becoming a larger part of expenses so people may change what they look for in a new home," said Thomas Kenney, director of engineering services at the National Association of Home Builders, an industry trade group.
According to Kenny, the annual energy cost today is $1,454, compared with $1,190 ten years ago.

Not all of the higher energy costs are tied to heating a home. Some are due to the proliferation of electrical outlets in homes — what the building industry calls added plug loads — to power an increasing number of appliances such as televisions and computers and their peripherals.
Home construction, to be sure, has improved since Levitt first poured foundations in the late 1940s. The oil crisis of the 1970s prompted many home owners to insulate their homes and the retention of a home's warmth has been aided by innovations like double glazed windows as well as house wraps that sit between a home's outside wall and its siding.
These benefits, though, have been countered by the recent belief that bigger is better, according Jim Haughey, director of economics at Reed Business Information which tracks information about construction material costs. "When you turn the thermostat on, you heat cubic feet" and higher ceilings add to the area that has to be heated, he said.
The Energy Department predicts winter heating bills will be a third to a half higher than last year for most families across the country— an average of $350 more for natural gas users and $378 more for fuel oil users.
The rising prices are blamed in part on Hurricanes Katrina and Rita, which damaged oil and natural gas installations and disrupted production. But the price of oil had already climbed to record levels before the storms.
More than half of all U.S. households heat with natural gas. Nearly a third of the country relies on electric heat, but those homeowners may see their bills go up too, because many power plants run on natural gas. And many homes in the Northeast use heating oil.
Many homeowners will probably need to change their spending habits, according to Chris Viale, president of Cambridge Credit, a debt counseling agency. "The increased fuel prices will last for months. ... This winter's heating bills will also rise dramatically. You must begin to prepare for the effect that this will have on your finances," he wrote in a letter to clients last month.
Debra McNaughton, a debt counselor based in Brea Calif., has suggested consumers set up payment plans with utilities that allows them to spread payments over a 12-month period to reduce the shock of a jump in heating costs — a strategy adopted by Kimberly Muckenfuss.
"By contacting a utility company (to set up a plan), you'll know how much to budget," McNaughton said.
By Aleksandrs Rozens
Thanks for reading CBS NEWS.
Create your free account or log in
for more features.