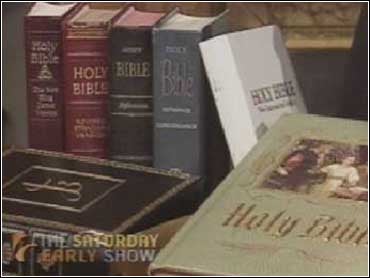 Bibles: Are They Collectible?
Many people have them and almost no one throws them away. The Saturday Early Show's Collectibles Expert Tony Hyman explains that, in general, most Bibles don't have much collectible value.
That's especially true of those printed in the 20th century unless they say, right on the title page, "limited edition" and are autographed by the artist.
The English language Bibles of the 1800s are often very impressive large heavy books with embossed covers, often with big latches, loads of pictures or engraving. Twenty years ago, they'd have no collectible value, but because they are so impressive, people are starting to collect them.
Unfortunately, because they are so heavy, they didn't hold up very well. Most are in deplorable condition. To have value, they must be nearly perfect. Those are worth between $100 and $300.
Incidentally, if you have one of these, and it's a family Bible you want to preserve, but the spine is broken, or the covers are falling off, you can have them fixed, but it'll cost a couple hundred dollars.
If you look at the title page and don't find a date, don't get too excited, because undated Bibles tend to be from the 1880s and unless they are very impressive looking and in perfect condition, have no monetary value.
There are a few American Bibles that can be quite valuable. The first Bible printed in America is the Elliott Indian Bible from 1663. You probably don't have one, but if you do you'd could get up to $500,000 for it.
It's possible you could have a Saur Bible, the first European language bible printed in America in Germantown, Pa., in 1743. It's in German, and will put $5,000 or more in your pocket if in fine condition.
There's a 1776 printing of the Saur Bible called the "Bible of the Revolution" because soldiers allegedly ripped pages out of it to wrap gunpowder for their muskets. Complete copies can bring up to $10,000.
The first American Bible was in German because English Bibles were one of the things the British insisted be imported from the mother country. In 1782, when it was clear America was winning the war for independence, the Continental Congress authorized the printing of what's called the Aitken Bible, a very valuable and important printing worth many thousands of dollars today.
The first Catholic Bible in the U.S. was printed in 1790 by Carey, followed a year later by the Isaah Thomas's first illustrated American Bible, copies of which are $25 to $300 based on condition.
Bibles before 1700 printed in England vary in value from $100 to $1 million depending on the edition, the printer, the paper, the binding, the owners and as always in the world of books -- condition.
Be careful with any Bible, even one in poor condition, as they were often the depository of family genealogical records. Make sure these records are preserved, because even if you don't care, someone may.
For more on collectible Bibles, Hyman recommends the The American Bible Society Web site. You also can contact antiquarian bookseller Ron Lieberman. Send an email to rarebooks@netrax.net or go to his Web site www.sellbooks.net.
---
Find out about other collectibles described by The Saturday Early Show's Tony Hyman in the Collectibles Archive or visit Tony Hyman's Web site.

If you think you have a collectible worth a lot of cash, send an email to sat@cbsnews.com with "What's It Worth?" in the subject line. Or write to "What's It Worth?" The Saturday Early Show, 514 West 57th St., 6th floor, New York, N.Y. 10019.
Thanks for reading CBS NEWS.
Create your free account or log in
for more features.