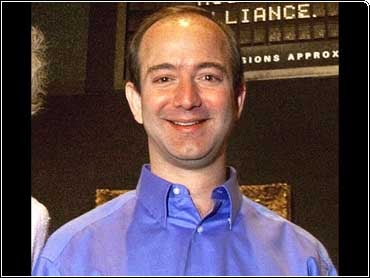 Bezos <i>Time</i>'s Person Of Year
Jeff Bezos, the Amazon.com founder whose company - while losing millions of dollars - has helped foster the point-and-click revolution that is changing the way Americans shop, was named Time magazine's person of the year on Sunday.
"This year it was easier than most," said managing editor Walter Isaacson. "Because there were two great themes of the year - online shopping and dot-com mania. The minute we thought of Bezos it was obvious that he embodied both."
Time dubbed Bezos, 35, the "king of cybercommerce" and said his ambitious, ever-expanding online venture has "helped build the foundation of our future."
He's the fourth-youngest person to win the distinction, after Charles Lindbergh (25 when he won in 1927), Queen Elizabeth II (26 in 1952) and Martin Luther King Jr. (34 in 1963). The magazine is due out Monday.
Bezos quit his job at a New York investment firm in 1994 to establish the Seattle-based Amazon.com, one of the first - and biggest - ventures in online retailing. The company quickly became the Goliath of Internet bookselling and soon branched out into music and video.
Now Amazon, trying to build itself into an online superstore, sells everything from software and electronics to toys and home improvement items. The company recently joined with Sotheby's to run auctions of clothing, wine and collectibles and bought partial stakes in niche Web sites including Drugstore.com, Gear.com, HomeGrocer.com and Pets.com.
Bezos told Time he hopes to double Amazon.com's offerings again next year.
But the company suffers a problem common to Internet ventures. With Bezos plowing money into expansion, Amazon expects to lose at least $350 million this year and has warned it will not be profitable until 2002.
Some analysts wonder how much longer it can afford to keep growing.
"That's what Bezos represents," Isaacson said. "The attempt to build huge companies based on growth but not profit. It may not make sense, but it sure changed the economy this year, for better or for worse."
Bezos said in a telephone interview he is confident Amazon and companies like it will eventually turn a profit.
"People believe passionately in the future of the Internet and e-commerce, so they're investing sort of commensurate with that belief," he explained. "We believe it would be a big mistake to be focused on short-term profitability, although of course we do care very much about long-term profitability."
Time editors choose the person of the year by deciding who had the greatest impact, good or bad, during the year. Bezos beat out Yugoslav President Slobodan Milosevic and an idea for a package story based on the shootings at Columbine High School, Isaacson said. Last year's joint winners were President Clinton and Independent Counsel Kenneth Starr.
©1999 The Associated Press. All Rights Reserved. This material may not be published, broadcast, rewritten, or redistributed
Thanks for reading CBS NEWS.
Create your free account or log in
for more features.