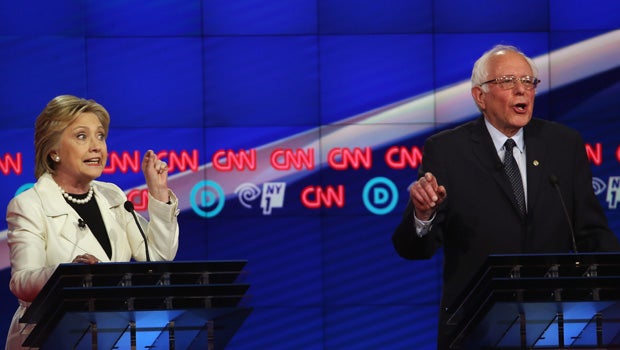 Bernie Sanders slams Clinton's "racist" 1996 super predators comment
Bernie Sanders slammed his rival's 1996 use of the term "super predators" Thursday evening, calling it "racist" on stage at the Democratic debate in Brooklyn.
Asked why Sanders had criticized Bill Clinton's defense of his wife use of the phrase "super predators," Sanders responded: "Because it was a racist term and everybody knew it was a racist term."
In the 1990s, while President Bill Clinton was promoting a tough-on-crime agenda, his wife -- then-First Lady Hillary Clinton -- was gathering support for the 1994 Violent Crime Control Act. In one speech, given in 1996, the first lady warned against the rise of "super predators," touting the '94 bill as one line of defense against such at-risk youth.
"They are often the kinds of kids that are called 'super predators,'" she said at the time, going on to describe them thus: "No conscience, no empathy, we can talk about why they ended up that way, but first we have to bring them to heel."
Earlier this year, Hillary Clinton was confronted by Black Lives Matter activists on the campaign trail protesting both the term and her husband's landmark criminal justice legislation.
Clinton later apologized for using the controversial phrase, saying in February, "I shouldn't have used those words, and I wouldn't use them today."
But the term -- and the lasting effects of the Violent Criminal Control Act -- continue to haunt Clinton's bid for the presidency.
Of the crime bill, Sanders admitted that he had voted for the legislation while he was still in the House of Representatives. Sanders pointed to its benefits, including its inclusion of anti-domestic violence legislation, but, he said, "where we are today is we have a broken criminal justice system."
"What we have got to do is rethink the system from the bottom on up," Sanders added, including the decriminalization of marijuana at the federal level, a policy issue which differs from Clinton's.
Clinton chose not to debate on her use of "super predators," saying instead that the two candidates both "recognize that we have a set of problems that we cannot ignore."
Thanks for reading CBS NEWS.
Create your free account or log in
for more features.