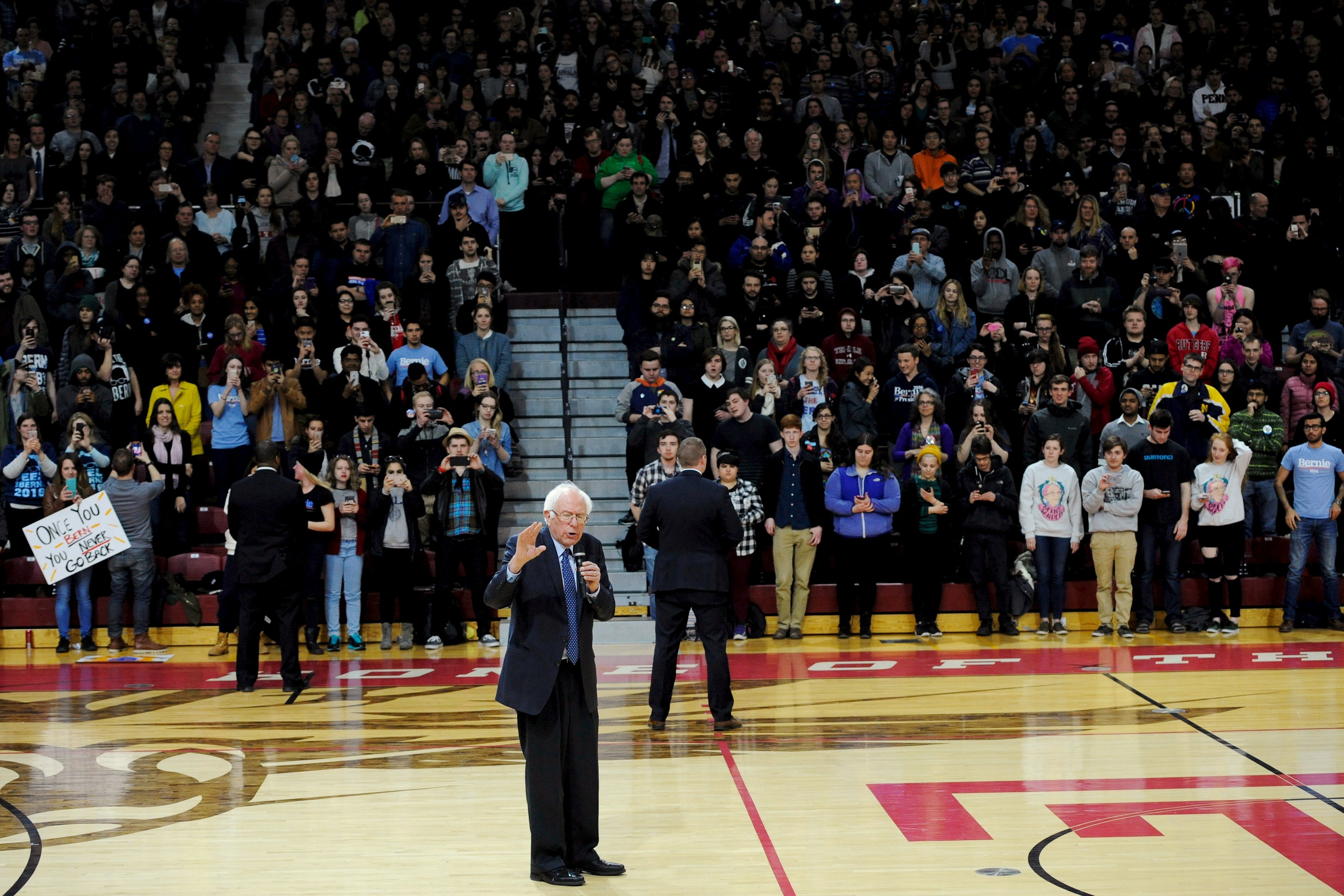 Bernie Sanders: Hillary Clinton is not qualified to be president
On Wednesday night, Bernie Sanders laid into Hillary Clinton with a harsh attack on her qualifications for the presidency.
"I don't believe that she is qualified," Sanders said to a cheering crowd of more than 9,000 people in Philadelphia.
Sanders then listed the reasons behind his assertion that she's unqualified, pointing to her super PAC's acceptance of millions from special interest groups; he attacked her prior support for trade agreements, her vote for the "disastrous" Iraq War and her support of the Panama free trade agreement.
"I don't think you are qualified if you supported the Panama free trade agreement. Something I very strongly opposed and which as all of you know has allowed corporations and wealthy people all over the world to avoid paying their taxes to their countries," Sanders said.
The crowd booed. Sanders also told the audience that he was just responding to Clinton.
"Secretary Clinton seems to be getting a little bit nervous. We have won seven out of the eight recent primaries and caucuses," Sanders said. "She has been saying lately that she thinks that I am quote-unquote 'not qualified to be president.'"
Brian Fallon, Clinton's national press secretary, took to Twitter to combat Sanders' claim.
"Hillary Clinton did not say Bernie Sanders was 'not qualified.' But he has now - absurdly - said it about her. This is a new low," Fallon tweeted.
He then re-tweeted something former Philadelphia Mayor Michael Nutter had put out -- and a hashtag to go with it:
One Clinton aide went even further in saying "these are not the actions or statements of a confident campaign."
And in an email to supporters, the Clinton campaign said, "This is a ridiculous and irresponsible attack for someone to make -- not just against the person who is almost certainly going to be the nominee of their party this November, but against someone who is one of the most qualified people to run for the presidency in the history of the United States."
Earlier this week, Sanders was criticized for a lack of detail when asked by the New York Daily News editorial board how he would break up the big banks. In that interview, he also said that he would not support allowing victims of a firearms crime to to sue the manufacturer.
During an appearance on MSNBC's "Morning Joe," Clinton was asked whether Sanders is ready to be president. She declined to address the comment directly, saying that she would "leave it to voters to decide who of us can do the job the country needs." But she added that his NY Daily News interview "raised a lot of serious questions" because, she said, it did not seem as though he understood how to break up banks under Dodd-Frank.
Clinton did not, however, push for her opponent to get out of the race.
"I'm the last person who would tell anybody to walk away from a campaign because I remember very well, and I think you commented on this quite a bit, people telling me not to go to the next contest, not to make my case," Clinton said reflecting on her presidential bid in 2008.
Thanks for reading CBS NEWS.
Create your free account or log in
for more features.