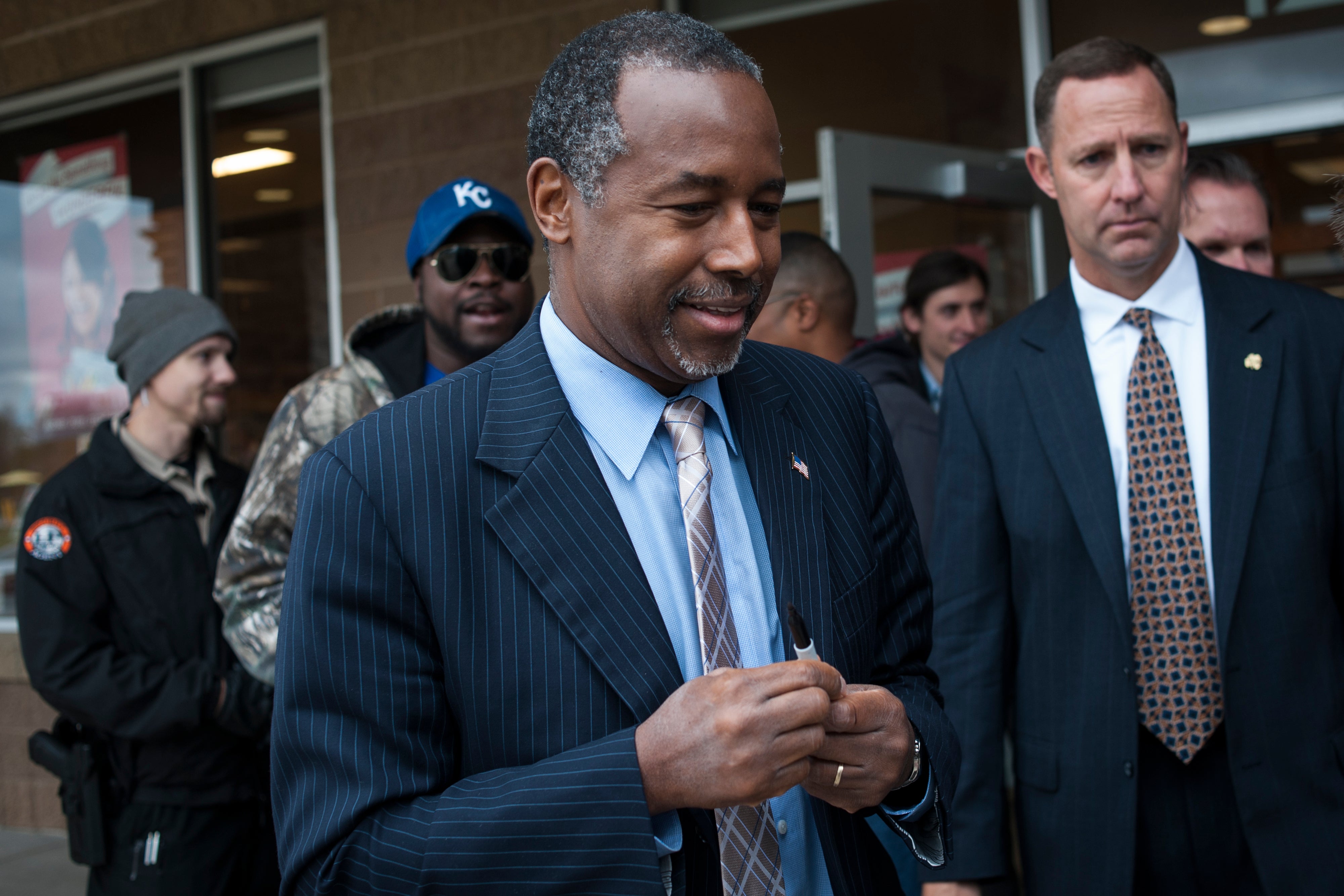 Ben Carson: West Point controversy "a matter of semantics"
Despite numerous claims from Republican presidential candidate Ben Carson that he was offered a "full scholarship" to attend the U.S. Military Academy at West Point -- including a mention in his best-selling memoir "Gifted Hands" -- Carson never even applied for admission to the academy, Carson's campaign confirmed to CBS News.
Even so, in an interview with CBS News' Nancy Cordes on Friday evening, Carson insisted his story about West Point was not deceitful.
"I think it's a matter of semantics," he said to Cordes.
"I think what it shows, and these kinds of things show, is there is a desperation on behalf of some to try to find a way to tarnish me," Carson told reporters at a news conference near West Palm Beach Friday night. "Because they have been looking through everything. They have been talking to everyone I have ever known and everybody I have ever seen. There has got to be a scandal."
Carson went on to say, "My prediction is all you guys trying to pile on is actually going to help me. When I got out to these book signings and I see these thousands of people, they say, 'Don't let the media get you down.' ... They understand this is a witch hunt."
Earlier in the day, campaign spokesperson Doug Watts explained in a statement that though Carson's "Senior [ROTC] Commander was in touch with West Point and told Dr. Carson he could get in, Dr. Carson did not seek admission."
Since the ROTC commander told Carson that he could get into West Point -- where he would have to pay no tuition -- Carson said he interpreted that as an "offer."
"I was thrilled for the military people to tell me I could go to West Point free of charge," he told Cordes.
The officer said to him, "'We can get you into West Point, and it would be free for you,'" Carson continued. "That's an offer -- that's not a non-offer."
The explanation comes after a West Point spokeswoman told Politico that the military academy had no record of Carson's acceptance, much less an application.
"If he chose to pursue (the application process) then we would have records indicating such," West Point official Theresa Brinkerhoff told Politico.
Carson's story of his acceptance to the academy, according to his memoir, began with meeting Gen. William Westmoreland, who commanded U.S. forces in Vietnam, in 1969.
As a 17-year-old ROTC student in Detroit, Carson wrote in "Gifted Hands," he had dinner with Gen. Westmoreland and was later "offered a full scholarship to West Point."
"I didn't refuse the scholarship outright, but I let them know that a military career wasn't where I saw myself going," the memoir states. "As overjoyed as I felt to be offered such a scholarship, I wasn't really tempted."
But according to his campaign, the GOP candidate "can't remember with specificity their brief conversation but it centered around Dr. Carson's performance as ROTC City Executive Officer."
Carson's campaign manager, Barry Bennett, also expanded on the neurosurgeon's past remarks, telling CBS News that what "Carson said was he was offered a nomination for a scholarship. You know that's the first step, and you got to be nominated in order to even be considered for military academy, so that's the first step."
"It's also important to understand that he was the top ROTC officer in Detroit," Bennett said. "So that's why --you know, being that he was a ROTC officer and of course, he had the SAT's to get into any school in America, just like he got into Yale -- of course they were interested in having him come to West Point."
"But when they told him that they would nominate him, he said he wasn't interested," he added. "He never applied. He never was accepted. He never turned down the offer. They told him they would nominate him."
Carson has recounted the story of a scholarship to West Point several times during his campaign, including in a recent interview with Charlie Rose that aired on PBS.
"I was offered a full scholarship to West Point, got to meet General Westmoreland, go to Congressional Medal of Honor dinners, but decided really my pathway would be medicine," Carson said in October.
Technically, West Point does not offer "full scholarships." The cost of the university is covered if admission is offered, and the student is required to serve time in the military after completing their education. Candidates applying for West Point must also first obtain a nomination -- usually from a member of the U.S. Congress or from a military official.
The revelation that Carson fabricated the story comes just as other details of his biography are being called into question. On Thursday, CNN came out with a deep dive interrogating the retired neurosurgeon's claims of his angry youth. The network could not find any proof of the violent incidents -- like an attempted knifing of a friend -- that Carson has mentioned several times during his presidential campaign.
Carson had a scathing response for the media regarding the investigation into his past.
"It's a bunch of lies. That's what it is," Carson said early Friday on CNN. "A bunch of lies, attempting to say that I'm lying about my history. I think it's pathetic."
CBS News' Erica Brown contributed to this report.
Thanks for reading CBS NEWS.
Create your free account or log in
for more features.