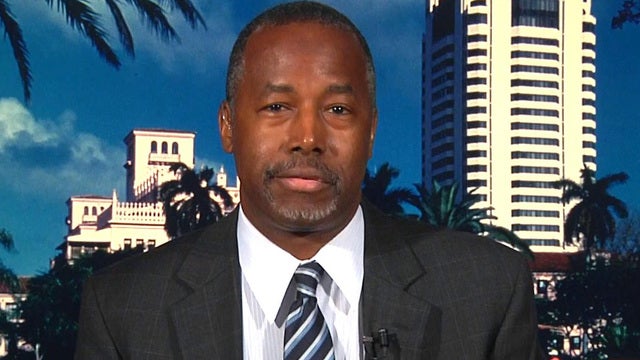 Ben Carson responds to Hillary Clinton on abortion
Neurosurgeon and 2016 Republican presidential candidate Ben Carson clarified his stance on abortion Tuesday in the wake of an attack from Democratic presidential candidate Hillary Clinton, who criticized the entire GOP field for being offensive to women.
"I spent my entire career as a pediatric neurosurgeon, frequently staying up all night, fighting, struggling to save the life of little babies, even operating on babies inside the womb. So I don't think it should be hard for anyone to understand that I am totally opposed to killing babies," Carson said on "CBS This Morning."
When host Norah O'Donnell asked whether he opposed all abortions -- even one that might be necessary to save the life of the mother -- Carson said, "You have to look at the individual situation."
"That's largely a spurious argument because we have advanced so much in medicine these days that that situation rarely occurs," he said.
Speaking to reporters Monday about Thursday night's GOP debate, Clinton said. "I thought what [businessman Donald Trump] said was offensive and I certainly think that it deserves the kind of reaction that it's getting from so many others, but I think if we focus on that we're making a mistake. What a lot of the men on that stage in that debate said was offensive."
As for his own relationship with women, Carson said his mother was responsible for his success and praised his "wonderful" wife. He also said, "In my medical career I had terrific female physician assistants and administrative people who I could not have succeeded without."
Carson has been gaining ground since the debate, during which he was one of the most-Googled candidates. He credits the relative success of his presidential campaign so far to the "ordinary people who have gotten involved" and donated.
"I refuse to go after billionaires and special interest groups. The only people I want to be beholden to are the American people. And that word is getting around by word-of-mouth. People are talking to people in their spheres of influence, and I think it's terrific. I think that's the way it was supposed to be," he said.
And despite his lack of experience running political campaigns or governing, Carson said that won't be a problem.
"The political class has weaved an imaginary tale that they're the only ones who can solve our problems, but the fact of the matter is if you take the collective political experience of everyone in Congress, which is just under 9,000 years, you'll see that it really has not solved our problems," he said. "What we really need are problem solvers, people with a history of solving complex problems, people who know how to utilize other individuals working with them to solve complex problems, because nobody knows everything. But wisdom is much more important than political experience."
Thanks for reading CBS NEWS.
Create your free account or log in
for more features.