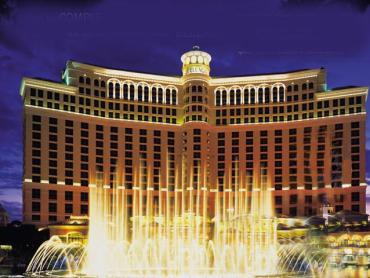 Bellagio Casino Arrest: Armed Robbery Suspect is Son of Las Vegas Judge, Report Says
(CBS/AP) Police have arrested a 29-year-old Las Vegas man in the brazen December armed robbery of $1.5 million in casino chips from the posh Bellagio resort on the Strip.
Anthony M. Carleo was being held Thursday at the Clark County jail pending a Friday court appearance on felony armed robbery and burglary charges. The suspect is identified as the son of a judge, according to the Las Vegas Review-Journal.
Las Vegas police say Carleo was the motorcycle-helmeted robber who waved a gun, grabbed high-value casino chips and made off on a motorcycle before dawn Dec. 14. No shots were fired and no one was hurt. Police said then that they thought the same man had robbed the Suncoast casino in northwest Las Vegas early Dec. 8.
The Review-Journal reports Carloe is the son of Las Vegas Municipal Court Judge George Assad.Stealing $1.5 million in chips isn't like stealing $1.5 million, experts and police pointed out at the time. Chips are unique to casino properties and are generally not interchangeable, although state regulations let casino companies redeem sister properties' chips with some restrictions.
After the heist, the Bellagio announced plans to discontinue the casino's $25,000 chips in April, setting a deadline for the thief to try to use them. Police weren't saying Thursday whether the suspect tried to redeem the chips - which ranged from $100 to $25,000 - before he was arrested.
Police say it took less than three minutes for the robber to pull off the heist.
The bandit entered a casino entrance, strode fewer than 500 feet to a craps table, brandished the handgun at the 10 to 12 patrons and three or four dealers with chips piled on the green felt, scooped up the loot and ran.
Casino security officers didn't confront the robber, but a ceiling security video camera followed his path out the door.

More on Crimesider
Dec. 31, 2010 - Bellagio Hotel-Casino Nixing $25,000 Chip After Bandit Left with $1.5 Mil in Heist
Dec. 14, 2010 - Bellagio Heist: Motorcycle Bandit Displays Gun, Flees Vegas Casino with Up To $2M in Chips, Say Cops
Thanks for reading CBS NEWS.
Create your free account or log in
for more features.