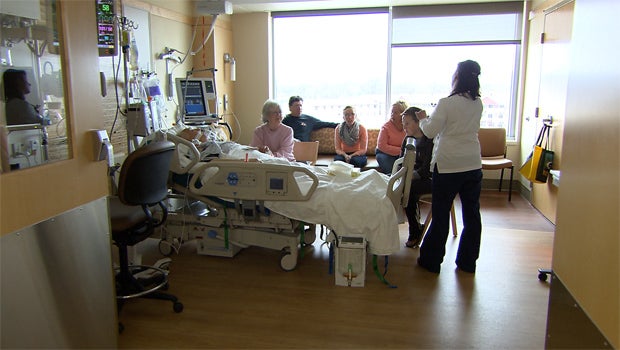 Being prepared for the final days
We can't know for sure when the end will come -- but at least we can be prepared. Dean Reynolds takes us to a town putting those words into practice:

La Crosse, Wis., is a lively Mississippi River town that talks a lot about death.
We came to La Crosse because, at last count, 96 percent of the people who passed away here had created advance directives. That's the highest percentage of end-of-life planning in a nation where only about 30 percent of all adults have such a document.
"It makes sense to me," said one man, "because I want to have my family know my last wishes and exactly what they need to do, and not have to worry about agonizing over that decision if something happens."
An advance directive is a statement of patient preferences that tells everyone else: This is what I do (and do not) want to keep me going -- and perhaps most important, who will speak for me when I can't.
The plan covers all sorts of scenarios and situations, such as who you want in the room (or who you don't).
Bud Hammes is a medical ethicist at the Gundersen Health System here, who started the program called "Respecting Choices" 20 years ago, after seeing firsthand what death was like without it.
"I found a situation where the young doctors in particular were expressing to me their distress about having to treat patients who were critically ill, many of them quite elderly, and not knowing whether it was what the patient would or would not want," said Hammes. "Perhaps the saddest thing I witnessed was to see families ripped apart by this disagreement -- 'You murdered Mom' kind of feelings."
One key point for Hammes as he spreads the word to other states and countries is that patients at the end of their lives often choose to forego efforts to extend their lives at all costs.
That, he says, translates into shorter, less expensive stays in the hospital.

Verona Lachman is a nurse facilitator who was speaking to Gloria Reid about her recently-diagnosed lung cancer, and Gloria's wishes going forward.

"There aren't any right or wrong answers," said Lachman. "It's whatever is best for you. So which one of those choices do you think fits your wishes the best?"

"I guess maybe stop all efforts to keep alive," said Reid. "It is OK I die. I guess it's how I live my life means more to me than how long I live."

In the hospital's critical care unit, Bob Stanton was unconscious and near death from a heart attack.

His family was at his side -- one of many things he'd made clear in the directive he'd completed just days before.

"We had talked with him about how long he wanted life support, who he wanted in the room with him, what kind of medications he would receive," said Stanton's daughter, Jolene Herlitzke-Foss. "So that was very detailed. It was pretty much black-and-white."
Gloria Stanton, Bob's wife of 56 years, told Reynolds it was very important to her that her husband's wishes were defined, with no arguments about it now.

"So you were on board as he was doing this?" Reynolds asked.

"Definitely," she replied.

"Why do you think La Crosse is doing this the right way?" asked Reynolds. "Is it because they got the word out?"

"I think it's popular, if that's the word to use, in La Crosse, because we've had good education," Herlitzke-Foss said. "When the dust settles, and we have our time to mourn, we'll never second-guess, 'Did we do the right thing?'"

'''Cause you know what the right thing was to do?"

"We do."

Bob Stanton died shortly after our visit.

"The ultimate content of this conversation, I think, isn't about death," said Gundersen's Bud Hammes. "I think the ultimate topic that's being discussed is how people care for each other. And so what comes out at the end of the conversation is, 'I love you, and I now know how to take good care of you.'"




For more info:
Thanks for reading CBS NEWS.
Create your free account or log in
for more features.