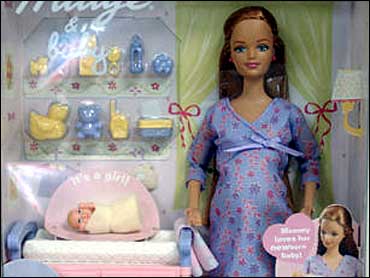 Barbie's Pregnant Friend Yanked
She is Barbie's oldest friend, happily married and visibly pregnant with her second child — and some parents think she's a little too real for their children.
The pregnant version of Midge, which pops out a curled-up baby when her belly is opened — has been pulled from Wal-Mart shelves across the country following complaints from customers, a company spokeswoman said Tuesday.
"It was just that customers had a concern about having a pregnant doll," Wal-Mart Stores spokeswoman Cynthia Illick said.
She said the entire "Happy Family" set, which included pregnant Midge, husband Alan and 3-year-old son Ryan, was pulled from shelves of the world's largest retailer earlier this month.
"What we try to do is listen to what our customers want," Illick said. "In this case, we decided to remove the product from the shelves. I think it was a unique situation."
Messages left for representatives of the toy's maker, Mattel Inc., were not returned Tuesday.
Midge was introduced in 1963, a freckle-faced redhead and the first of a slew of friends and family members for Barbie, the blue-eyed blonde who first appeared four years earlier and has been one of the world's top-selling dolls ever since.
In Barbie-land, Midge married boy-doll Alan in 1991, and the happy couple already has a 3-year-old son, Ryan.
The pregnant Midge, who wears a tiny white wedding ring, has a detachable magnetic stomach that allows easy "delivery" of the baby.
An article on Mattel's Barbie.com Web site says the "Happy Family" dolls are designed to satisfy the desire for nurturing play by girls age 5 to 8, and can be "a wonderful prop for parents to use with their children to role-play family situations — especially in families anticipating the arrival of a new sibling."
Manager Bill Boehmer of the KB Toys store in Northeast Philadelphia's Roosevelt Mall said the doll was selling well, and he had heard no negative responses from customers.
"I've had people laugh, but I haven't had anyone say this was ridiculous or 'What are we trying to tell these kids?' or anything like that," Boehmer said.
But at KB Toys in the Gallery mall in downtown Philadelphia reaction from last-minute Christmas shoppers was negative.
"It's a bad idea. It promotes teenage pregnancy. What would an 8-year-old or 12-year-old get out of that doll baby?" asked Sabrina Fagan, 29, of Philadelphia.

Thanks for reading CBS NEWS.
Create your free account or log in
for more features.