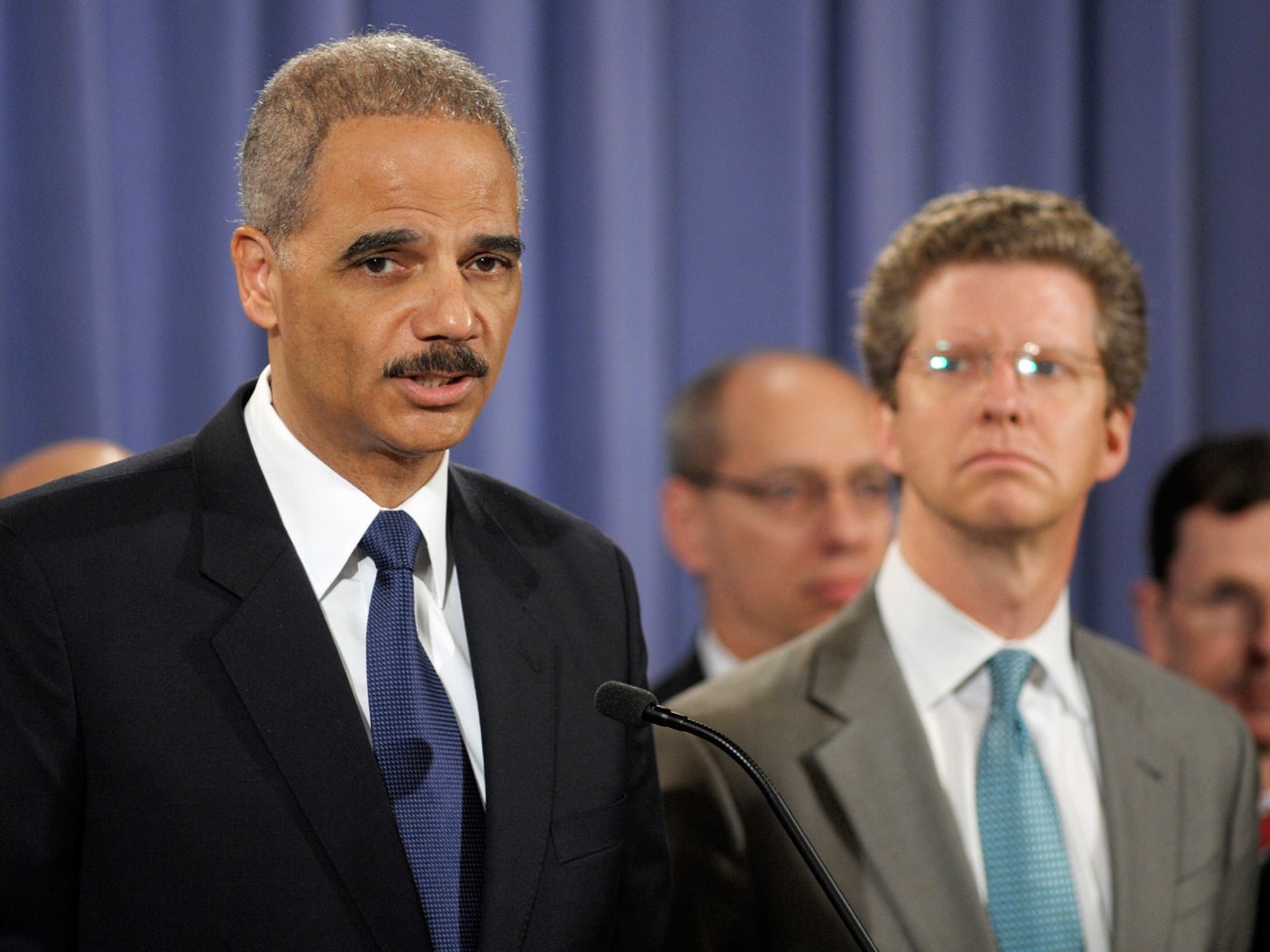 Banks in $25B deal to settle foreclosure abuses
Government officials have struck a $25 billion settlement with five of the nation's largest lenders to address mortgage-servicing and foreclosure abuses committed by the companies.
The agreement, which the U.S. Justice Department announced Thursday after more than 16 months of negotiations involving all 50 U.S. states, federal authorities and the banks, provides financial relief for homeowners and toughens standards for how financial firms service mortgage loans. Joining the deal are the country's largest mortgage servicers: Ally Financial, Bank of America (BAC), Citigroup (C), JPMorgan Chase (JPM), and Wells Fargo (WFC).

Under the terms of the deal, mortgage servicers must allocate $20 billion to various types of mortgage relief for borrowers. At least $10 billion of that total will go toward reducing the principal for borrowers who are behind, or at risk of defaulting on, their loans at the time of the settlement and who owe more on their mortgages that their homes are worth. A minimum of $3 billion will go toward helping homeowners who also are "underwater," but current on their loans, refinance at lower interest rates. Up to $7 billion will be allocated toward offering other forms of aid, including forbearance of principal for unemployed borrowers, "short sales," and financial assistance for homeowners whose homes are foreclosed. In addition, loan servicers must pay $4.25 billion to the states and $750 million to the federal government.
$25B foreclosure-abuse settlement reachedStates, banks near $25B foreclosure pactNationwide foreclosure pact gains momentum
Those totals could grow if other servicers join the agreement, as is reportedly under discussion. Despite the financial assistance for borrowers, the relief may not come immediately. The settlement gives mortgage servicers three years to meet their obligations. As an incentive to move quickly to help struggling homeowners, the lenders must reach three-quarters of their targets for loan modifications, refinancing, and other relief within two years. Servicers that miss these target will be required to pay "substantial" additional cash amounts, according to the Justice Department.

U.S. Attorney General Eric Holder expressed confidence that the agreement would benefit borrowers. "It holds mortgage servicers accountable for abusive practices and requires them to commit more than $20 billion towards financial relief for consumers," he said in a press conference to discuss the pact. "As a result, struggling homeowners throughout the country will benefit from reduced principals and refinancing of their loans. The agreement also requires substantial changes in how servicers do business, which will help to ensure the abuses of the past are not repeated."
An independent monitor, North Carolina bank commissioner Joseph Smith Jr., will be charged with ensuring that banks comply with the settlement. Other federal programs to help homeowners avoid foreclosure, such as the Home Affordable Modification Program, have fallen far short of their goals, with critics blaming the government for failing to hold participating lenders accountable.
"Because this is only five banks, because there will be problems with compliance by the banks, because homeowners will still face wrongful foreclosure, I'm hopeful that this settlement will set the stage for further progress on national servicing standards," said Diane Thompson, an attorney at the National Consumer Law Center, in a email. "Enforcement is always tricky, and often plays out in foreclosure courtrooms."
But she said that the settlement represents progress because it sets tighter standards for the high fees that servicers charge homeowners, which often push borrowers into default, among other improvements over existing practices.
Questions also remain over how many people will benefit from the settlement. Roughly 20 percent of Americans with a mortgage owe more on their properties than they are worth. "The deal announced today is too small," said the Pico National Network, a grass-roots organization that deals with housing issues, in a statement. "It falls far short of providing real justice for homeowners and American families. The estimated $17 billion for principal reduction is a small drop in a big bucket in comparison to $700 billion in total negative equity."
For the banks, the agreement lifts a cloud over the financial industry that emerged in 2010 after the companies were found to have committed a range of mortgage abuses, including fabricating and falsifying foreclosure documents. The deal insulates the companies from state and federal prosecution over these "robo-signing" charges.

But states may pursue civil claims outside the scope of the deal, including claims that the banks improperly packaged mortgage securities. Homeowners and investors may file individual, institutional, or class-action cases. State attorneys general and federal agencies also may investigate other aspects of the mortgage crisis, including allegations of securities fraud.
Thanks for reading CBS NEWS.
Create your free account or log in
for more features.