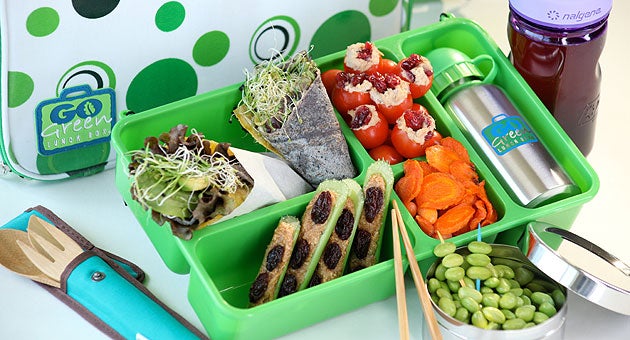 Back to-School Bento-Box Lunch by Kelly Keough

Contributed by cookbook author and healthy chef Kelly Keough. Photography by Alexandra Weiss.


(CBS) Ever wonder if your kids are actually eating the lunch you make for them at home? You won't need to wonder if you pack a bento.


Bento is the Japanese word for ready-to-eat lunch in a box. And here in the West, the bento-style lunch is catching on. Made right, it's not only healthy, it's attractive and fun-to-eat.

We already know kids need to eat a healthy lunch, but when lots of healthy little goodies are packed into in a bento-box, it's like a love letter from mom and dad.

The California Bento-Box Lunch Menu

It's all about finger foods packed with taste and nutrition and easy to make. All five recipes here - including the grape soda - are super simple and can be prepared in under 10 minutes.


To start: a layered California Roll-Up Sandwich made on a blue and yellow corn tortilla with hummus, sprouts, and avocado. The sandwich is vegan and the 100 percent corn tortillas are gluten-free.


Next, we pack in extra protein for growing muscles as well as omega-3 essential fatty acids in our Stuffed Cherry Tomatoes with Tuna and Cranberries.

Did someone say "snacks?" Instead of potato chips, how about vitamin A-packed Carrot Chips?


Make them the night before. They take under 10 minutes to prepare and just 30 minutes in the oven.


For something sweet, we have Stuffed Celery Boats with Whipped Almond Butter and Honey, although I like to substitute agave - a plant-based sweet alternative found at most supermarkets.


The little green beans are protein-packed edamame, which can be found in the frozen section of most grocery stores. Their beauty is their simplicity - they come precooked, so you just thaw them out the night before.

One of the best things about a bento-style lunch is that the separate, small compartments make for attractive, built-in portion control. It's a smart way to help your family maintain their ideal weight and save money on plastic baggies. To do it right you'll need to purchase a bento lunch box, but you'll save money in the long run.


Here's how you do it:
CALIFORNIA ROLL-UP

1 soft blue corn tortilla
1 soft yellow corn tortilla
2 teaspoons spicy mayonnaise
1 leaf lettuce, washed and dried
2 tablespoons hummus
1/4 cup alfalfa sprouts
1/8 medium ripe avocado, sliced
1/4 teaspoon sea salt
black pepper to taste

Instructions
Spray oil a small nonstick skillet on medium heat. Place the blue corn tortilla in heated and oiled skillet for one minute on each side to soften; set aside. Repeat this step with the yellow corn tortilla.

Spread the spicy mayonnaise on the blue corn tortilla. Place the lettuce leaf on top of the mayonnaise. On the yellow corn tortilla, spread the hummus. Place the sprouts and avocado on top of the hummus. Sprinkle avocado with salt and pepper.

Layer the prepared yellow corn tortilla on top of the prepared blue corn tortilla. With your fingers, pinch the two layered tortillas together and roll like a cigar. Wrap rolled sandwich in parchment paper tucking and folding in the bottom and top of the parchment paper. Cut sandwich in half for two servings.

Yield: 2 servings, 1 serving is half of a sandwich roll up.

Nutrition info per serving
Calories 211.7, Total Fat 8.6 g, Saturated Fat 1.2 g, Cholesterol 0.0 mg, Sodium 136.5 mg, Total Carbohydrate 30.3 g, Dietary Fiber 7.2 g, Protein 6.3 g




CARROT CHIPS


3 large carrots, washed and peeled
2 teaspoons canola or grape seed oil
1/4 teaspoon sea salt

Instructions
Preheat oven to 400 degrees. Slice peeled carrots into circles 1/8 inch thick and place in medium bowl. Add the oil and salt and mix until well combined; set aside .

Line a baking sheet with parchment paper. Spread prepared carrots onto prepared baking sheet lined with parchment paper. Place in the oven for 30 minutes. Half way through, flip carrot chips over with a spatula and continue roasting for another 15 minutes.

Cool carrot chips on a plate lined with a paper towel. Store in an airtight container.

Yield: 3, 1/2 cup servings.

Nutritional info per serving
Calories 54, Total Fat 3.2 g, Sat Fat .3 g, Cholesterol: 0, Sodium: 237 mg, Total Carbs: 6.1 g





STUFFED CELERY WITH ALMOND BUTTER


3 stalks celery, washed and dried
3 tablespoons almond butter
1 tablespoon honey
2 tablespoons raisins

Instructions
Slice washed and dried celery stalks into six, 3-inch pieces; set aside .

In small mixing bowl, mix together almond butter and agave until almond butter whips into a stiffer version of itself.

With a knife, spread 2 teaspoons of the prepared almond butter into the prepared celery boats. Top each celery boat with raisins.

Yield: 6 celery boats.

Nutrition info per serving
Calories: 87.9, Total Fat: 4.8 g, Sat Fat: 0 mg, Cholesterol: 0, Sodium: 27.9 mg, Total Carbs: 11.4 g




NATURAL GRAPE SODA


I make this soda with Stevia, a now widely-available, plant-derived sweetener that has zero calories. It's great for weight-watching, and for those cutting carbs.

3/4 cup sparkling water
1/4 cup unsweetened grape juice
1 teaspoon honey
1 dropper Grape Liquid Stevia (I prefer the brand Sweet Leaf)
4 ice cubes

Instructions
In a 12 ounce glass, pour in the sparkling water, grape juice, agave, and Grape Liquid Stevia. Stir and add in ice cubes. Drink immediately.

Yield: single 8 ounce serving

Nutrition info per serving
Calories 62.3,Total Fat 0, Cholesterol 0,Sodium 5.0 mg Total Carbohydrate 15.8 g, Sugars 15.3 g

EDAMAME

12 ounce bag frozen edamame

Instructions
Bring 4 cups of water to a boil. Add 1 package of frozen edamame. Return to a boil and cook for 5 minutes. Drain and serve.

Yield: 4.5 half cup servings

Nutrition for one serving
Calories 100.0 Total Fat 3.0 g Saturated Fat 0.0 g Cholesterol 0.0 mg Sodium 30.0 mg Total Carbohydrate 9.0 g Dietary Fiber 4.0 g Sugars 1.0 g Protein 8.0 g




STUFFED CHERRY TOMATOES WITH TUNA AND CRANBERRIES

16 cherry tomatoes
1, 6 ounce can Albacore tuna
1 tablespoon mayonnaise
1/4 cup finely chopped red onion
1/4 cup dried cranberries
1/4 teaspoon sea salt
black pepper to taste

Instructions
Wash and dry cherry tomatoes. With a paring knife, cut off top quarter of each cherry tomato and remove seeds; set aside.

In medium mixing bowl, place tuna and mayonnaise and mix with a fork until will combined. Add in chopped red onion, dried cranberries, salt and pepper. Mix until combined.

Scoop about 1 rounded teaspoon full of tuna mixture and stuff into prepared cherry tomatoes. Place stuffed tomatoes in a flat airtight container and refrigerate until ready to serve.

Yield: 4 servings of four stuffed cherry tomatoes.

Nutrition per serving
Calories: 110, Total Fat: 4.3 g, Sat Fat: .5, Cholesterol: 0, Sodium: 78 mg, Total Carbs: 15 g



---
Kelly Keough is a healthy chef and TV host of "The Sweet Truth" cooking show on the Veria network. Her new cookbook, "Sugar-free Gluten-free Baking and Desserts" shows you how to have your sweets and eat them too. Kelly's passion is inspiring people with health, weight, and aging concerns related to sugar and gluten.
Thanks for reading CBS NEWS.
Create your free account or log in
for more features.