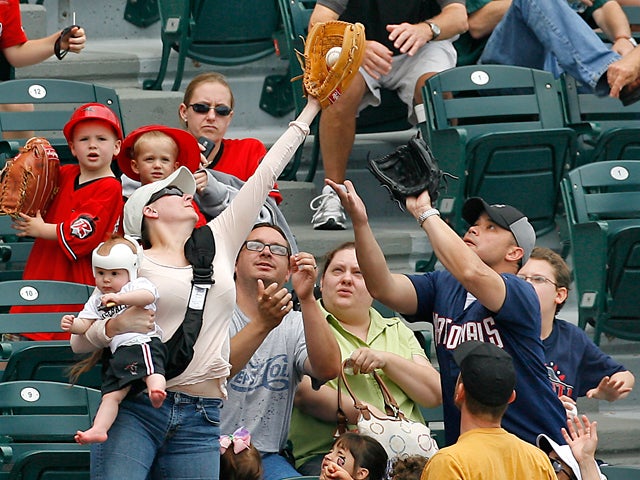 Baby-cradling mom catches foul ball
This week, the Web was abuzz with a video showing Tampa Bay Rays star Evan Longoria saving a reporter's face from a stray baseball by making an unbelievable catch.
Not shockingly, the video was unbelievable because it was fake - slickly produced by the player's sponsor, Gillette.
So it was rather refreshing to see this amazing photo of a mother spearing a foul ball - with her baby in her arm and without the assistance of CGI.
Tiffany Goodwin made the amazing catch at the Richmond Flying Squirrels game Sunday - with her eight-month-old son, Jerry, in her right arm, and her husband, Allen, at her side, poised to catch it himself. The helmeted infant seems oblivious to his mom's impressive skills.
Step aside, Evan Longoria. While you needed computer effects to snag a baseball and protect a (fake) reporter, Tiffany Goodwin relied on old-fashioned motherly multitasking to catch a baseball and protect a (real) baby.
Thanks for reading CBS NEWS.
Create your free account or log in
for more features.