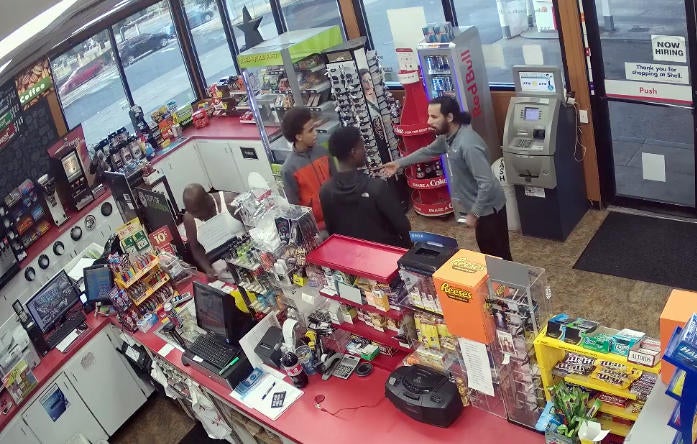 Video shows teens robbing gas station after clerk collapses
Police in Auburn, Washington, are searching for an adult male and two male teens who they say stole money and merchandise from a gas station clerk who collapsed and suffered a "major medical issue." The incident was captured on surveillance video, which was released by police on Monday.
The Auburn Police Department said the group entered the Shell gas station on 201 Auburn Way South around 6 p.m. on Saturday. One of the teens grabbed two pepperoni sticks. He ate one and gave the other to the second teen. The clerk apparently attempted to charge the adult for the two sticks and an argument broke out, police said.
In the video, the clerk becomes upset after the teen gives him a dollar bill. He turns around and collapses to the ground. One of the teens appears to take his dollar back. Police said the teens stole merchandise from the store and took money out of the cash register as the clerk laid on the floor unconscious. No one in the group called for help.
"Not only just watching, they literally stepped over him as he was on the ground in agony," store manager Angela Sharapova told CBS Seattle affiliate KIRO-TV. "I never thought anybody could do anything like that."
Three minutes later another customer entered store, noticed the clerk and called 911. Police said the clerk, a father of three, is in critical condition. They are asking the public to help identify the adult male and three teens by calling the Auburn Police Department tip line at (253) 288-7403.
Thanks for reading CBS NEWS.
Create your free account or log in
for more features.